The Stone that Saved St. Augustine
Sharon Koehler
Artistic Stone Design
For our next installment of how different civilizations have creatively used stone down the centuries, I had my BFF stick her hand in the "continent bowl" and pull one out. She pulled out North America. The first thing I thought of was Mt. Rushmore out in the Black Hills of South Dakota. The thing is– most everybody knows about Mt. Rushmore. I wanted something different, something not everyone knew about. I think I found it.
Let me introduce you to Castillo de San Marcos. It is a star fort with a Spanish-sounding name located in St. Augustine, Florida. There was a time (over two centuries ago-1513 to 1763), when Florida was under Spanish rule. It was during that time the fort was built. It was originally built from wood, but after the fort became heavily damaged by a pirate raid in 1668, they turned another more durable material to rebuild… Coquina Stone! I don't know whose idea that was originally, but I hope they got a medal, or knighted, or richly rewarded because that was a brilliant idea.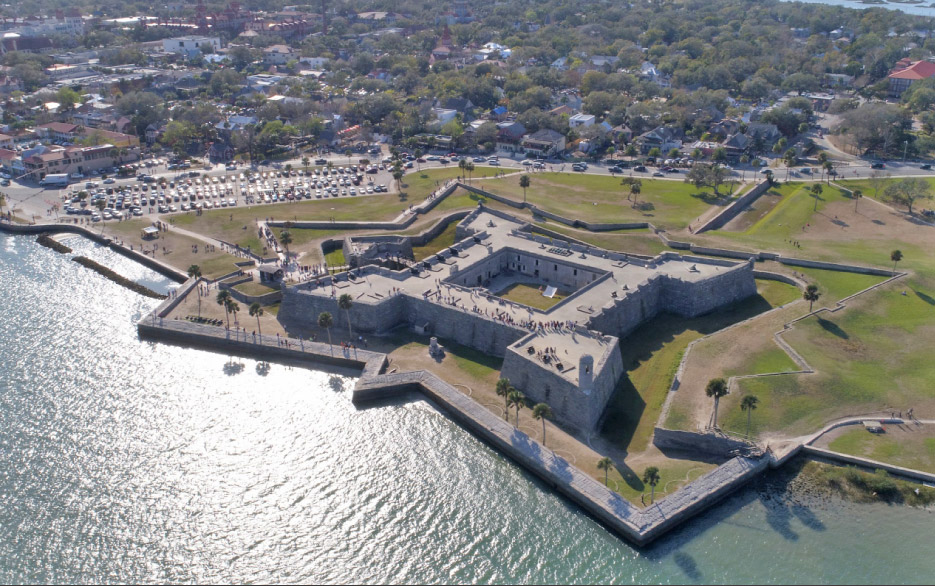 The fortress of San Marco, built of native Florida coquina stone, withstood a month-long barrage of cannon fire in 1740. Completed in 1695, It is the oldest intact large-scale stone structure in America.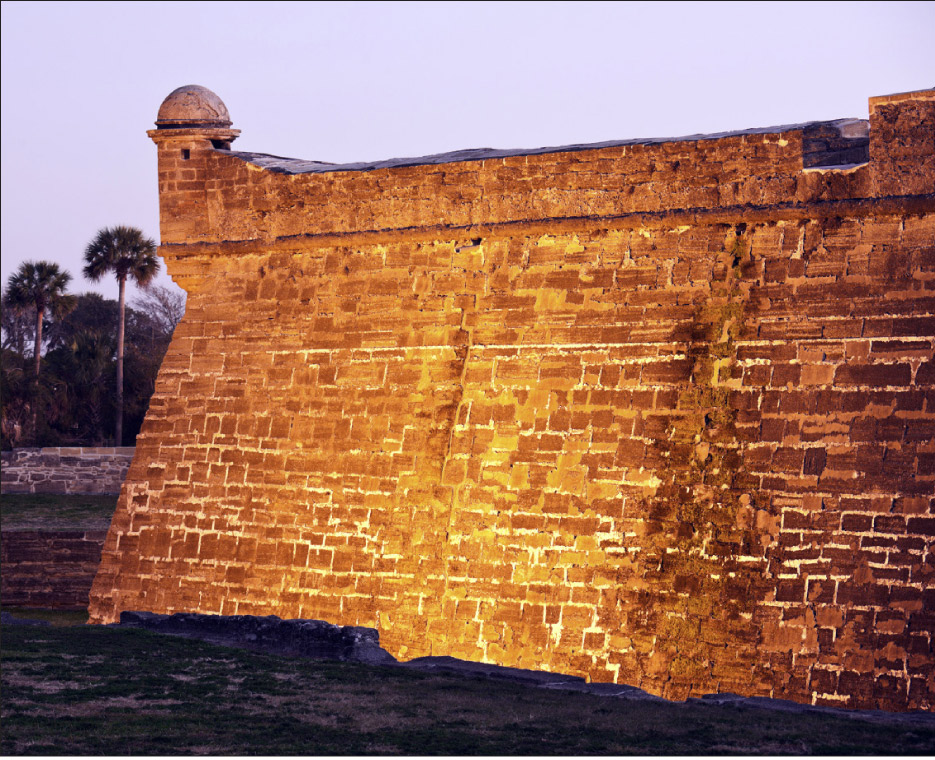 The first coquina stone blocks were laid at the site in 1672 and construction was completed in 1695. There have been renovations since then, as well. The coquina stone walls are 30 feet high and 12 to 20 feet thick, with four bastions, and covers about 20 acres. On top of all that, the fort is not your average four wall square or rectangle. There are 20 outer walls (it is a star fort, after all). Plus, the interior had numerous rooms for various uses like storage rooms, a guard room and powder magazine. Castillo De San Marcos is considered the oldest masonry structure on the mainland United States.
In today's times, none of this may seem like a big deal. I mean we build skyscrapers every day, but remember: no electricity, no electric saws or drills, no calculators for the math, no computers for ANYTHING, no trucks, no CNCs. Just brainpower, manual labor, manual kilns and coquina stone… lots and lots of coquina stone. Just to make things more interesting, the coquina stone wasn't even at the fort site. It had to be shuttled over from a barrier island just off the Florida coast.
As I mentioned, the decision to use coquina stone for the walls of this fort was brilliant, although it is thought that they probably used it because it was available, and not for its unique protection properties.
When first quarried, coquina stone is very soft. It has to sit and cure for at least a year (and sometimes up to 3 years) to be hard enough to build with. Even then, it is still softer than a lot of other natural stone. That being said, when the fort was attacked by cannon fire, the walls did not shatter or splinter and break. The soft coquina stone walls absorbed the cannon balls much like modern day foam. Once the fort was rebuilt with coquina stone, it was never overtaken or destroyed in battle again. In 1740 a British general assaulted the fort by cannon fire for 27 days. The coquina stone walls held up. For that reason, Coquina stone is often referred to as the stone that saved St. Augustine.
In these modern days we don't talk about coquina stone very much, if at all. If you live outside the southeast coast of the United States you may have never heard of it, even though besides the coasts of Florida and North Carolina it can be found along the coastal regions of Mexico, Australia, Brazil and the United Kingdom. Despite the old time usage of absorbing cannon balls, this soft stone does have practical uses in the modern world. Crushed coquina stone is used in place of gravel for driveways. Also, because it contains phosphate, it can be used in fertilizer. Dried cured blocks can be used as a building material. Boulders of varying sizes are also used as landscape decorations.

The fortress of San Marcos is a hollow square with four diamond-shaped bastions, built of native Florida coquina stone over a period of 23 years. It is the oldest masonry stone fortification in America.
Just remember, if you happen to be a war-mongering general or a pirate, don't attack Castillo de San Marcos. The stone will surely teach you a lesson.

Please send your thoughts on this article to Sharon Koehler at Sharon@asdrva.rocks.