Texarkana Stonework Company Adds Making Medical Equipment
Stone Studio is devoting part of its operations to building protective equipment
for health care providers treating COVID-19 patients
Karl Richter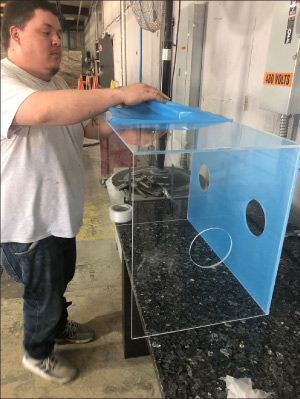 Stone Studios employee Justin Moore finishes an aerosol protection box to be used by health care providers when intubating COVID-19 patients. The company's main business is selling granite, marble and quartz countertops, but it recently began using its fabrication equipment to build the boxes, which protect clinicians, nurses and doctors from contamination.
Texarkana Gazette
Stone Studio fabricates and sells granite, marble and quartz for uses such as kitchen countertops. But it has begun using its fabrication equipment to build plastic boxes that protect nurses and doctors while they intubate patients, according to a news release.
Clinicians place the clear boxes, called aerosol protection boxes, over the heads of patients before intubating them, reaching through holes in the boxes' sides. The boxes contain the patients' breath and coughs, which otherwise could spread the virus.
"The governor reached out to manufacturers asking for help, and initially I wasn't sure what we could do. But then I saw a plexiglass box and thought, 'My team can make those!'
"I reached out to a friend who works in the ER to see if it would be useful and his reply was, 'How soon can we get them?' We made it a priority, and then word spread and we ended up making more for other facilities. We're really glad to be able to do something to help," Stone Studio owner Dustin Hughes said.
Wadley Regional Medical Center and CHRISTUS St. Michael Health System have received boxes, and Stone Studio is working to fill an order from Texarkana Gastroenterology consultants. Health care facilities in Louisiana have also asked the company about getting boxes.
In a recent letter to the New England Journal of Medicine, staff in the anesthesiology department at Boston Medical Center recommended use of aerosol protection boxes in treating COVID-19 patients, especially in situations where a lack of personal protective equipment necessitates some improvisation.
During the BMC doctors' experiments with a simulated cough, only the inside of the box and the clinician's gloves and gowned forearms were contaminated. Without the box, contamination was seen as far as 2 meters from the patient.
"We are fortunate that construction jobs are continuing to keep our staff busy and employed, but where we can do our part to help contain this virus, we are excited to do so," said Mary Adams, Stone Studio's vice president of operations and development.
Stone Studio is at 700 E. Broad Street in Texarkana, AR. Health care providers who would like to know more can contact Kelly Campbell at 903-831-4482 or kcampbell@ccimill.com.

Reprinted courtesy of the author and the Texarkana Gazette.