Superior Stone Countertops Owner – Dual Roles as a Fabricator and a First Responder
Peter J. Marcucci
Photos  by Larry Hood
Josh Stafford balances the dual roles of a first responder fireman for the Chatsworth, GA fire department and the granite shop his father started in 2005, Superior Stone Countertops.
Many decades ago, a very wise entrepreneur said, "When you're in business, always take on just a little more work than you can comfortably handle." The takeaway of this wisdom was simple: for whatever reason, you are always going to lose customers, and taking on just a wee bit more work than you can handle is a simple way to ensure your income. Very wise words, indeed, and a reflection of what's to come in this story about Josh Stafford, his family, and his company, Superior Stone Countertops, located in Crandall, Georgia.

Putting out Fabrication
"My family owned a country store back in 2004, and they were thinking about getting out of the business," recalled Stafford. "They worked there seven days a week 365 days a year, and they were tired of it. I have an older brother who worked in the countertop industry down in metro Atlanta, Georgia, and he said that there weren't a lot of people doing stone fabrication here in Crandall. So we talked about it, sold the country store in 2005, and my dad (Chuck) bought a used Park industries Cougar bridge saw. None of us had any experience, but if you want to do something, you learn how, right?
"We started real slow, doing installation you know, because it's hard to get your foot in the door when starting a new business. So we met a lot of contractors and shook a lot of hands. Dad is a good talker, and he and my mom (Connie) had three businesses in the area in past years and were very well known, and that's how we got into the stone fabrication business. Now, fifteen years later, we are truckin' right along.
"Mom and dad continue to help in all ways, and my cousin is our main polisher. Additionally, my fourteen-year-old son Max is working on the saw, now that school is out. My nine-year-old son Alex comes to the shop and helps to keep it organized. Occasionally, friends from the fire department or police officers have helped out."
Nina Franklin puts a final polish on a counter section scheduled for installation that day. "Nina is a perfectionist. If I had two of her, we could produce twice as many jobs in the same amount of time," said Stafford. The shop has worked wet from the beginning, said Stafford.
To this day, the shop still uses that Park Industries Cougar, and has added a router for doing edging, explained Stafford. "I've got a Magnum router to do simple profiles, and everything else is done by hand. Our condo work is mostly eased- or pencil-edge profiles. I pondered buying a CNC, but I really don't want to pay that kind of overhead. You've got to put out a lot of material to pay for one of those and, honestly, there is something special and satisfying about doing fabrication by hand. It's an art. CNCs do a fabulous job and are great when you have to put out the volume, but my dad always told me that if you can do something with your hands, you can always make money. The only thing I might get next, just to make my life a little easier, is a Rye-Corp Fab King for doing bowl cutouts. The Fab King has gotten good reviews, it is user friendly, and the price is good.
"Last year I invested in a No-Lift Install Cart. Being such a small company, it was a big step for me to drop $10,000 on a cart. Since then, though, I have installed some monster pieces with it. It's a life and back saver, and paid for itself in just the first few jobs I used it. In fact, I saw it in the Slippery Rock Gazette magazine, and in the beginning I didn't think it'd be worth a flip, but after using it, I'm a believer– it's been a unique and valuable tool. The roller ramp that came with it is phenomenal, too."
As for other favorite production equipment in his shop, Stafford "also loves Omni Cubed equipment. The Omni Cubed Sink Hole Saver and Aqua-Jaw are invaluable to us."
"I buy most of my tools and supplies from Braxton-Bragg (BBI). I'll call them and say, 'I've got this going on,' and they'll point me in the right direction every time. I've gotten really good customer service from those guys… It's really good to talk to someone who knows what they're talking about, versus somebody that doesn't."
According to Stafford, sales are 80 percent granite and 20 percent quartz, and acquired mostly through maintaining a good reputation and word-of-mouth, with 75 percent of total sales being residential builders, and the remaining being homeowners. The company's radius of service averages 75 miles from Crandall, unless it's a huge job, continued Stafford. "I don't do any social media or advertising. Dad always told me, 'Get out and shake hands and hand out business cards,' and right now I have more business than I can shake a stick at. We do a lot of business in Dalton, Georgia, the 'carpet capitol of the world.' I have a builder there who keeps me hopping, and has commissioned two condos a week, with 176 total units. Their next project will be 400 condos, starting next year."
Above: Residential kitchen installation in Carrara marble, aka "Shadow Storm." The radius-edge island features a composite granite farmhouse sink. The long counters were produced using minimal seams.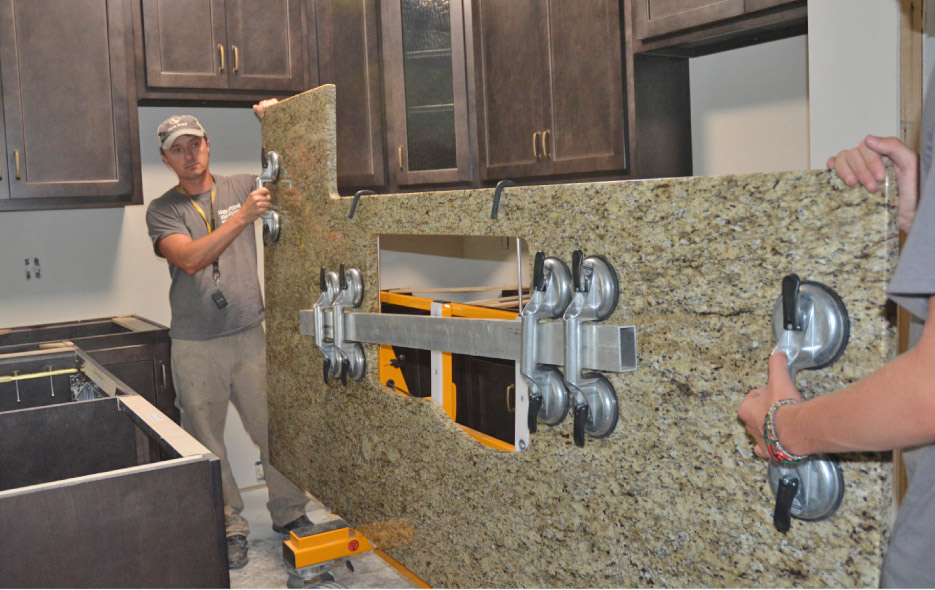 Above: "Some of our install tools are indispensable, like our No-Lift cart. One of the first jobs I installed with it was a 130 x 40 inch L-shaped top – not something I'd want to carry by hand! "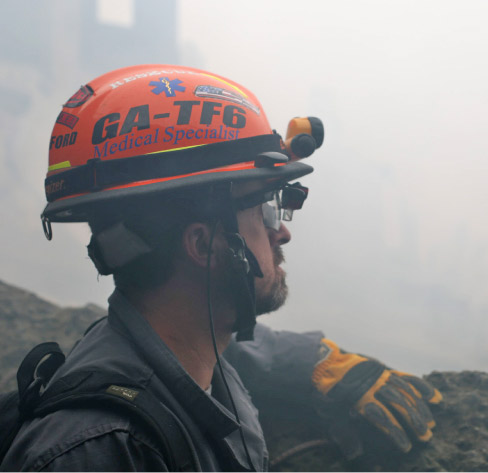 Stafford is a member of Georgia Task Force 6, a heavy rescue and disaster response unit.
Putting out Fires
So where does putting out fires come into play, you ask? Certainly not with the company's customers. You see, Stafford is also a full-time first responder with the City of Chatsworth, Georgia Fire Department, Engine Company 1131. He explained, "We are a small city fire department with a local population of about 4,000 people, and I'm a firefighter/paramedic. I'm also with the State of Georgia Task Force Emergency Rescue Team, and travel everywhere in the state and country to respond to tornadoes, hurricanes, or whatever they call for. I've been doing it for 18 years."
Stafford continued, "Some days it's difficult being both a fabricator and a fireman, just because some days I come off of a long shift and only have two days to work another job. It's not unusual for me to leave my firehouse shift at 8:00 in the morning and come in to finish or install a job."
And it's not the issue of money, Stafford insists. "I do make okay money at the fire department, but instead of sitting on my butt on my time off, I'd rather be productive, you know?
"But some nights are tough, like when I've been out on a lot of emergency calls such as structure fires, or car wrecks – whatever the emergency is. So if I'm up all night and I know that I've got an install planned, or 100 linear feet of granite to polish the next day – it is what it is.
I get up and get it done!
"Some days I'm extra busy, because of all of the first responder training we have to accomplish. Each first responder certification that I'm qualified in requires a certain number of training hours, and as a firefighter/paramedic, there are about 300 hours of firefighter training and 75 hours of paramedic training over two years. Plus, as a member of the Georgia Task Force, I'm trained in building collapse, trench rescue, rope rescue and confined space and wilderness rescue. For all of these disciplines, you have got to have so many hours of training in, and sometimes it requires me to travel all over the state to get them. Our builders know I'm a first responder, and sometimes I'll be gone for about a week, so I'll call them and talk about what we've got scheduled. They are all very understanding in regards to my job a first responder, and we just work around it and get it done when I get back. I'm very thankful for the builders we work with, and the great relationship I have with them."
Three Hollis Holdings condo installations: Above –  island in Flaked Pearl, an LG Hausys Quartz surface; Below- Galileo Ornamental granite kitchen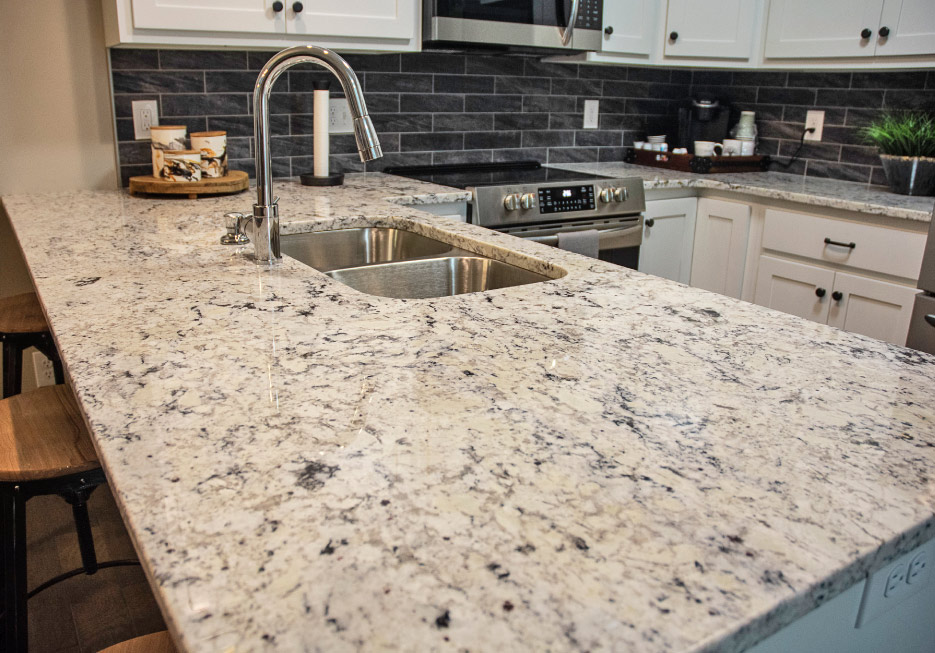 Above– double sink vanity in Minuet Quartz, an LG Hausys Viatera color. New condo buyers have the option to have the countertop material and color of their choice installed while the unit is being completed.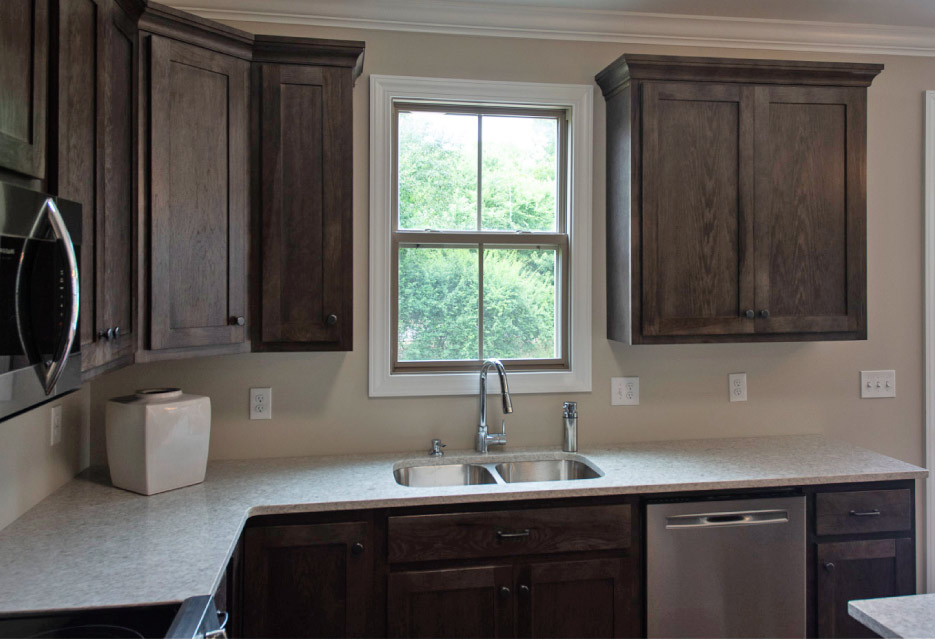 Above and below: This 130 x 50 inch L-shaped Flaked Pearl LG quartz countertop is one the first that Stafford installed using his No-Lift cart, and Omni Cubed sink supports. "This top was fabricated in one piece, without any seams. I can't imagine carrying this monster in without my install cart. With the sink cutout, it was delicate, going into a pretty narrow space between the outside wall and the island."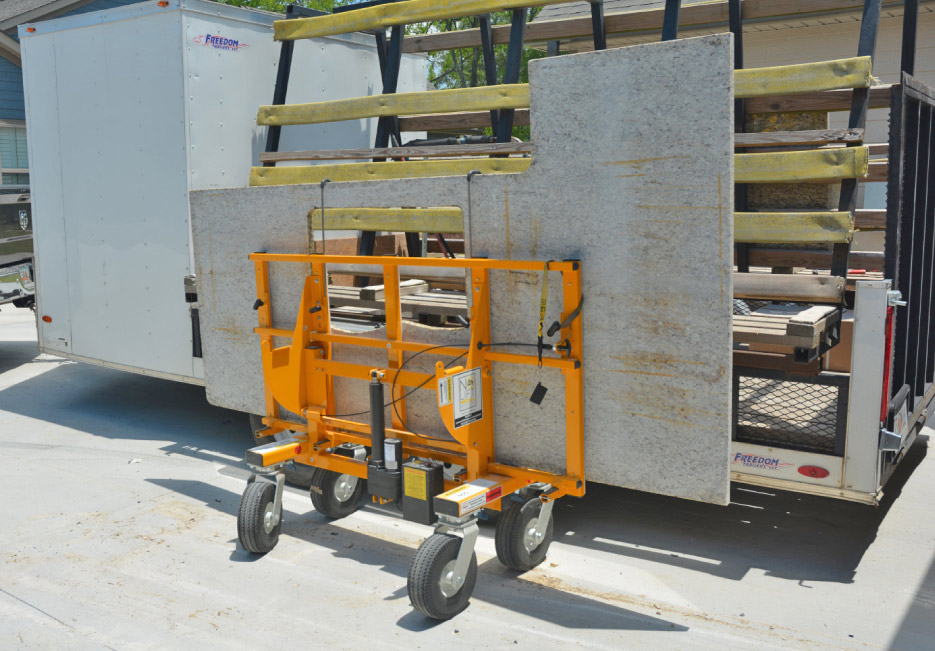 How does Stafford get it all done? "I like to learn, and I'm always searching for new and better ways of doing things. I'm focused on working safely, like polishing wet, and using the install cart. I work out two to three hours a day when on duty. People's lives depend on me, and I have to be as safe and efficient as I can when working with stone."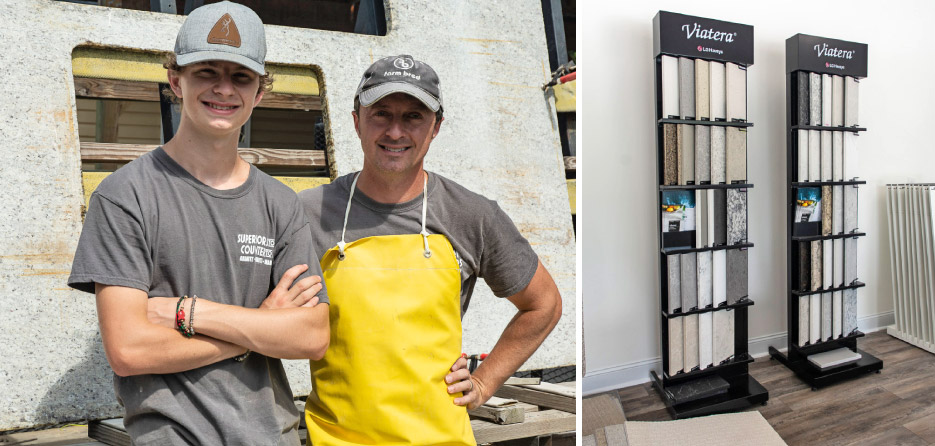 Above, Left, from left: Max and Josh Stafford. "We basically have three generations working here," said Josh, "but only when school is out! I consider myself lucky to be surrounded by family."

Above, right: Part of the LG Hausys quartz material display provided by the new LG factory in Calhoun, Georgia. This display is one of several in the Hollis Holdings model condo office, set up to give clients an idea of the available materials to build their dream kitchen. Stafford also sources materiel from MSI and Atlantic Stone. "I like to help people pick the stone that fits their lifestyle. I want to make sure they make the right choice and will be happy with it for many years to come. I try to steer them to the right choice, and educate them on the stone they need for their lifestyle."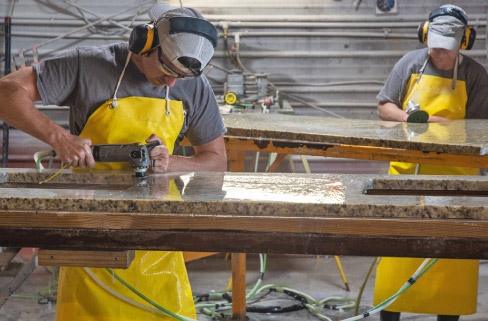 Below: Loaded and ready to roll. Stafford built a custom trailer with an enclosed cab to hold jobsite tools and machines like his No-Lift Cart, with ample side A-frame storage to transport jobs. From left: Nina Franklin, Josh, Max and Alex Stafford, and founder Chuck Stafford.
The Future and Working with Family
"As you can see, I'm busy some days, and this is why I like having a small company. I've been asked to take on some larger contracts, but I turned them down because I'd have to buy more machinery and hire more people, and this doesn't fit what we do. I like the option to say, 'I like this job, and I like that job,' and have the option to spend a day with my family.
"So, if I decline to take a job, I'm not going to be out anything. All of my equipment is paid for, and I have no overhead other than my truck. I think it's less stressful to be able to pick and choose the jobs I want. We have a good reputation, and if we have a slow week, it's no big deal!
"I know a couple of larger shops that are having a tough time during COVID-19. Fortunately, the only change that we had to make was to stop doing residential work.
"We decided we could afford to wait on jobs where people were remodeling and still living in their houses – so we just concentrated on new construction.
"We are currently doing two to five kitchens a week, and so busy that it's a challenge to keep up! I attribute this success to my parents. They helped me jump into something that we didn't know anything about. It was a risk, but dad has always been hell-bent on making anything work, and it was sink or swim. So really, in the beginning, I watched how mom and dad did it, how we'd go to the shop and work hard.
"Our success is also because my dad and I are the only ones that deal with the customer for sales, measuring, installation and to troubleshoot. Customers like seeing the same person, and that's what has made this company special. Our hard work has paid off, and having my parents there is a great thing, because if you can work with your family, it's more valuable than anything. It has its ups and downs, because we can all be a little bone-headed from time to time. Sometimes I think I'm right, and sometimes dad thinks he's right, and we'll argue a little bit, but that's family – you're supposed to be able to talk through disagreements!
"Fortunately, mom, who is a little younger than my dad, keeps him organized. My dad, who is 70, gets up early and gets the jobs ready, so that when I get off my shift at the fire department I can get them cut and polished. We'll then just go from there the rest of the day, and he'll go out and measure jobs. He loves to work. Retirement's not for him – I believe it gives him a good reason to get up in the morning! So you see, that's just the way I was raised.
"As for the future, I'm just going to keep plugging away doing stone and being a fireman. However, you don't see too many old firemen, and that's the kicker. Things are good right now, and I'll continue to count my blessings that things will keep going our way."

Superior Stone Countertops is located in Crandall, Ga. Contact Stafford at (706) 483-8124.