The Legacy of Cleveland Quarries
Peter J. Marcucci
Photos  Courtesy Cleveland Quarries

For almost two centuries, Cleveland Quarries has followed a time-honored tradition of quarrying and fabricating its sandstone from the Amherst, Berea and Birmingham region of Ohio. Spanning an area of over 1,000 acres and containing over 300 million cubic feet of deposits, the area was originally dotted with many quarry operations both large and small. However, time moves on, and things have changed, explained Cleveland Quarries President Zachary Carpenter.
"Cleveland Quarries was started in 1868, but there have been other stone mining companies in the area, such as The Ohio Stone Company, The Ohio Cut Stone Company and many others. Since then, though, Cleveland Quarries was the company that bought out all of these operations, and consolidated them into what the company is today.
Over the years, it has gone through many different iterations and from thousands of employees to under fifty. This is mostly due to demand, and not technology. Certainly technology has let us improve the way we do things and has brought about a reduction in the number of employees needed to run the machinery, but the demand for stone really is the larger issue. Back when stone was being used for everything, the quarries employed a lot of people and produced a lot of stone, but over the years that has dissipated. So what we are left with are specialty projects, restorations and things like that."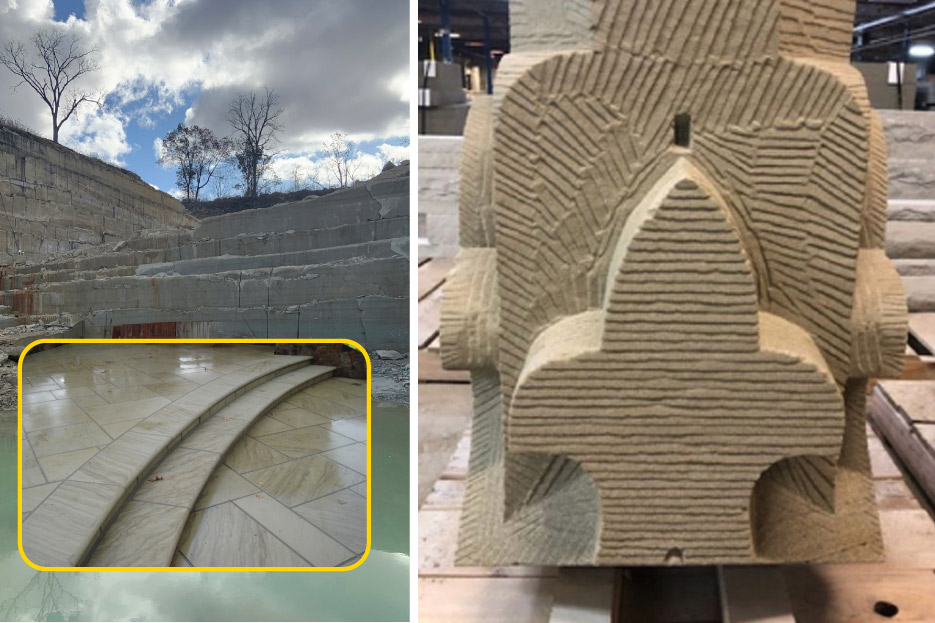 Above, left: Birmingham Buff quarry ledges, and polished Buff steps and terrace paving. The Cleveland Quarries legacy includes fine sandstone building products and the fabricators and carvers to turn it into functional art.

Above, right: Rough removal of material reveals the basic form of this capitol being carved for a restoration project.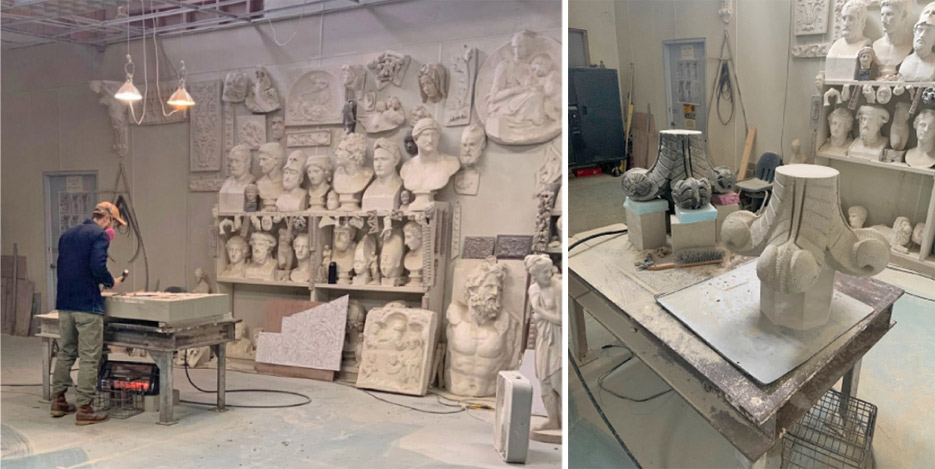 Above, left: Architectural carving in progress in the Cleveland Quarries fabrication shop.

A Full Service Company
Cleveland Quarries is not just a quarry, but also a full service fabricator, including a staff of talented artisans for carving projects. Fabrication machinery consists of two large-scale block saws, two Pellegrini wire saws, three 5-Axis GMM saws and one Wilson Electric 60-inch secondary saw.
While the quarry is located in Birmingham, Ohio, the corporate headquarters, fabrication shop and slabbing facility is located 10 miles away in Vermilion, Ohio. The quarry encompasses over 160,000 square feet of indoor work space and storage, however, there are changes coming, said Carpenter.
"We are currently in the process of moving the fabrication and slab facility from the off-site location to the quarry site, itself.
"As for the Amherst site, it is an open quarry, and has always used derricks to move blocks.
"We began to convert it to a drive-in quarry about eight years ago, and currently have two excavators, one loader, four quarry saws and two wire saws. The four quarry saws are made by W.F. Meyers, and look like a giant chainsaw with a belt, and we just plunge it into the stone from the top of the bed we are cutting. Once we quarry down to about 80 feet, we move to another area. We are currently using six acres, but there is 112 acres of untouched property with approximately 20 feet of overburden (soil, rocks, and vegetation). Some of the older quarries had as much as 50 feet of overburden."
Available colors are Birmingham Buff and Amherst Gray, with an annual yield that averages between 250,000 to 350,000 cubic feet. According to Carpenter, volume in 2020 has increased by 30 percent over the previous year. The company also has a new quarry that they lease in central Ohio that produces a golden-colored stone. "We sell a lot of materials between the east and west coast of Canada, whether it is Calgary or Toronto, and is 30 percent of our business. We also sell a lot along the eastern seaboard, as well as Colorado, Texas and California, and quite a bit in the Cleveland area. We don't do a lot of block sales, but we do sell them in raw form. Slabs are about a third of our business, while two-thirds are used for fabrication and one-sixth go through our splitter to make steps, wall stone and veneers. Everything else goes into hardscapes, restoration or architectural work in both the commercial and residential market.
"People hear sandstone and think it's going to be soft and unusable, and that's just not true. It's extremely durable, has a lot of character, and you can do everything you want just like with Indiana Limestone. You're also going to get a little more in terms of color and character. We sell mostly through our retailers or distributors, but in an area where we have no coverage, we will certainly sell direct. We are a little more expensive, although Indiana Limestone and Texas Limestone have crept up. But our real competition comes from other places, and is not direct competition from other sandstone manufacturers."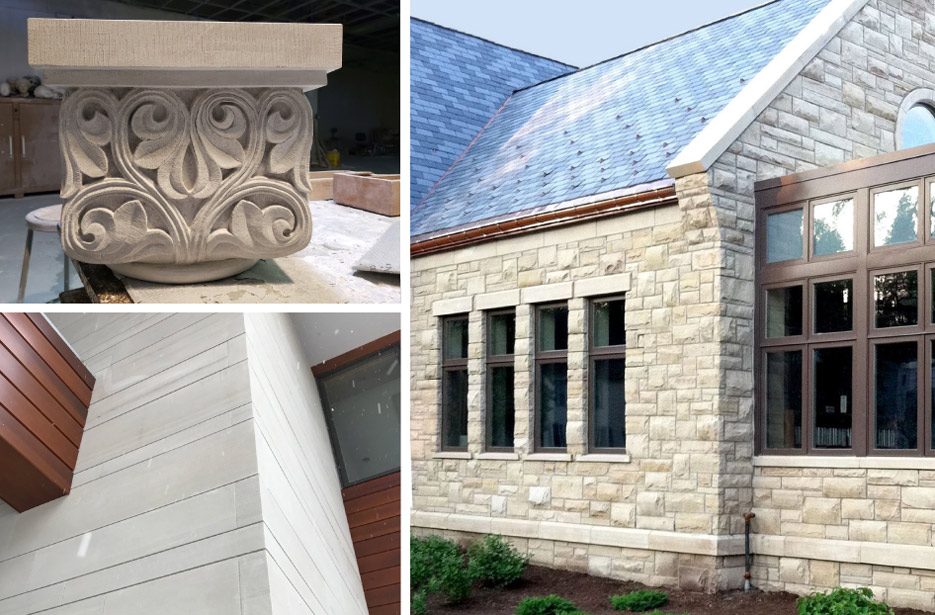 Above, bottom left: Amherst Gray sawn panels on a building façade.
Above, top left: Birmingham Buff– capitol carving in progress.
Above, right: Birmingham Buff ashlar and cut stone construction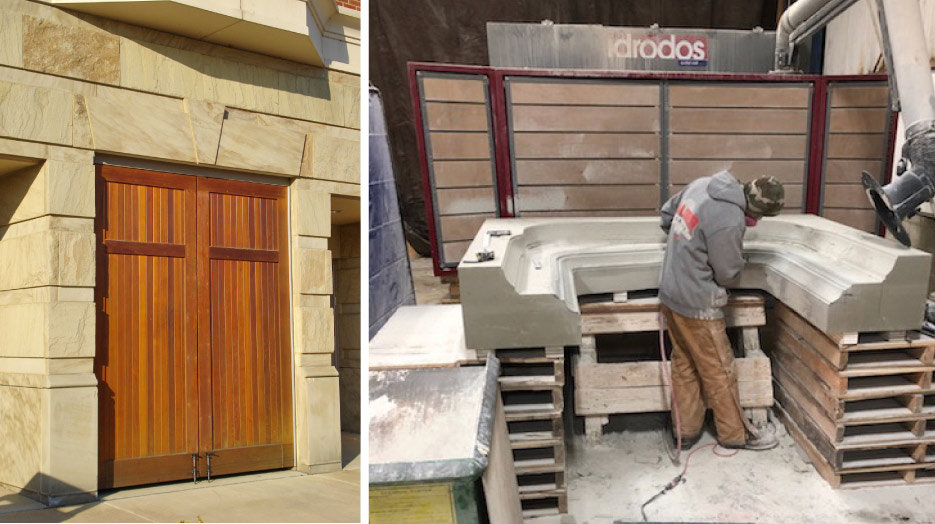 Above, left: Birmingham Buff sawn and split bedface panels. The quarry's signature colors have remained very consistent over the decades they have been used. Restoration using original colors is a primary focus of their business.
Above, right: Carving an Amherst Gray fireplace surround. The tube pictured to the right is part of a dust collection system.

Restoration: The Other Side of Fabrication
Cleveland Quarries employs two estimators and one sales director who will look at any and all drawings and estimate the job. They don't currently do any direct design work, but they will fabricate anyone's stone, explained Carpenter. "Sandstone is our specialty, but we are starting to fabricate all varieties of stone. For example – there are a lot of lesser-known stones from very small quarries that do come up in historical restorations, but don't necessarily have the capability to do the work that we do.

At one point, there were quite a few quarry operations in this region, and our quarry represents those same colors.
So, our colors have remained very consistent throughout the decades, and we can match pretty much anything that we need to from prior years of operation. One of the most prominent examples of this is the restoration of the Parliament buildings in Ottawa, Canada, which were originally built with our stone. Our restoration work is a large part of our business, and our sandstone was used so widely early on in this country, that we get called on for these types of jobs and do a lot of this kind of work. We also get called on for sandstone, especially on the west coast, where the original sandstone used didn't hold up, and the quarries that supplied it have closed up. Many times ours is a close match."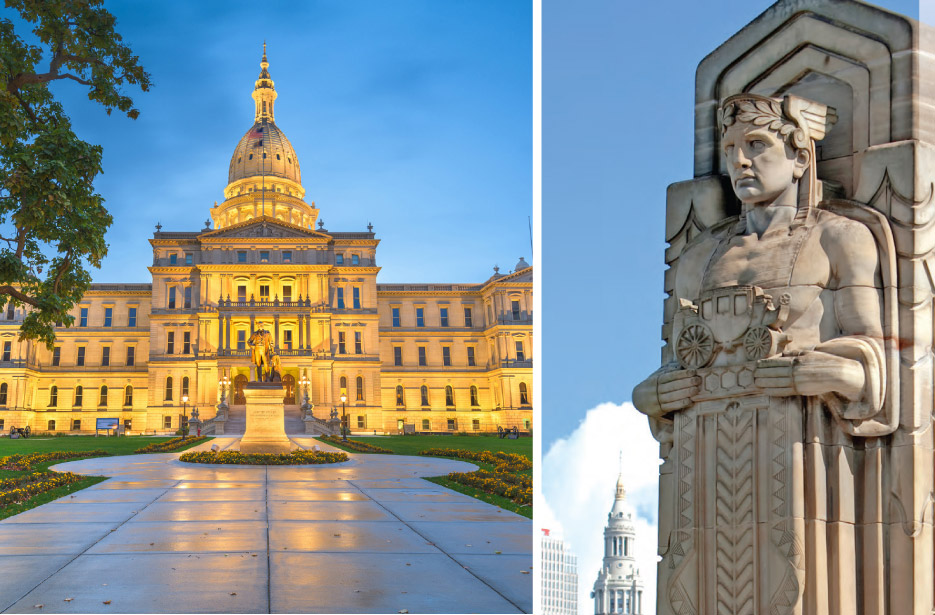 Above, left: Michigan State Capitol, Lansing, MI
Above, right: Hope Bridge - Original stone & restoration
Above, left: Justin Hall, Harvard
Above, right: Amherst Grey Paving, Photo courtesy Aristotle Design Group Boston, MA
Above, left and middle: St. Paul's Cathedral, Cleveland, OH
Above, right: Butler County Courthouse, Butler, PA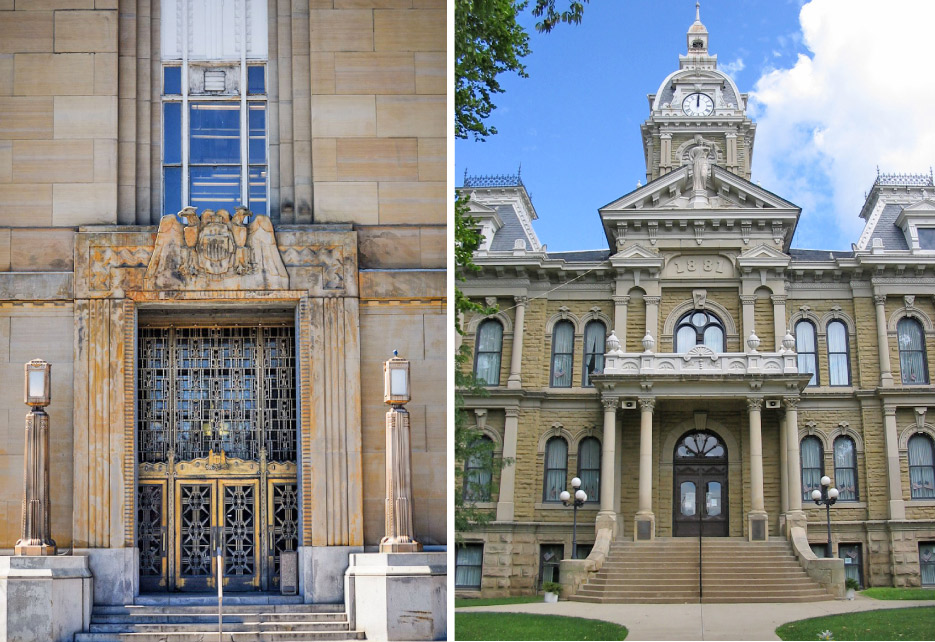 Above: Historic Cincinnatti Post Office, Ohio, Photo by David Grant

An Exemplary Future Carved in Stone
"We are really looking to increase our fabrication presence, both in the restoration and in the fabrication of different sandstones, and all stones, for that matter. I had a study done last year, and I can tell you that there is easily a minimum of 50 years of stone left in our quarry. There's a lot there, and the colors are the same. It is beautiful and durable, and there is a big demand for it, and we do want to increase our presence, but we are very cognizant of the fact that we can only meet just so much demand for our stone. That said, we are looking to increase the amount that we quarry, and I'm looking at new technology to try and produce more fabrication work out to other regions. However, at this point, what we do have the ability to meet is the large demand for our fabrication skills.
"People often come to us to see our sandstone, and are pleasantly surprised to find that we are one of the most capable quarrying and fabricating operations in the country."
Some notable past and current projects include:
Many high-end private residential projects throughout the country.
FBI Biometrics Technology Center – West Virginia
Baldwin Wallace College – Berea, Ohio
Princeton Theological Seminary – Princeton, New Jersey
Cape Disappointment Lighthouse – Ilwaco, Washington
Frostburg St. University Technology Center – Frostburg, Maryland
President Garfield's Memorial – Cleveland, Ohio
Michigan State Capitol – Lansing, Michigan
The Historic Cincinnati Post Office – Cincinnati, Ohio
Historic Library – Woburn, Massachusetts

Historic City Hall – Salt Lake City, Utah
Guardian Towers – Calgary Alberta, Canada
University of Chicago Walkways and Courtyard

The renovation of the Cleveland, Ohio Cavilers Stadium

For more information about Cleveland Quarries, visit www.clevelandquarries.com
and see the accompanying article A Short History of Cleveland Quarries.