Not a Zombie!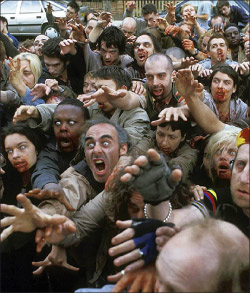 The Associated Press reports that a company in Tokyo called Kowagarasetai (which roughly translates to Scare Squad) has launched a drive-thru haunted house that allows patrons to socially distance from its "zombies" while getting a good fright.
With customers safely sealed inside their cars, the zombies do their best to scare the occupants, draping themselves over the cars and smearing them with fake blood.
"The distance (between customers and cast) has actually gotten shorter since there is only a window between them," said Daichi Ono, a cast member. The zombies then helpfully clean the cars of excess zombie debris when the 13-minute show is over.
------------------------
Workers at the James H. Cole funeral home in Detroit got a start when a body they were about to begin embalming came to life, according to news reports.
One Sunday in August, fire department paramedics in suburban Southfield were called to a home where they found 20-year-old Timesha Beauchamp unresponsive.
After trying to resuscitate her for a half-hour, they consulted an ER doctor, who, over the phone, "pronounced the patient deceased based upon medical information provided from the scene," according to the fire department.
She was transported to the funeral home where, more than an hour later, she opened her eyes, and staff summoned emergency crews to take her to a hospital, where she was listed in critical condition.