Coldspring: The Legacy Continues
Peter J. Marcucci
Photos  Courtesy Coldspring and © Photos by Permission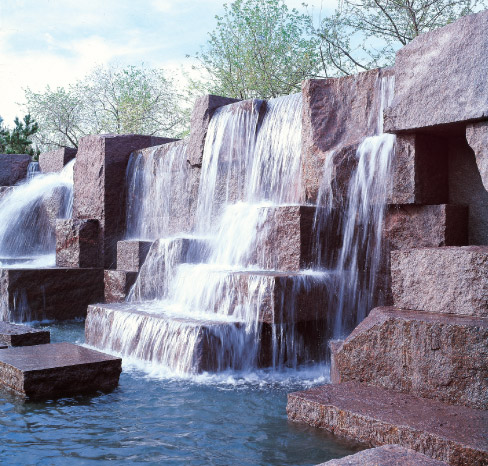 Fountain built from rough-hewn Carnelian Granite  – just one small feature of the FDR Memorial in Washington D.C. . The memorial comprises 7.5 acres and contains about 200 truckloads of Coldspring granite.
Coldspring, a name synonymous with quality and service, has been on the forefront of quarrying America's finest stones for over 120 years. Headquartered in Cold Spring, Minnesota, the company has survived all the ups and downs of changing trends, and the highs and lows of economies in constant flux throughout the world.
Staying ahead of the curve has included knowing their markets, what colors are or will be in vogue, and what is needed to satisfy the appetites and aesthetic demands of cutting-edge designers and architects.
While many in the industry know Coldspring for their work on iconic projects throughout the country, Coldspring has diversified throughout their history to serve the architectural, memorial, residential and industrial markets on projects of all sizes with various types of natural stone, bronze, engineered cladding systems, construction and installation, and industrial and diamond-tooling products. They have over 30 quarries and multiple stone fabrication facilities across the country, a bronze foundry at their headquarters and a lightweight cladding fabrication facility at their Texas facility.
Furthermore, and most important to the company's success, is the mindset of Coldspring's 1,000 employees, who constantly strive to be more efficient, quarry in an environmentally aware manner and produce first-quality materials, while developing new and better ways to produce in an ever-changing economy. Their team of experts tailor to the work at hand to create unique customer solutions for anyone they work with. It is these attributes that are the focus of this story and explained through the words of Mike O'Connor, Coldspring's Director of Business Development.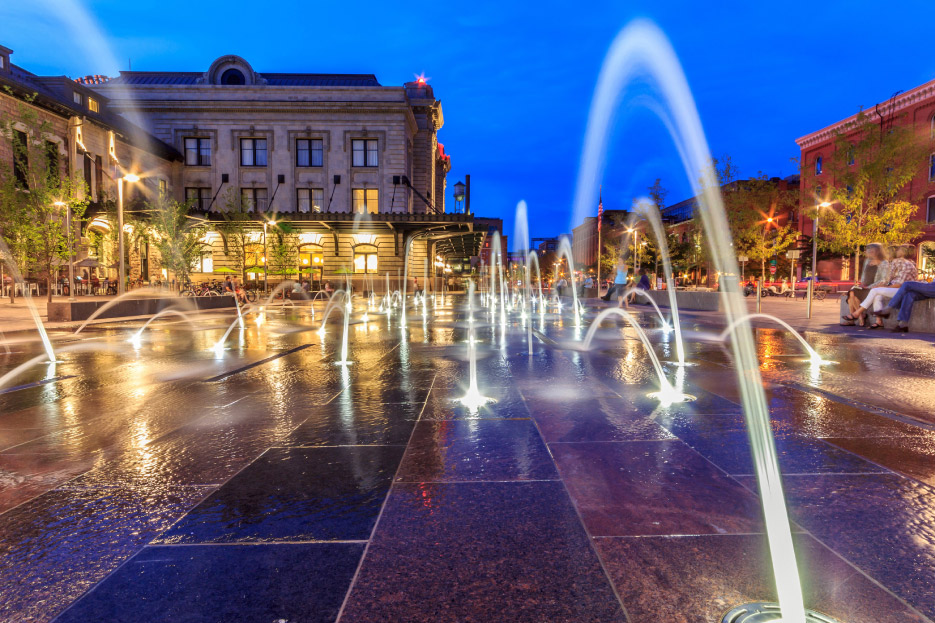 Above: Denver Union Station, Fountain and Paving features Agate, Carnelian and Mesabi Black in a thermal finish.
©Ryan Dravitz Photography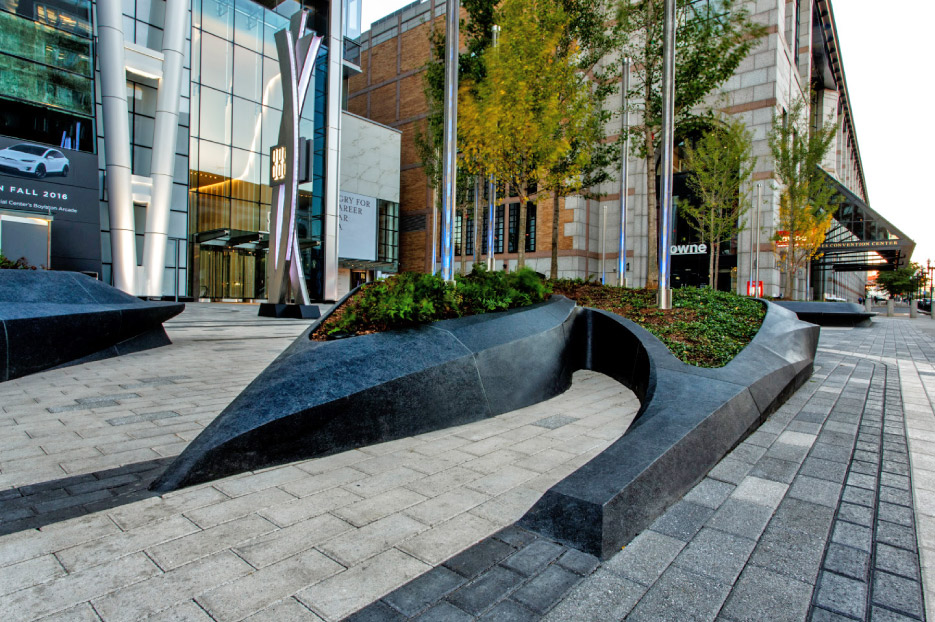 Above: 888 Boylston, Boston, MA. Exterior Coping, Paving and Benches in Textured Mesabi Black. ©Amesse Photography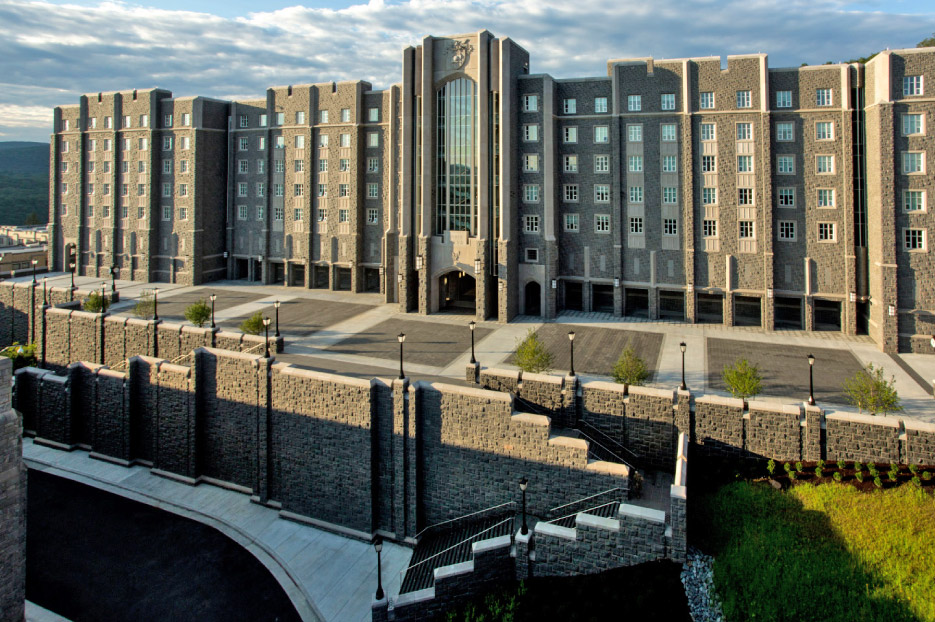 Above: West Point Cadet Barracks. Charcoal Black Split Face and Mesabi Black were used for exterior cladding (Charcoal), flooring, interior stone facing, signage, site furnishings, staircases/steps, and pillars. ©Amesse Photography

Mesabi Black® Granite

Diamond 8 Finish

Babbitt, MN Quarry

Academy Black® Granite

Thermal Polish

Clovis, CA Quarry

Charcoal Black® Granite

Split Face Finish

St. Cloud, MN Quarry

Rockville White® Granite

Diamond 10 Point Finish

Rockville, MN Quarry

Carnelian® Granite

Thermal Finish

Milbank, SD Quarry

Variegated Rainbow® Granite,

Thermal Finish

Morton, MN Quarry

Agate

Polished Finish

Ortonville, MN Quarry

Lake Superior Green® Granite,

Pacific Finish

Isabella, MN Quarry


A Legacy Built on Values
"For a company that has been around for over 120 years, it's fair to say that Coldspring has pivoted through an enormous amount of change over the years. The core reason that Coldspring has stuck around through countless ups and downs along the way is because of the people who work here. In every situation, we had the right people at the right time, living with the right values to help us overcome the challenges. This goes all the way back to when Henry Alexander, a Scottish stone cutter, started the company in 1890, and acquired complete interest in the company in 1898. (Please see Coldspring history timeline.)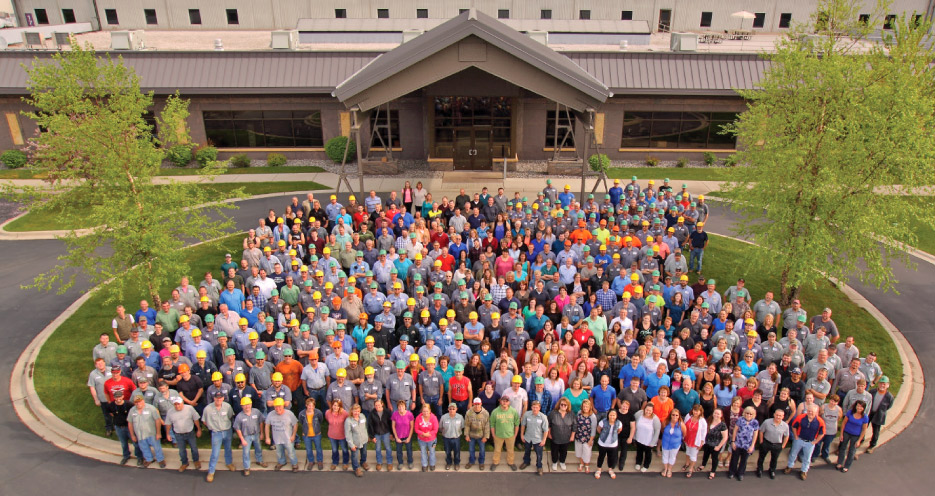 Coldspring Company photo, c. 2018. Over 500 employees from all four divisions of the company are represented in this group.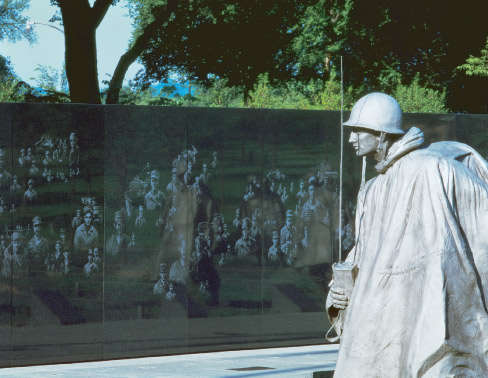 Above, Korean War memorial: The design is a formation of four 16-foot tall granite clad columns surrounded by four granite walls – each column representing one year of the Korean War.
Thermal polished Academy Black granite was chosen to create a clear background for the memorial's artwork, which was transferred and carved into the stone.
Philadelphia, PA.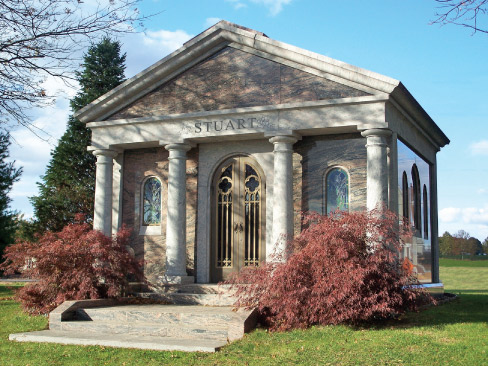 Above, Stuart Mausoleum: Variegated Rainbow granite, one of the hardest of its kind in the world, is an inspired choice for this regal Neo-classical mausoleum. The sanded Doric columns, architrave and roof contrast beautifully with the polished granite walls. Palladian accents, including the arched windows and door, harmonize with the columns to form a complete and elegant architectural statement.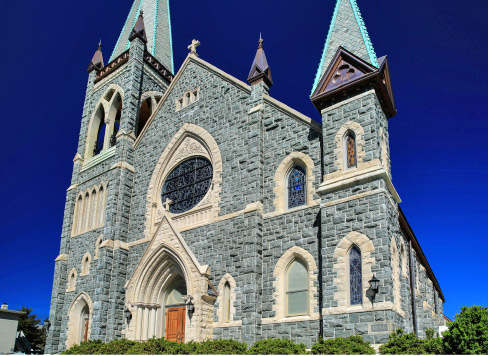 Above: St. Francis of Assisi Church, Staunton, VA. Lake Superior Green Exterior Cladding
Finish: Split Face (Rockface)
The Alexander family has always been grounded in having a servant's heart. The thought of serving first and leading second has been a part of how they led the organization in years past, and is how I have been asked to lead the business as I transition into the role of carrying the business forward. When my father-in-law, Pat Alexander, asked my wife Holly and I to not only keep the business in the family, but to commit to leading the organization with the intent of thriving for another 120 years, the answer for us was an easy 'yes'. We've seen just how grounded in values this company is. The foundation that was set many years ago with Henry Alexander still holds true today and is something we wanted to be a part of. Our values at Coldspring are reflected in the word HONOR.
"It's important that we not just have these values listed in an employee handbook somewhere rather that we live and breathe these values in how we operate. It's how I have been advised to have discussions within the organization. We frequently represent the need to live with HONOR and act accordingly. We fundamentally believe that if we take care of our employees, and our employees live with HONOR to find the win-win with customers, our bottom line will be OK.
"At Coldspring, we are open and transparent, providing quarterly updates to our employees to openly share results and forecasts. We strive to physically visit all of our locations to communicate with our people. We have no hidden agendas. We've built our relationships to support everyone's well-being, including the community in which we live, work and play.
"A key part of being able to live and operate by these values is to have the right folks on our team. Some would argue that we've been very lucky. Others would argue that we've been disciplined in our efforts to focus on values. The end result is our company is filled with the right people. Not only do they work a very demanding job here at Coldspring, additionally so many of them run their own farms and side businesses as well. I don't know how they find the time to do it, they are just those kinds of people! They are capable, and problem solvers. That owner's mindset is brought to work in how they do their work.
"When people apply to come to work with us, our first effort is in determining if they are a good fit. After the fit question, is the hard skills question. While we prefer to hire people that are both a good fit and have the desired hard skills, if they are a good fit and don't have the hard skills, we can give them the training and development needed to ensure that they will be able to contribute over time. It's just the way we approach it. Retaining and maintaining our employees is priority. Our company is our people and we know that staying grounded in our values is a key part of our success both now and into the future.

Using Resources Wisely
"In the quarry business, demand for colors varies both by markets as well as with the trends, there isn't a constant demand. This makes utilizing our resources wisely, a key to enabling our ability to thrive. We operate a mobile quarry system and saw teams. This allows us to go into a quarry and extract what we estimate is needed for the year.
"Putting together these teams logistically and estimating what we'll need can be quite difficult. We also get a lot of calls for materials quarried years ago and are again needed for renovation work. Fortunately, we catalog where, when and for what jobs materials were extracted. Our quarries are constantly changing, in some cases subtly so we keep samples to match as best as possible for what the customers are looking for.
"To enable the needed flexibility in the quarry system, we do our best to cross-train as much as we can. By operating this way, we have seen productivity increase because we are doing more with the same. It also allows us to grow our bottom line and respond with support based on demand. For example, we are quarrying a lot of stone for a large jetty job in Corpus Christi, Texas. In the beginning, we knew that we needed to engage with our people to get the capacity to do the project, so we reached back to our team and asked for volunteers to go down to Texas and help. To enable a second shift, we put lights up and we are managing to get it done.
"When I went down there, I was working with a guy who was operating a wedger, breaking stone. He looked like any of the other quarriers working there, and when I asked him, 'How did you find yourself in Texas working in a quarry?' He said, 'Mike, I normally work in your purchasing department!' I said, while smiling, 'That's great!' He was working really hard, doing a dirty job after driving down from Minnesota, at our request. That example plays out with people from all over the Company. We are at the height of this job, and expect to complete it early next year.

An Outlook of Growth and Prosperity
"As we look towards the future, we know that the pace of change is only going to get faster, and just as we have throughout our history, we need to continue to adapt to the changing markets. When your vision is to thrive for another 100 years, that mindset is the only option. This thought process is what has gotten us to where we are today. In some cases we grow and expand within the markets we are already serving, and in some cases we have diversified our company into new markets. Every year we are acquiring more capable equipment and doing more work, so we have more flexibility in our production system to meet the needs of our customers. We know that our equipment upgrades are headed in the right direction and production keeps getting better and better. Even despite COVID, Coldspring is going to have a heck of a year, but it gets back to being innovative and nimble, and finding a way to navigate through the uncertainties of the current environment. At our core, we believe if we focus on our people, lead with a servant heart, and problem solve as a team, we will continue to adapt and be leaders in the industry."


Please see Coldspring history timeline.

For more information and to watch some great videos, visit their excellent website at www.coldspringusa.com .