Stunning Agate Collection Introduced to the Marketplace by Stone & Pewter Accents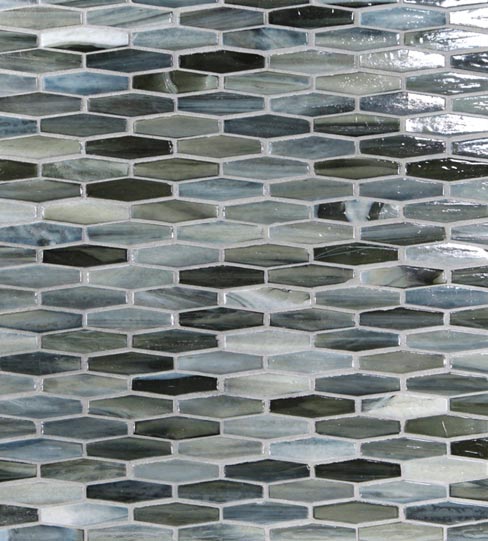 Stone & Pewter Accents has created a state-of-the-art mosaic glass tile collection named "Agate," with a look amazingly similar to natural layered silica created by volcanic stone formations.
Not surprisingly, the Agate glass series is created via a similar process, where molten silica is hand-poured resulting in unique variations and variegations reminiscent of naturally formed stone.
Agate is offered in two finishes, iridescent Pearl and matte Silk. The collection includes the new "Martini" shape, which in the words of designer Carl Steadly, "has an interesting hexagonal shape that at first glance, looks like a martini shaker!"
Tiles are produced via the firm's cutting-edge technology utilizing a multi-stream process of combining both transparent and opaque glass with an iridescent surface. This unique process results in brilliant "bursts of color" that actually change based upon the way light strikes each individual tile's surface.
"This may very well be the best, most advanced glass tile we've developed," stated Steadly, who over the years has been responsible for bringing numerous glass tile "firsts" to the world marketplace. "If you look very closely at each individual mosaic tile, you'll experience color combinations unavailable until now."
Using glass, inert mineral components and being paper-faced mounted, Agate maximizes bond strength and is comprised of completely environmentally-friendly materials. Agate is available in 14 exquisite colors including naturally occurring blue and green tones, with names inspired by Italian cities.
About Stone & Pewter Accents
Los Angeles-based Stone & Pewter Accents designs and manufactures hand-made Ceramic, Glass, Pewter, Stone & Wood tile. Styles range from traditional to contemporary to avant-garde. Discover design ideas, new launches and product images by logging on to StonePewterAccents.com. For more information contact Stone & Pewter Accents info@StonePewterAccents.com or call 310-257-1300.