Caesarstone's New Art of Darkness Series
Caesarstone's new Dark Series embraces a contemporary trend in kitchens and bathrooms that has set a bold tone.
As an antidote to light and sometimes austere color palettes, this softer mood is much more striking and unexpected. Today, black has been reconsidered as a modern classic, used as a stark accent or a powerful overall look. Furniture, tabletops, flowers and food are just some of the lifestyle elements that have turned to black. Dark slate and stone, along with oxidized metal and black lacquered wood, are among the remarkable materials being combined in dramatic interiors and hospitality spaces.
From the classic luxury of Empira Black™, to the matte infinity of Piatto Black™, via the evocative patinas of rusted Oxidian™ and weathered Black Tempal™, the Dark Collection presents an intriguing range of captivating hues that bring warmth to the home and an emotional caress to the stone. Black Tempal, Oxidian and Piatto Black are enhanced by a new Natural Finish, which has a subtle texture that can be seen as well as felt, bringing much warmth to its range – and adding extra depth to its textural darks.

Natural Finish
The delicately textured Natural finish conjures up the emotional caress of stone; adding warmth to the grain so it's pleasing to the touch. A satin sheen that gently reflects light – captivating the viewer and enhancing the depth of a color, especially in these darker shades. The new Natural finish combines an appealing texture enjoyed with each touch, along with the practicality of minimal care and maintenance synonymous with all Caesarstone products.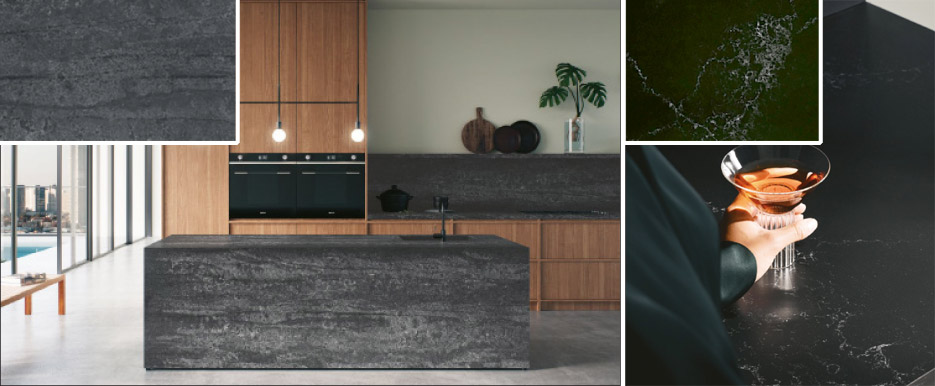 Left: Black Tempal has a complex composition of mineral-like layers. It captures the qualities of natural stones like travertine and slate. Warm whites expand across the slab, in contrast to its black base.

Right: Empira Black is a creative interpretation of dark marble. It's a design beyond time and trend. With all the mystery of a dark stone, Empira Black has a dark base composed of rich, deep black, beautified by fine white natural veins.

Polished Finish
This high gloss polish evokes luxury and modernity, bringing out the best in the color by emphasizing its features in high definition. Reflecting the shine of the times, it attracts light and illuminates kitchens, bathrooms and laundry rooms, naturally making them look larger. This durable surface is smooth to the touch and requires minimal care and maintenance, lasting for the long-term. Effortlessly elegant, our Polished finish feels both timeless and contemporary, adding sustained value to any residential, hospitality or commercial interior.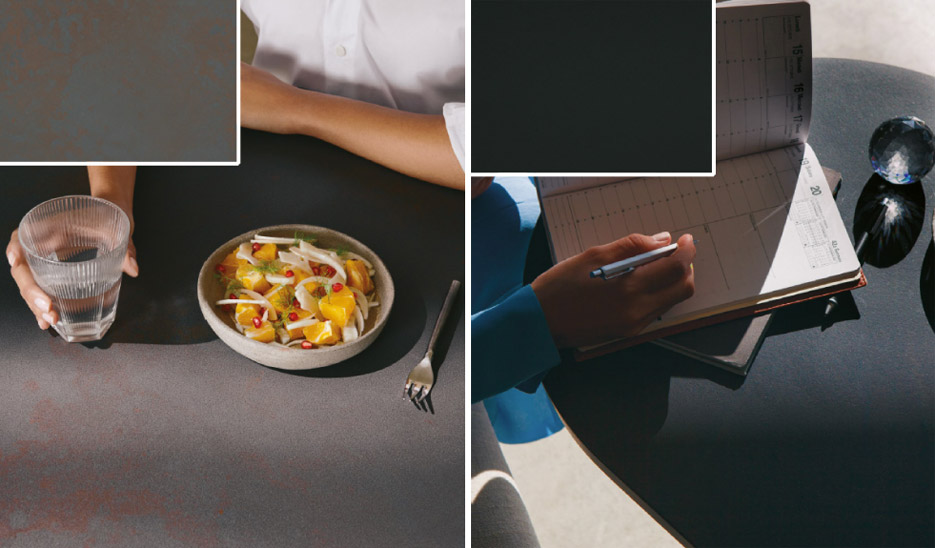 Left: Oxidian bears the qualities of transformed alloys like bronze, steel and cast-iron and an aesthetic of oxidized rust and weathered patinas. It blends well with other industrial materials like concrete. Its dark grey satin base has true depth, with an unevenly dispersed oxidized russet effect.

Right: Piatto Black is the ultimate dark. Its fine granular appearance is complemented by a textured finish; enhancing a deeper, more intense black. Highly durable, this captivating material guarantees the ease and care synonymous with all Caesarstone products. Piatto Black has been designed with versatility in mind.
For specs, samples and information on the entire collection, visit www.caesarstoneus.com .