BB Industries Introduces New App with 2021 Catalog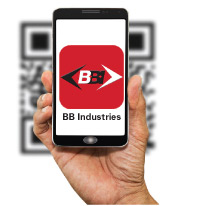 BBI is launching a robust new Augmented Reality (AR) application in conjunction with its 2021 catalog.
This app will allow fabricators to access product information on the fly from a phone, even if there is not an available computer. In the near future, purchasing from the app will be available.
Augmented Reality is an interactive experience of a real-world environment where the objects that reside in the real world are enhanced by computer-generated perceptual information across multiple sensory modalities, including visual and auditory feedback.
"This new app will give fabricators the most options to get the products they need when they need them," said CEO Rick Stimac. "As a part of our commitment to being a true business partner, we have heavily invested time and re-sources to provide next-level solutions and lead the industry with innovation. We know this product will be fast and convenient for our customers, and with this technology service level possibilities are endless."
The company is launching the app with the January release of its 2021 catalog. Customers scan a graphic image with a hidden code, to receive product info, technical specs, sales offers and more, and are sent to the website to order. Phase 2 of the app will include purchase directly from the app.
Customers can now download the new BBI app from iTunes and the Google app store to get started. The app will continue to evolve.

For over 27 years BB Industries' philosophy has been to offer exceptional products and first-class service to its partners in the stone, tile and concrete industries.
For more information, visit www.bbindustriesllc.com or www.facebook.com/bbindustries.