The No-Lift Install System: Worth Its Weight in Stone
Peter J. Marcucci
Photos  Courtesy No-Lift and by Larry Hood
Not so long ago, the only option for getting countertops from the truck into the jobsite were variations of 2-wheel dollies, slings, 4-wheel carts made for other trades, or just brute man power. All of these methods did get countertops in, but then what? Oh, and don't forget to send out one or two extra shop guys to help with that monster island top. And when it was installed, chances were that one person would walk (or hobble) away with a strained back, especially if it was 3cm black granite. Furthermore, drywall carts with four steerable wheels were notorious for coming out from under themselves while installers negotiated ruts or uneven surfaces. We all knew there was a better way, but what? Hence, the advent of the No-Lift Install System.

In a third-quarter 2020 survey, 92 percent of the No-Lift customers who responded reported they were satisfied with their system, and 4 out 5 said their No-Lift system had paid for itself in reduced injuries and savings during the first year of use. The No-Lift received the Best of Innovation award at TISE in 2020.

Above, right: Crowley welding the first No-Lift prototype cart, circa 2012. The No-Lift Cart was commercially launched in 2015, after extensively testing several prototypes in-house.
Developed in-house under real working conditions at Crowley's Granite Concepts, a medium-size fabrication shop located in Tualatin, Oregon, the No-Lift Install System was created to save the company's valued people, recalled Aaron Crowley. "In 2012, we had two highly skilled installers who were questioning how long they'd be able to continue installing, due to the physical toll it was taking on their bodies."
Soon after, Crowley showed-up on a jobsite to help them install a large L-shape top with a cutout. Both installers were still sore, so Crowley took the awkward sink end, he continued. "We picked it up while I was leaning over the corner section trying to set it down on the cabinet without smashing my fingers. I severely strained my back, which was nothing new."
With the countertop installed, Crowley, now quite uncomfortable, began driving back to the shop. "I was very fed up with what seemed to me a criminal problem in the industry that hadn't been resolved yet. And I'm not exaggerating when I say this: when I got back to the shop I thought, if I cannot build a cart to solve this problem, I am going to sell my shop and get out of the business."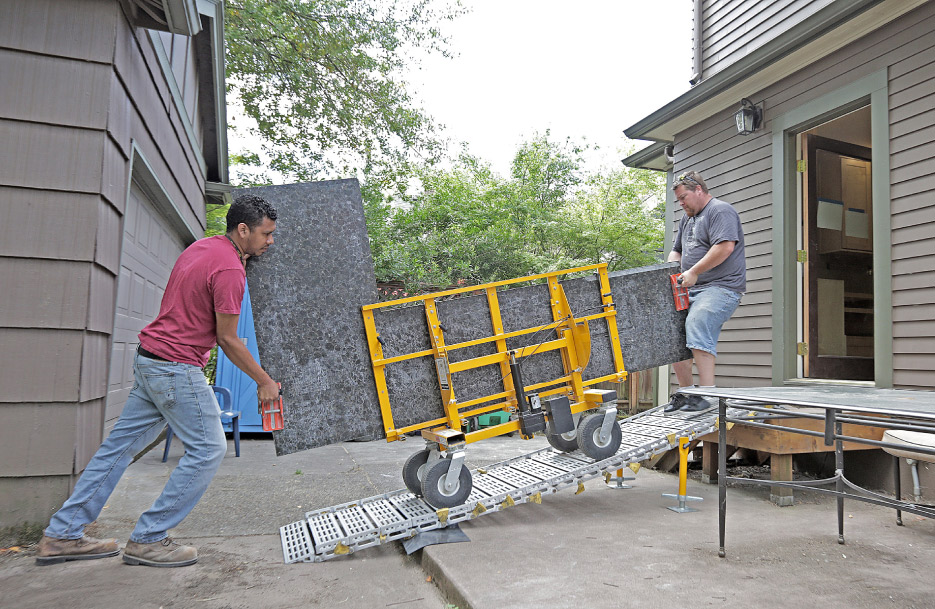 Above and below: The aluminum folding Roll-A-Ramp accessory is rated for 900 pounds, with optional extensions to provide safe countertop delivery to jobsites with access challenges like stairs.
Alan Ramirez and Sean Crews, installers for Crowley's Granite Concepts, have been using the No-Lift for years, with a noticeable reduction of strain.
Photos (2) by L Hood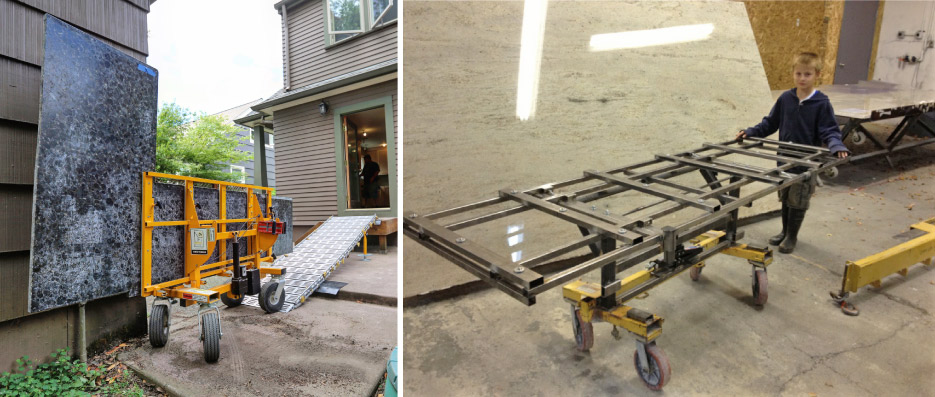 The small footprint and compact, folded package make the No-Lift Cart easy to transport to the jobsite. Superior Stone Countertops uses this custom install trailer to load the granite on outside rails to balance the load, and all tools and equipment can be safely locked on the inside.

Above, right: 9-year-old Alex Crowley beside the first No-Lift cart, on its first day of testing in the Crowley's Granite Concepts shop.

Team Work Made the Dream Work
That very same day, Crowley went to Harbor Freight to purchase a small band saw, a welder, a drill press. He then built the first prototype of the No-Lift-Install System Cart, using the memory of a sketch his uncle (and future business partner) had showed him years before. After extensive testing through real-world install conditions, a second, third and then a forth prototype were created and put to work in his install department.
This fourth model was a milestone achievement: one day a few weeks after giving it to the crew to try out, his lead installer came to him in private and thanked him saying, "I can keep working now and I'm never going to another jobsite without this cart!" With this feedback, Aaron and Roger Crowley realized they had a game-changer.
By all accounts, the No-Lift System is the Bentley of slab transport systems. From the elegant robotic welds on its laser cut steel, to its glossy, powder-coated finish, the No-Lift Install System cart oozes safety and efficiency. It is built to the hilt for countless years of service due to two important things: home grown testing by the installation crews and constant analysis, said Crowley.
"When we were developing the No-Lift, the value of having a stone shop allowed us to prove the system out extensively before we even sold the first one to a fellow fabricator. We even brought the design to a mechanical engineer to prove out our weld sites and our design. Even though it's rated for 600 pounds, everything on our cart is overbuilt and could lift double the rated capacity, all day long. However, we felt that anything over 600 pounds would be unsafe while pushing it into the home and around the work area."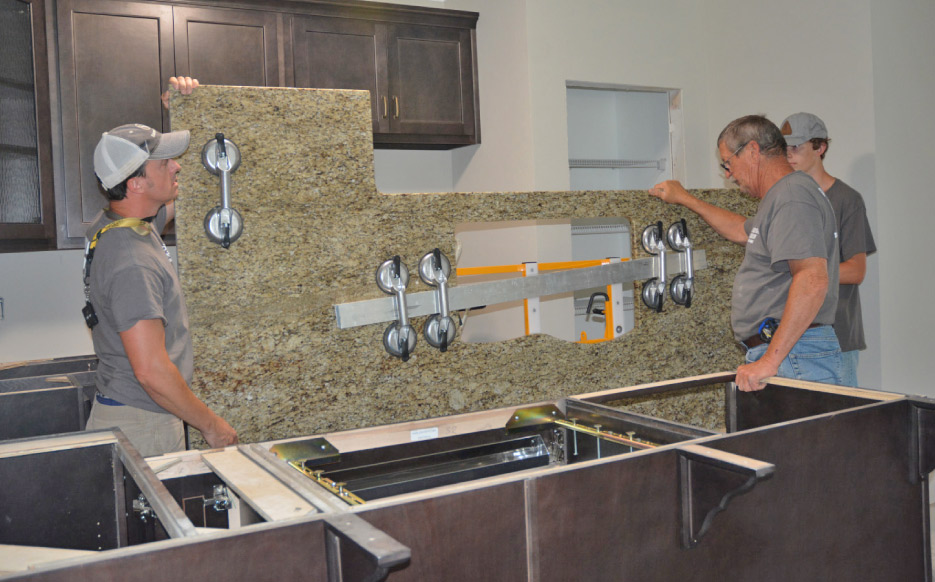 Above: One of Crowley's satisfied customers, Josh Stafford of Superior Stone Countertops in Crandall, Georgia, had this to say about his No-Lift: "Last year (2019) I bought a No-Lift Install Cart. Being such a small company, it was a big step for me to drop thousands on a cart. Since then, though, I have installed some monster pieces with it. It's a life and back saver, and has paid for itself in just the few short months that I've had it. I saw it (advertised in the Slippery Rock Gazette), and in the beginning I didn't think it'd be worth a flip, but it's a really unique and valuable tool. The roller ramp that came with it is phenomenal, too." See the August 2020 issue of the SRG for Stafford's story as a fabricator and firefighter/ first responder for the Chatsworth, Georgia fire department, and a member of Task Force 6, a regional emergency response team.

Below: delivering and installing oversize or irregularly-shaped countertops becomes safer and more manageable with two installers when using the No-Lift System. Chad Leverich and Alan Ramirez maneuver this oversize, kidney-shaped top into place.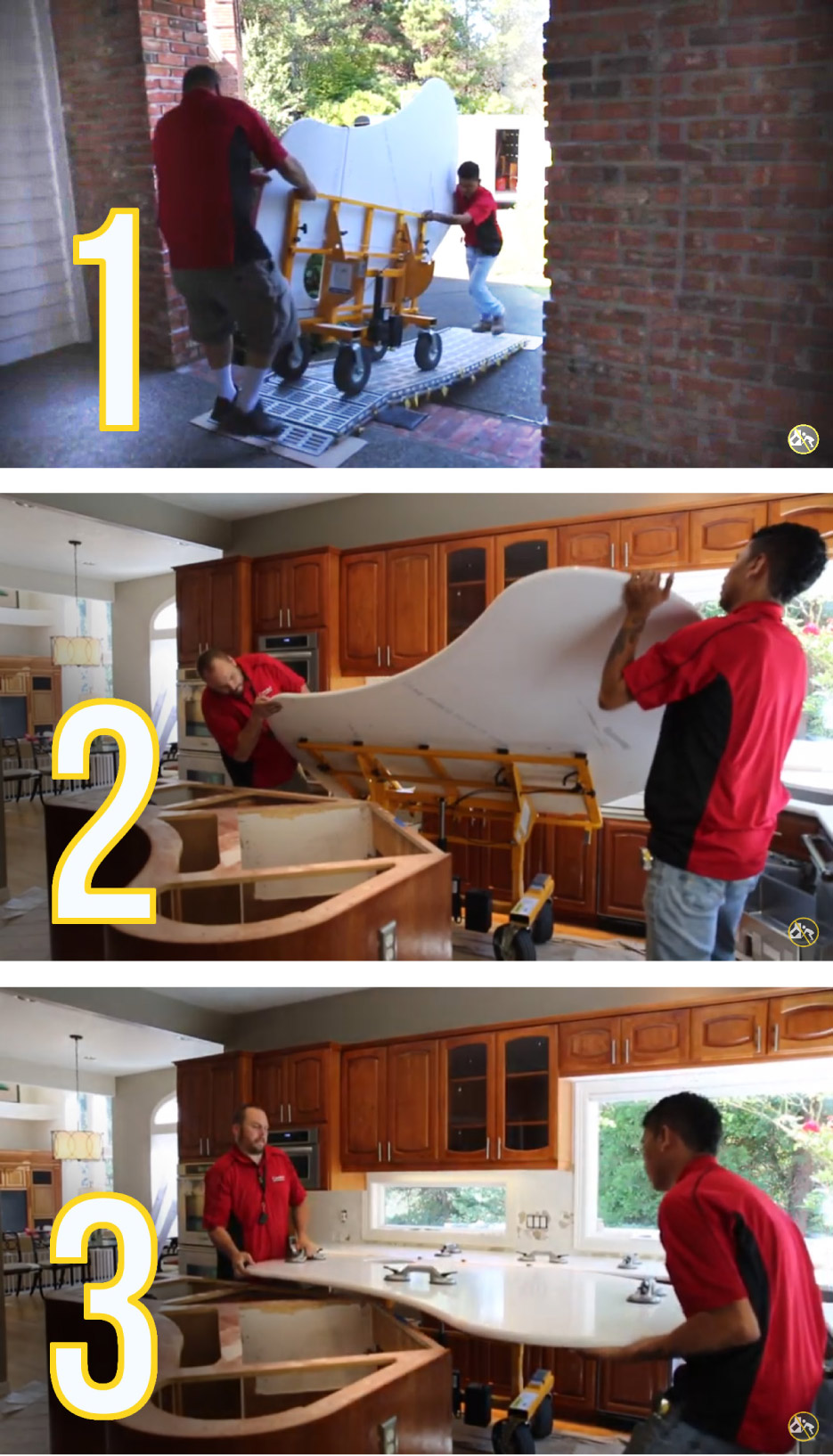 Not Your Father's Installation Cart
The two main features of the cart are the frame lifting mechanism and the rotating mechanism. The lifting mechanism is a 12- volt battery-powered actuator that has a 1,500 pound lifting capacity (although 600 pounds is the rated weight limit for safely handling slabs once in the horizontal position). This is the mechanism that picks the countertop up and lifts it to cabinet height. It is operated by remote control. Every No-Lift cart comes with these features, so either installer can operate it.
Once the countertop is at the approximate cabinet height, the frame that holds and supports the countertop can be unlocked and rotated to the horizontal position and locked into place. Then, after the final height is set using the remote control, a security hook (called the Shepherd Hook) is released, allowing the countertop to easily roll onto the cabinet by means of 20 transfer balls that sit just above frame. The transfer balls make for a very stable yet frictionless surface.
The other key patented feature is the automatic drop-away feet that facilitate placement onto the cabinet when a countertop is transported with the wall edge down instead of up.
As for wheels, the No-Lift Install System cart features non-marring, non-binding tires, explained Crowley. "We tested every wheel, tire and castor known to mankind, and wound-up with 10 inch by 4 inch solid rubber tires made by a company called Ameritire out in Arizona. These tires were made exclusively for installations and going over curbs, rocks, thresholds, cords, drop cloths. They are perfectly designed for what we do."
As for the castors, Crowley said, "They are equally important. Most people see them and assume that they are a traditional castor available at Home Depot or Harbor Freight… but they are not. We tested those traditional castors, and even though they were "over rated" for the cart's 600 pound weight limit, they simply can't stand up to the abuse of daily use that installing dishes out. They wear out and get sloppy pretty quick.
"They don't pivot well when worn, and when you're in a small kitchen trying to turn in all directions with a large countertop, you need to have precise, universal direction on those castors. So the low friction, locking castors we use, each have a 3,500 pound weight capacity, even though we are only putting a maximum of 600 pounds on the cart."
As a plus, because of the cart's efficiency, in some cases, seams can be eliminated. Without a doubt, fewer seams are a real people pleaser, and a great way to make your countertops a cut above your competition.
As for options, there's a whole bunch. One of particular interest is called the Roll-A-Ramp, explained Crowley. "The Roll-A-Ramp is made out of aluminum, and has a 900 pound capacity. It weighs 55 pounds and is easily transportable. It is also infinitely expandable using the optional extensions, great for those extra long steps or that freshly poured concrete walkway that the supervisor forgot to tell you about on installation day. About 70 percent of the customers who buy the No-Lift Install System additionally buy the Roll-A-Ramp."
A rail system called the Counter Handler is also available, made for supporting textured countertops such as leathered or flame finished.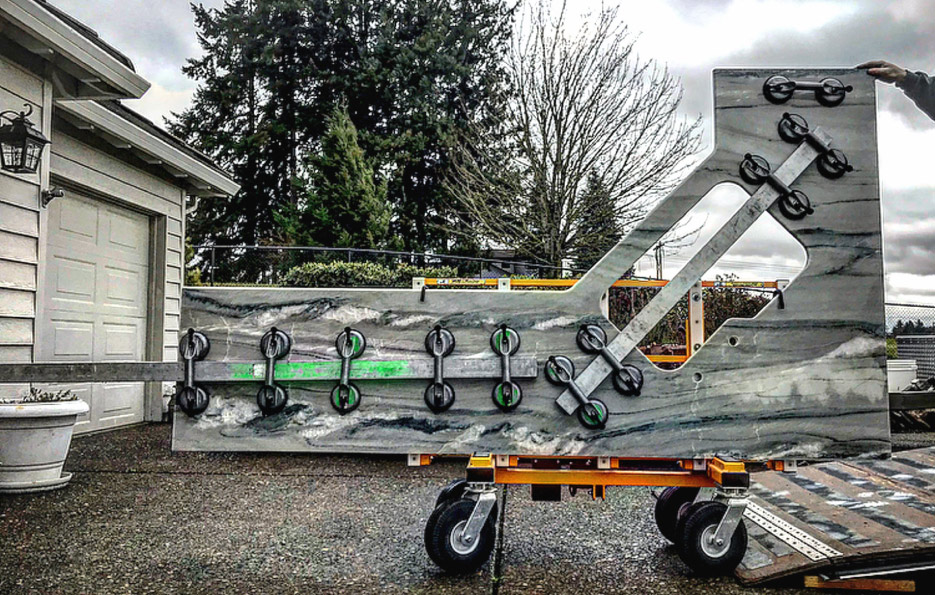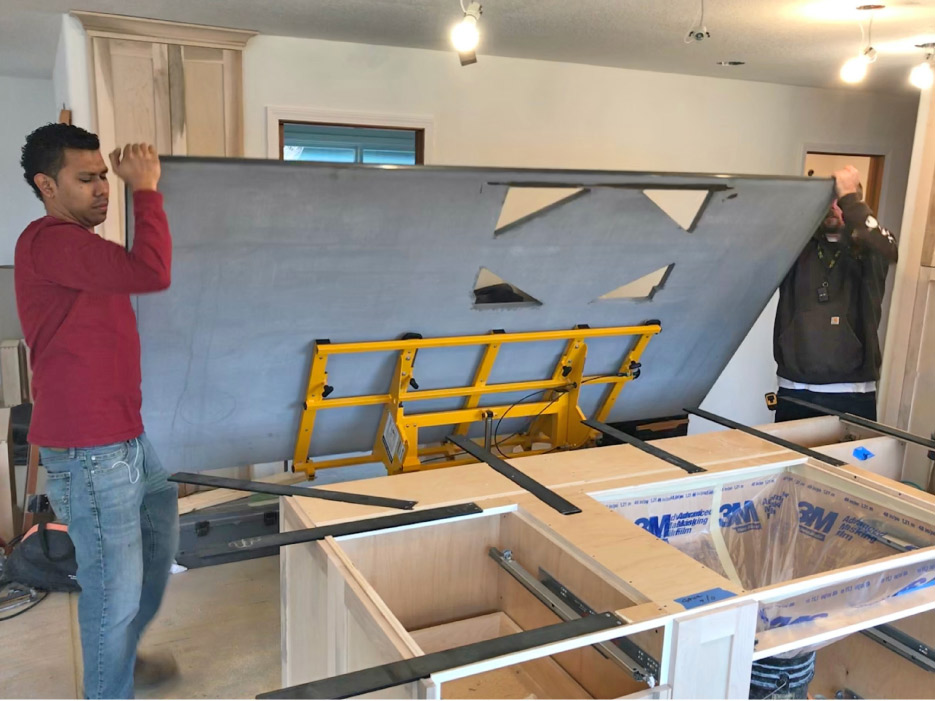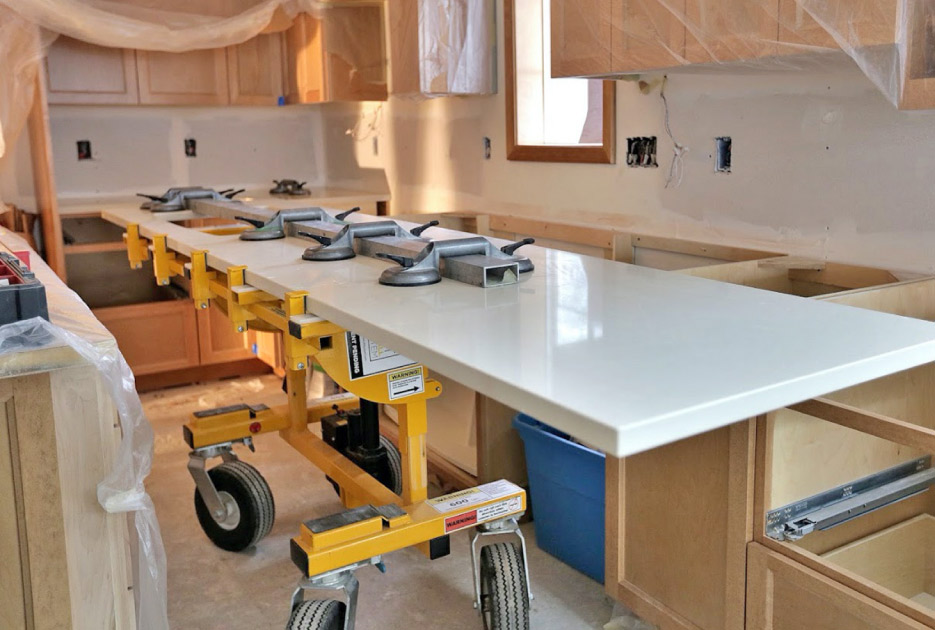 What installers and No-Lift shop owners are saying:
• "We have been able to remove a lot of the physical stress on our employees bodies, made installations safer" - John C.
• "Two guys can install a large island. The turn radius allows for easy navigation through the tightest of spots. The Roll-A-Ramp is just as useful as the cart itself. You guys found the winning combination. I am happy we decided to go with the No-Lift cart. It is one of the top 3 best purchases we've ever made. Right next to my CNC machine and my overhead crane." - Bill B.
Crowley also said that some new ideas are on the drawing board, but couldn't talk about them, yet. He did, however, reveal there's a crane system being developed that loads the countertops from the shop cart into the trailer, and then loads the No-Lift cart at the jobsite. (We plan to reveal more on these inventions in a future Slippery Rock story. – Editor)
In closing, the No-Lift Install System is made exclusively for carrying and installing countertops! It is the pinnacle of design and offers faster installs, less breakage, and less employee turnover due to fewer injuries. The system comes with a 30- day, money-back return policy, and a one-year/two-year no bull warranty.

For more information, demonstrations of the No-Lift in action, and actual user testimonials, go to www.noliftsystem.com and watch the many videos available. Email Sales@NoLiftSystem.com or call 503-212-4034.