Raising the Flag at Upstate Granite Solutions
Peter J. Marcucci
Photos  Courtesy

Upstate Granite Solutions
Americans love their holidays, and why shouldn't they? They're about celebrating freedom, giving thanks, giving gifts and sharing meals with loved ones.
One unique and sometimes very personal holiday, Veteran's Day, is a time to reflect and honor those who have given so much, including the ultimate sacrifice – while serving their country.
For Paul Nichols, Veteran's Day couldn't be more personal. Nichols is the Founder and CEO of Upstate Granite Solutions, a fabrication company located in Greenville, South Carolina. You see, Nichols himself is a veteran who was medically retired in 2014 after suffering two broken legs and seven surgeries. The upside? He and his wife Kelly would soon open the doors to a successful fab shop, recalled Nichols.
"We were remodeling the house we were living in and we needed countertops, but we were disappointed with what we found as far as pricing and customer service. So we basically created our own solutions by buying some slabs from a company that was going out of business. I then watched videos, and learned how to put those kitchen slabs in our house. After that was successful, I thought I could sell off the slabs that were left over, which I did. That was a little over five years ago." Successful, indeed. Just a few years later, Upstate Granite Solutions moved into its current, 20,000 square foot building.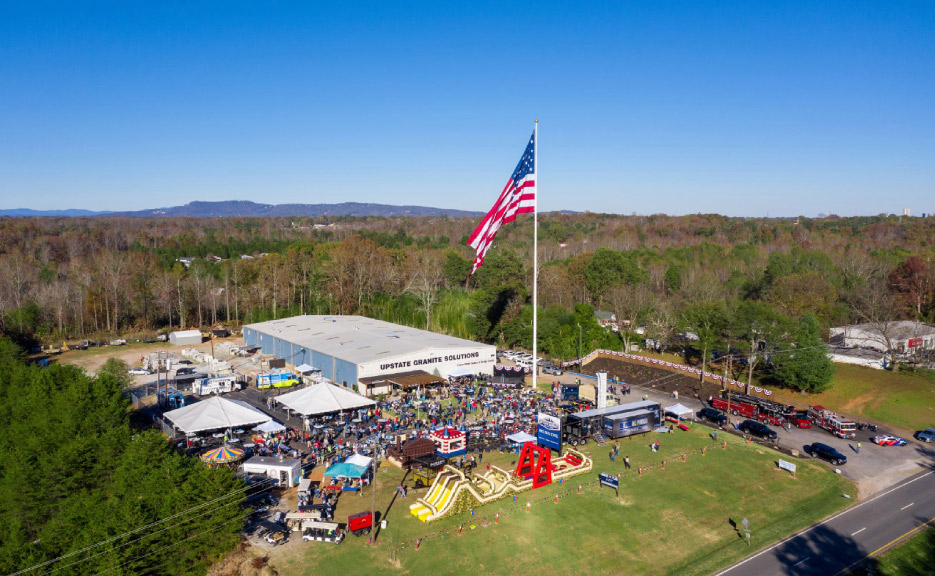 Drone camera footage captured the 50 by 80 foot flag rising up the flagpole at the Veteran's Day and flag dedication ceremony.
The Making of a Memorable Veteran's Day Event
There were two factors leading up to the event. The first was that it was the company's fifth anniversary, and the second was that Nichols and his team wanted to do something to give back to their community, he continued. "We were thinking of having a barbecue and some activities for families; sort of an open house event. Then September 11 came around, and we wanted to do a display to honor our first responders as well as our veterans. So we hung a 20 foot by 40 foot American flag from a boom lift over the entrance of our building, and put out 1,000 small American flags. It was a large display of patriotism, and the outpouring of response from our community was just amazing. We had news people come by to do a story on us, people were honking their horns and calling us, and coming in with tears in their eyes to thank us for our support. I then thought that the flag out there was temporary, and that we needed something permanent, and I said, 'Let's look at getting a big flag pole.' We then said, 'Let's have the biggest around,' and then I said, 'Let's have the biggest in the state,' and that's what we did!"
After doing the research, it turned out that the tallest flag pole in South Carolina was 130 feet tall, so a 160 foot flag pole was ordered, explained Nichols. "I called a flag pole company in Texas, telling them that I need to have it erected and ready to go for Veteran's Day, November 11. That gave them two months to get it done. They said they could do it. We paid the deposit, and they began to fabricate it."

Getting the Word Out
Nichols and team then did a couple of news spots, sought public service announcements at multiple radio levels, and took out ads on digital billboards. They also printed up 6,000 flyers and several hundred posters and put them in store fronts – and it worked, said Nichols. "People called us and said they heard about our event, and asked how could they help and be a part of it? I think people really responded to the idea that this was going to be the tallest flag pole in the state, and that they could even be part of the unfurling, if they were a veteran."

Above: U.S. Armed Forces veterans and volunteers unfurl the giant flag in the Veteran's Day program at Upstate Granite.

Above: U.S. Armed Forces veterans and volunteers spread out the 20 x 40 foot flag before hoisting.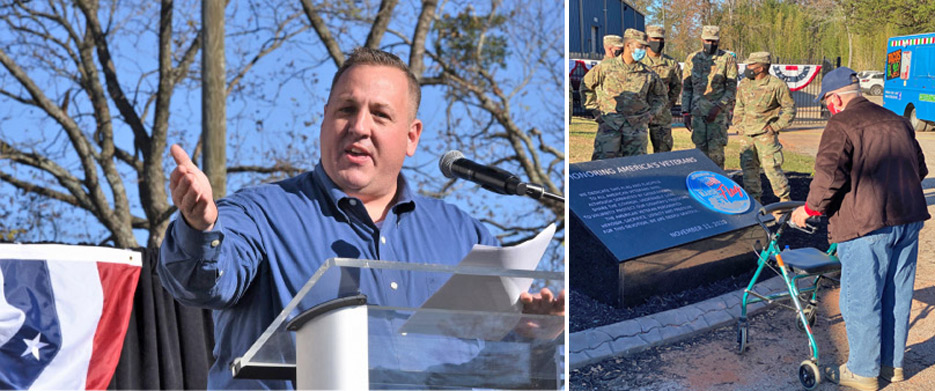 Above, left: Paul Nichols, owner of Upstate Granite Solutions, thanks the assembled Vets as they dedicate the flag.
Over 1,500 people, including 300 veterans and active-duty U.S. soldiers turned out for the celebration.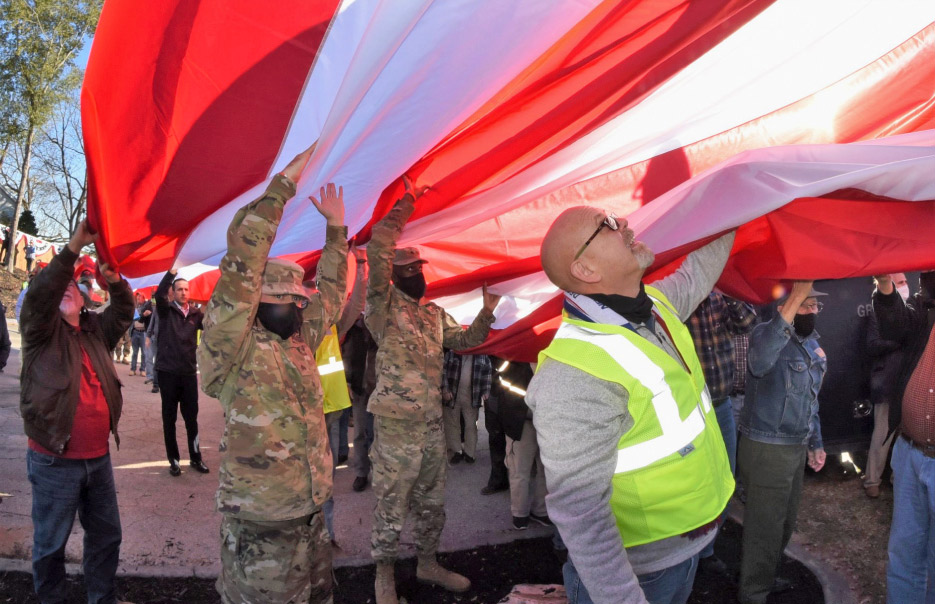 The Big Day
By November 18 (postponed one week due to bad weather), the stage had been set. The flag pole was up, the amusements were ready, and the 50 foot by 80 foot American flag was furled and ready; and as dawn's light cast its warmth on the magnificent layout, the families began rolling in. The grand day would see over 1,500 men, women and children – including well over 300 veterans – ready to take their place in the main and final event at 2 pm, recalled Nichols.
"As we unfurled the flag, we played a song that has all of the five branch songs: the Army, Navy, Air Force, Marine and Coast Guard. As each song played, say you were an army veteran– you could stand, get recognized, and go over to the flag area. Governor Henry McMaster is a veteran, and he was a part of that as well."
"Will we make this a yearly event? Maybe!" said Nichols. "It was an honor for me as a veteran to host that event. Honestly, my eyes were filled with tears for most of the day. I feel a great honor and a great duty to continue this in some way." As for a yearly event, that's a good question, said Nichols, adding "We feel like we've got a responsibility to our community to continue something, so we are looking at the possibility of doing something similar, or at least something to honor our veterans. South Carolina is a huge hub for retired veterans from the military. They are hard-working, and not afraid of something that's technical. They know how to show up on time, and be proficient in their area of expertise. Our industry is in such need of apprentices and folks who are skilled laborers, and veterans are a great fit with the stone industry. Fresh, young veterans coming off of their tours need careers."

For more information about Upstate Granite Solutions or to watch a video of the flag-raising, go to www.upstategranitesolutions.com/raise-the-flag .