Would You Like Fries with That?
Sharon Koehler
Artistic Stone Design
Let's face it, we all get into patterns and ruts. It's the nature of the beast. Plus, we tend to endorse what we are most comfortable with. When was the last time you went to your local diner, ordered a cheeseburger and the waitress said, "Would you like broccoli with that?" Nope, that does not happen. She says, "Would you like fries with that?" You say "yes" and all is well. Most of us know fries and we are good with fries. Broccoli? Well, maybe not so much, especially if we are ordering for a child. Now, there is nothing wrong with broccoli, but given a choice between a limp green vegetable or fries, fries will win most of the time.
It's the same with countertop sales. "Yes, Ms. Jones, you would like Colonial White granite with a pencil round edge and 4-inch splash. Would you like a stainless steel sink with that? A 50/50 perhaps?" I myself have said and heard it hundreds if not thousands of times. A 50/50 stainless steel sink seems to be the go-to sink. Why?
Maybe back in the day a 50/50 stainless steel sink was the thing to do. Get rid of your top mount and get a sleek, new, don't have to clean around the edges sink. Bonus: you get an extra 1-1/4 inch of depth with a stainless steel undermount 50/50 sink. The thing is, there are SO MANY more choices now.
Think about copper sinks. They can have a high polish shine to fit in a sleek, modern kitchen or they can have a duller, low polish finish to fit in more rustic kitchens.
Like marble, they will develop a patina over time. They clean up easy with warm soap and water AND the EPA has said that copper actually possesses antimicrobial properties which means copper can kill germs. Who knew?
Then there are granite composite sinks. They come in a variety of styles and colors to suit almost every need. They are easy to keep clean and they are more resistant to scratching than stainless steel. Also, depending on the brand, you may be able to get a matching strainer. Some are even dual mount (top and under mount) so they will fit in a variety of places, not just kitchens.
What about Fireclay? Fireclay sinks are clay and glaze bound together by being "fired" to the extremely high temperature of 1600 degrees or more (cast iron is fired around 1200 degrees). When it's all said and done, they look a lot like cast iron sinks. They are, however, more scratch resistant than cast iron sinks and they don't weigh quite as much. They clean up easily and unlike their cast iron cousin, you can use harsher cleaners should the need arise.
While we're at it, let's talk about cast iron. Now, before you start complaining about how heavy they are, let's just accept it and resign ourselves to the fact that they need extra support. If the customer is OK with it, then there's no problem.
That being said, modern cast iron sinks have gotten to the point where the enamel is stronger and more durable, so worries about chipping shouldn't play into whether this is a good sink for a customer or not. They come in a wide variety of colors and styles. They aren't just shiny white anymore. They are easy to keep clean and they are less likely to show water spots.
If cast iron doesn't excite you – what about glass? Tempered glass kitchen sinks are available in over a dozen colors and multiple styles as well.
For glass sinks, a protection mat is recommended and you should not pour boiling water into it, but they can withstand typical every-
day use and are highly stain resistant.
Granted, they aren't for everyone but if someone is trying to create an elegant kitchen atmosphere, consider glass.
If glass doesn't fit into your kitchen décor, what about Bamboo? Bamboo sinks are durable, warm-looking and eco-friendly with each sink being unique due to color variation. Even though the color pallet is limited, they do come in both single and double bowl styles. They do require a bit more maintenance such as applying wood sealer once a year, plus avoiding harsh chemicals (which is true for many different sink types), and it is recommended that you don't soak your dishes in the sink.
There is a relative newcomer to the kitchen sink market — 
concrete. Before you start thinking about your driveway or sidewalk, concrete sinks can be dyed a wide array of colors and custom-made to what you need. They are also very heavy and may require extra support (like cast iron). However, they are highly durable and are considered by some to be indestructible.
Now that you are thinking of other sink materials, let's circle back around to stainless steel. Stainless steel sinks are great sinks. Durable and reliable, but up until fairly recently their biggest drawback was color. They only came in that stainless steel metal color. A couple of different finishes but basically just one color. Well, not anymore. You can get stainless steel sinks in different colors. They come in gold tones, rose tones, bronze and black. There is also a rumor out there about blue and purple but I haven't seen that yet.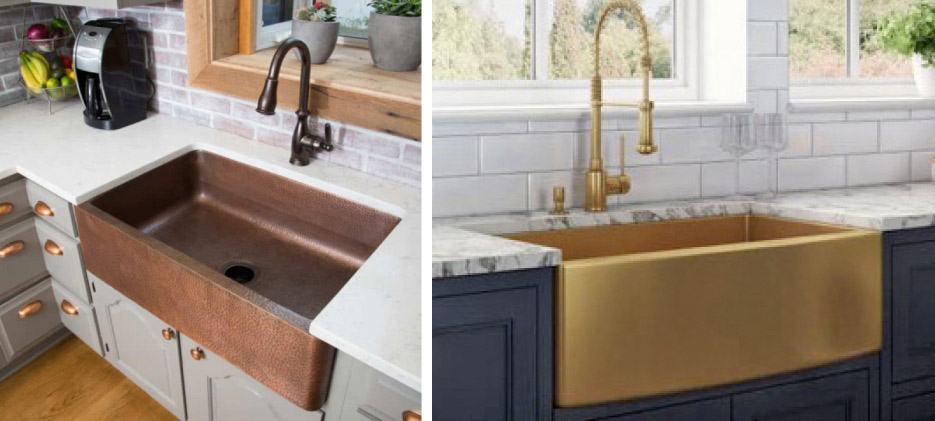 Above, left: Copper Farmhouse, Apron Front Above, right: Brushed Gold-Tone Stainless Steel Farmhouse

Above, left: 50/50 Stainless Above, right: Fireclay Farmhouse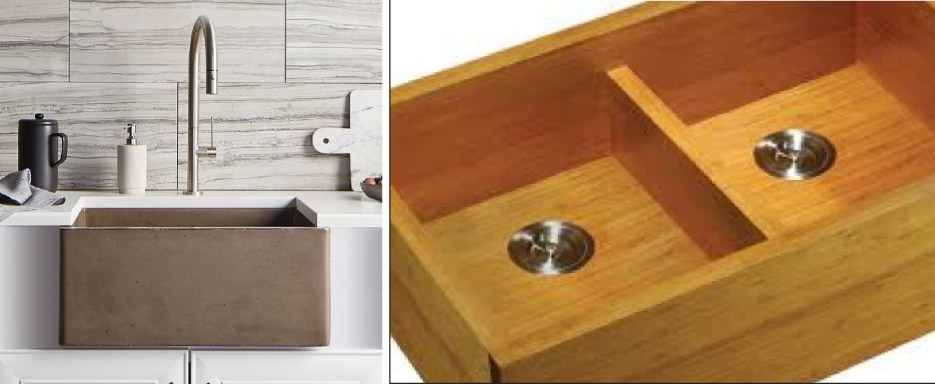 Above, left: Undermount Concrete Farmhouse-style Above, right: Bamboo Double-Bowl Sink
There are some sink types out there that aren't mentioned above, such as acrylic or aluminum. There is nothing wrong with those sinks, but they don't seem to be quite as durable as other sink materials. I also didn't mention real stone sinks, mostly because I figured we should all know about those already. There are other sink materials out there but these seem to be the most common alternative to regular stainless steel.
The point here is that there is more out there than your typical 50/50 stainless steel undermount sink, and isn't that exciting?

Please send your thoughts on this article to Sharon Koehler at Sharon@asdrva.rocks.