Stone Restoration and Maintenance Corner: Common But Essential Accessories
Bob Murrell
M3 Technologies
Photos by Bob Murrell
In previous columns I have discussed some of the typical accessories used stone and other hard surface restoration and maintenance industry. In this month's column, we will cover accessories not previously discussed, or I'll present in greater detail.
Accessories are the consumables that we really can't properly operate without. One group of accessories is the floor pads, like the natural or hog's hair pads we regularly use for cleaning, polishing, and buffing. Of course, other useful pads are the black and maroon pads for the removal and stripping of floor coatings, and white pads for general buffing. There are even specialty pads that many in the concrete industry use, such as the heat pads, which are similar to the natural pads with some foil sandwiched in between. These are used for reaching a specific temperature (usually around 93 degrees F) when buffing certain concrete guard products, although not all guard products require this step.
Another important accessory, necessary to successfully work a stone restoration project, is the family of masking products. These are required to protect sensitive adjacent areas or surfaces that have been completed.
There is the familiar and essential blue tape or painter's tape, as it is known by many in the business. This indispensable tape is used on virtually every project, to some degree. I use it to secure the top of my Tape & Drape product, mostly. I also usually use it as a first layer when I would use the red Poly tape as well. Blue tape in several widths like one inch or two inches, is a must-have on the jobsite.
Tape & Drape is another essential product, in my opinion. This unique product is a pre-taped (blue tape) masking film used for the protection of sensitive adjacent surfaces like cabinets, carpet, painted surfaces, doors, etc. We sell it in 24- and 48-inch rolls. I use the 48-inch rolls for protecting cabinets when doing countertops, vanities, and doorway areas. I use the 24-inch size for protecting most wall surfaces and doorways. I recommend always keeping both available sizes in the truck or toolbox, as it is definitely worth cost. When you are done, you simply take it down carefully, wad it up tightly, and throw it in the trash. It's really a no-brainer.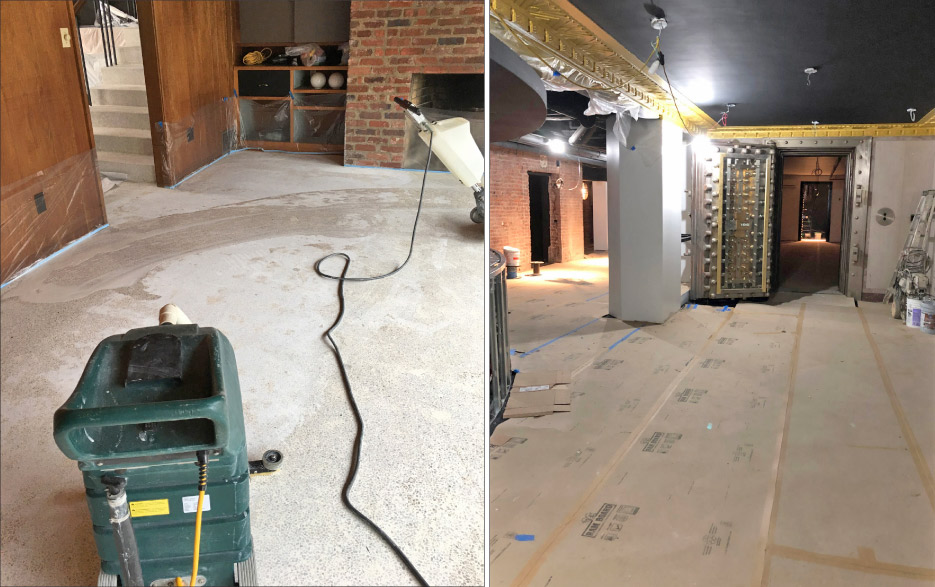 Above, left: Use 24-inch Tape & Drape to protect vertical surfaces when grinding floors.
Above, right: Ram Board and seam tape applied to floor for protection.
Red tape or polyethylene tape is another essential product for many applications where water and or moisture must be kept out or off an adjacent surface. I use the red tape in conjunction with Tape & Drape and blue tape. I like to lay down a strip of the blue tape first, and then apply the red tape to that, as the adhesive is much stronger on the red tape and can be somewhat difficult to remove, in some cases.
Then there's Ram Board, a product especially good for commercial projects. Ram Board, and the associated seam tape, can be pricey (anywhere from $55 - $69 per 100 foot roll of 36-inch paper, and up to $20 for the seam tape), but its advantage is that it's extremely durable, and is basically your best bet to protect your work.
Honestly, the best way to ensure your work is protected is for the marble work to be completed last or close to last. That, however, doesn't always work out that way. So, if you have completed some marble floors and there is the high probability that there are still other sub-contractors walking around, you need to protect your work. And trust me when I say, nobody cares for your work more than you! Finish workers, electricians, and others will drop screws, nails, wire clippings, and anything else you can think of (including muddy boots) on your work. Not to mention painters sliding their ladders and paint trays around, and oh, boy, those are some nice scratches to have to remove! Many general contractors provide Ram Board and tape for the project site, so check with the GC, first.
What about razor blades? I mean, how complicated can this subject be? Well, there are regular gauge blades and then there are heavy-duty gauge blades. There are also large-size 4-inch razor blades. Each has their own purpose. The regular blades (.012-inches thick) seem to do better with soap scum and paint removal, and other typically softer and thinner film removal projects. The thicker blades (.020-inch) are better for issues like adhesive and glue removal.

Above, left: A long-handled razor holder with heavy duty razor blade gives you the leverage to remove stubborn substances like carpet adhesive.
Above, right: The Shaveit Filer and Seam Cleaner turns regular razor blades into a powerful tool.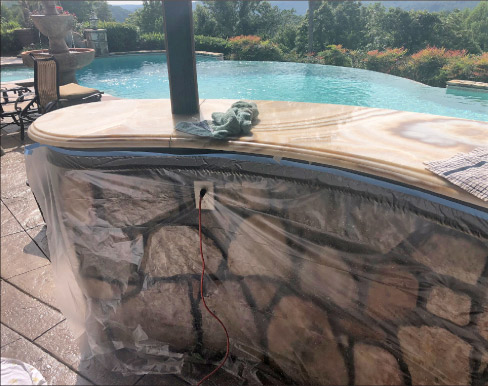 48-inch Tape & Drape was applied to cover the island cabinets for protection while refinishing this onyx countertop.
I have used the 4-inch blades on a special homemade weighted device for removing things like carpet adhesive, vinyl adhesive, and other tough to remove glue materials. Of course, the handle that holds the blade is very important, as well. I use different handle setups for different purposes. Larger handles provide greater leverage and assistance, but can restrict accessibility.
(A handy, palm sized razor blade holder is also available from BB Industries. The Shaveit Filer, designed to hold a dozen parallel razor blades, is designed as a seam scraper or filer to remove polyester or epoxy adhesive.)
During the time I completed writing this column, December 28, I was battling the COVID-19 virus. That was my least favorite part of the Holiday Season in 2020!
I came down with the virus on or about Christmas Day and have been feeling puny ever since. Now, I can only share my experience, which has been unpleasant, but not unbearable. I have been drinking plenty of fluids to stay hydrated, taking Tylenol for mild fever, vitamins D and zinc, some cough suppressant and expectorant, and trying to get plenty of rest. Hopefully, I will recover completely within the next few days. I am really looking forward to getting back to my normal daily routine.
I have some friends, however, who have not fared so well with this disease. Two of my friends have spent over a month in the hospital, and one was on a ventilator for several days. I guess I am extremely lucky, and I count my blessings daily.
As always, I recommend submitting a test area to confirm both the results and the procedure prior to starting a stone or hard surface restoration or maintenance project. Also the best way to help ensure success is by partnering with a good distributor, like BB Industries, that knows the business. They can help with technical support, product purchase decisions, logistics, and other pertinent project information.
I pray you all stay safe and healthy.

Bob Murrell has worked in the natural stone industry for over 40 years and is well known for his expertise in natural stone, tile and decorative concrete restoration and maintenance. He helped develop some of the main products and processes which revolutionized the industry, and is currently the Director of Operations for M3 Technologies.