Fred Hueston Launches New Specialty Products Website
Fred Hueston has announced the launching of a new website, www.drfredsinnovativesolutions.com  featuring the specialty line of products he created over decades of in-the-field experience.
For years, Hueston created his own solutions for problems he faced professionally as a restoration contractor or as a consultant to fabricators and restoration contractors that sought him out for his expertise. Because the solutions were dead-on effective for the unique fixes they provided, many colleagues urged him to offer the products commercially. Thus, the product line, Dr. Fred's Innovative Solutions was conceived.
Unlike your typical sealers, stain removers and cleaners, these products offer truly unique solutions. The product line includes the following:

Biocide Sealer Additive
This environmentally-friendly, miracle in a bottle, when added to sealer, effectively prevents mold, mildew and algae growth on stone and grout.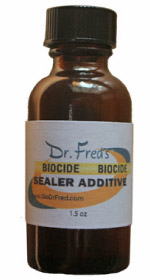 Blue Be Gone
Relied on by stone fabricators around the world, this very effective solution removes that weird blue/green stain that often occurs when certain glues are used on granite seams.

Diamond Lubricant
This preparation extends the life of diamond pads. It cools the diamonds and provides a less sticky surface, so slurry doesn't clog the diamonds, resulting in overheating and premature wear.

Granite and Engineered Stone Sunscreen
This simple solution gets the job done. It protects stone exposed to direct sunlight. According to Fred, "Just like protecting your skin from UV damage, this product blocks UV radiation, inhibiting fading and surface deterioration of natural stone, especially those that have been reinforced with resins."

Invisible Squeegee
Invisible Squeegee creates an invisible barrier on shower doors to inhibit soap film build-up, much like using a squeegee after everyone has showered for the day.


Stain Sponge
Removing most common stains from natural stone surfaces and masonry has never been easier! Just wet the sponge with water, and place on the stained area. This product is easy for customers to use, and a great add-on to any countertop sale!
The most recent product to be introduced to the line is also one of the most exciting.

Ultimate Stain Removal Kit
Fred literally wrote the book on professional stain management. As a restoration contractor, for years Fred would carry dozens of stain removal chemicals to remove all types of stains on stone, tile and concrete. Ultimately, he realized that most of the stains he was dealing with were most successfully resolved using a mixture of different chemicals and that only three mixtures were needed in almost all staining situations.
The Ultimate Stain Removal Kit includes sample sizes of these reagents along with Fred's detailed how-to guide, including his insights for understanding stains, how to identify the type of stain, and removal instructions of virtually every kind of stain. The reagent refills are sold separately.
For those who offer or want to offer professional stain removal services, this kit is a staple that should be in every truck or shop. Fred also offers eLearning courses and a mobile stain app for pros, which you can learn more about on the website.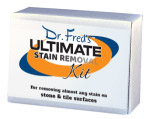 Non-Staining Poultice Powders
Unlike most commercial poultice stain removal powders, Dr. Fred's Innovative Solutions Poultice Powder is a special blend of powders that do not leave a stain. Simply add any stain removal chemical to the poultice for a stain free result.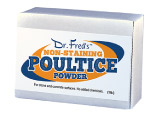 The Dr. Fred's Innovative Solutions products are sold exclusively through authorized distributors which can be found on the site's Where to Buy page. Visit www.drfredsinnovativesolutions.com to learn more about the story behind each product .