Going Green: Is Solar Power Right for Your Shop?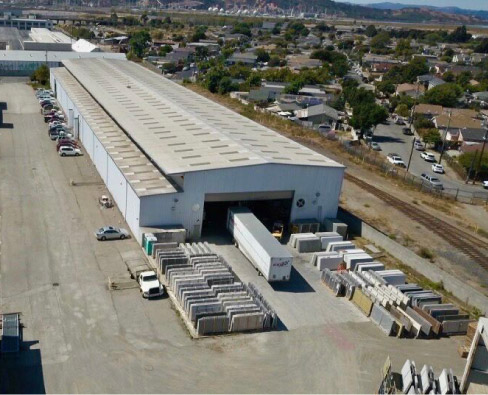 Fox's 260 kW solar power generating system is powered by the 340 solar collectors installed on the roof of the 100,000 square foot facility. The shop also has a state-of-the-art ventilation system and has been retrofitted with a new, large-capacity water treatment system.
Peter J. Marcucci
Photos  Courtesy Fox Marble and Gecko Solid Surface
If you've been keeping up with the news lately, you've probably noticed the changes that deal with environmental issues facing our planet. Three significant headlines with huge future benefits are that General Motors has promised only electric vehicles produced by 2035, America has rejoined the Paris Climate Accord, and a 100 percent clean energy economy with net-zero emissions no later than 2050 is predicted.
After all, clean water and clean air means a healthy, sustainable life for every living thing, and striking a balance between sustainability, manufacturing, and the consumption of natural resources and the waste manufacturing creates is paramount. Ready or not, change is coming from all directions.
Willing and able to make needed changes to add sustainability and push their fabrication companies into the future is Charley McLaughlin, Founder and President of Fox Production and Fox Custom, located in Richmond, California, and Augie Chavez, Founder and President of Gecko Solid Surface Solutions, located in San Antonio, Texas. As you'll see, they've taken a good look at their long- term needs and goals, and have become pioneers while leading their companies into the future using solar power.

Decisions and Commitment
Charley McLaughlin: "I think that the best thing that I can contribute to this story is that who you pick to do your installation is most important. Our solar installation is just being finished, so I don't have detailed, factual results yet, but I did my due diligence, and chose Centrica Business Solutions (CBS), to install our system. We had others wanting to do the installation, including the electrical company that had done a huge amount of work to upgrade our electrical system, but I declined, because I wanted a company that has the skills and the experience of doing large scale, commercial solar projects, not residential. CBS came highly, highly recommended to us by people I trust. I wasn't looking for the best price. I just wanted the job done right, and on schedule. You hear a lot of stories about solar companies that make promises, but they don't get it done anywhere close to the time frame, and the performance is less than projected in kilowatt hours. So far, CBS has lived up to what they've said. They've been on time, the communication is fantastic, and they offer a great warranty. My experience with them has gone far beyond my expectations."
Centrica Business Solutions installed the 340 panel array to produce 260 Kilowatts (kW) of current to meet Fox Production's electrical power needs.

Green is the New Black
"As for the environmental benefits, getting solar was a wonderful opportunity for us to do our part for the future in terms of sustainability for our planet and its people, "continued McLaughlin, "but it also makes economic sense. Borrowed money right now is so cheap, so cheap! 3.5 percent interest! So it doesn't make sense to use your own capital. In addition, the tax credit you get, right off the bat, is huge! I needed cash relief, and I was willing to finance a good part of this. It just made so much sense. Right now we are only getting the majority of the power we need with our solar array, because the roof isn't big enough to get 100 percent. Some day we will install more panels, and be fully powered by the sun, and I'll get another tax credit. So the financial and environmental benefits are incredible, and I'm very confident that our system will pay for itself in three to four years. Our utility provider has a program that gives us 100 percent credit for everything we don't use.
"So for those looking to solar as an investment in your future, as long as you own the property, your company is established enough to warrant the investment, and you choose the right company to install it, solar is a great way to go. For us it was a no brainer!"

Solar energy to power CNC fabrication machinery compliments water recycling and other green initiatives at Fox Marble. Combined with the artistry and skill of master craftsmen, the result is a reputation for projects of the highest quality.

Satisfying a Company's Current and Future Needs
Unlike most residential solar electric installations, where the solar panels (also known as photo voltaic or PV for short) output direct current (DC) into a battery storage bank, which then converts it to alternating current (AC) using an inverter to create single-phase 120 and 240 volts, commercial systems can be quite different. In the two examples within this story, neither company uses battery storage; only an inverter that creates single-phase 120 and 240 volts for small equipment, tools and office, and three-phase at 480 volts for large equipment.
As a result, with this type of inverter (only) setup, when the solar power is not being used, such as nights or weekends, those solar panels are making money by sending unused power immediately back into the grid, further adding to pay back of the system.
The Fox Production and Fox Custom system uses a 340 panel array to produce 260 Kilowatts (kW) of current, while the Gecko Solid Surface Solutions system uses a 98 panel array to produce 25 kW. It is worth noting that these systems, when needed, are easily adaptable to the future needs of a growing company.

The original 98 panel solar array installed on the Gecko Solid Surface fab shop roof is expandable, to meet future needs. Gecko's environmentally-friendly approach also includes a 14,500 gallon cistern that collects rainwater for their wet fabrication process. Gecko primarily uses Sasso machinery for their production, including a 5-axes waterjet saw, an edge machine, and a backsplash polisher.

Above, left: the Gecko fabrication crew works within a safe and efficient wet production environment.
Above, right: The Gecko install crew, heading out for the day.

Qualified Installation Companies are Worth Their Weight in Electrons
Augie Chavez: "I come from California, and sometimes I get a little bit of flack from friends for being a California Tree Hugger. Nonetheless, it's just one of these things, that when I bought the building here in San Antonio eight years ago, literally, a solar powered system was the first thing we put in before we even moved in. Freedom Solar Power, based out of Austin, Texas had come out to the new shop, and then came out to my previous shop to take electrical measurements of the machines we were running. We also talked about the machines we were going to add, and then they were the ones that decided how many panels we needed. Originally were looking at installing 106, but decided that 98 panels would be plenty for our needs.
"Furthermore, every time I purchased a new machine, they would come out and inspect if for me. They would take recordings of what the new machine was going to do and it's power requirements, and then either say, 'you're still good,' or 'we need to put in a couple of new panels.' Luckily, we haven't had to, yet. However, we do have enough roof space that we could triple the system if we had to, but right now, it's not in our plans.
"As for payback, they originally estimated that it would take 5-1/2 years, but we reached it in 4-1/2 years. Since the beginning, there has been no down side. You completely forget that it's there giving you free electricity, and if we don't use it, the power just goes into the grid. And if we need more, we buy from the grid, but at a reduced rate. Our average bill, and it's a pretty good-sized shop with lots of equipment and offices and everything, averages $250 per month, and sometimes $300 per month, if we consume a lot.
"I figured it out one time, using a friend's shop that is close in comparison to ours, that it costs him $2,100 per month. So yeah, it saves me money, but it's also a feel good thing for me, basically. I just like to drive here to work and see the panels, and it makes me happy. I know that sounds weird, but in our industry, we consume so much electricity and water. So it's kinda nice not to take something away from somebody else. Let me put it this way. It sounds funny, but it makes sense."

Is Solar Right for You?
"I think large to mid-level is the right size for a company to consider going solar. It's also important that you've established your company at one of these levels, and that your finances are doing well. If you're new or small, you probably should not consider it, because you're just trying to keep the doors open and get to the next level. But in large or mid-level applications, solar makes sense, especially if you own your own building. But do your due diligence. Find an installation company that's reputable, and partner with them. You're not just their client. You need to partner with these people. They will take you through every step, and there's no need to reinvent the wheel. Just let them do their homework. They are the experts, let them do their job, and you just sign off on it at the end."

Two Final Perspectives
In closing, we asked Brian McCommon, Director of Business Development of Centrica Business Solutions (CBS) and Sean Draper, Senior Project Manager also of Centrica Business Solutions to comment on shops going solar. Centrica Business Solutions is the company that installed solar for the Fox companies.
McCommon: "Payback is generally a driving factor. Pricing is determined based on any specific requirements by the client (module type, inverter types, etc.) along with any type of contractual requirements from an insurance and performance standpoint. Our projects are turn-key solutions for our clients. It makes the process much more streamlined, one dedicated team directing all of the different variables to ensure the project is done properly."
As for what leaders of companies should consider before making the move, McCommon added that ownership of the building and land, and how long you plan on being in the facility is important as well what is the maximum ROI (return on investment) accepted within the organization? Would you consider a financing mechanism, what type of insurance and warranty coverage is offered in the package, and who is responsible if the system is not performing the way you expect it to be, are also valid considerations.
Draper: "How many 480 volt machines run off the solar array system? The array at Fox generates approximately 375A of 480V, 3-phase power at its peak. The array is tied in at the main panel, not directly to any machinery. There is no battery backup. All loads behind the building meter will receive direct benefit from the solar generation."
As for considerations before going solar, Draper added that depending on the utility tariff and rates for generation, the overall considerations are more or less complex, while adding that California actually has a relatively simple structure, from a facility design standpoint.

For more information about the Fox companies, go to www.fox-marble.com .

For more information about Gecko Solid Surface Solutions, see the November 2018 issue in the archive.

For more information about Centrica Business Solutions, go to www.centricabusinesssolutions.com .

For more information about Freedom Solar Power, go to www.freedomsolarpower.com .