Granite Guy Moonlighting as Race Car Driver Wins BF Goodrich Super Tour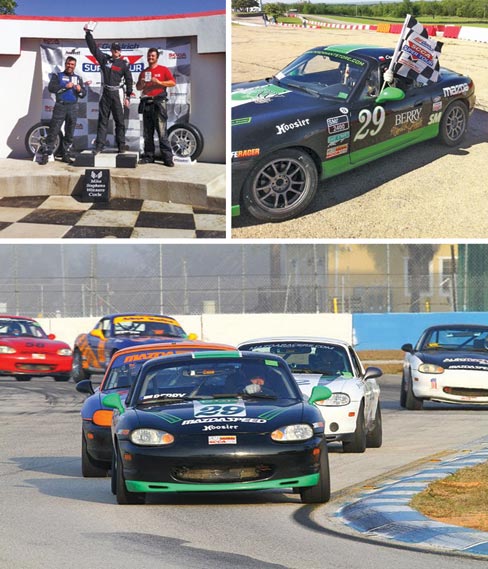 Berry Marble & Granite (Tyler, TX) owner/Artisan Group member Craig Berry just won the BF Goodrich Super Tour Series in Hallett, OK, driving the #29 Berry Marble & Granite/AG&M SCCA Spec Miata. Currently, after six races from Florida, to Texas, to Oklahoma Craig is in the points lead.
The Berry Marble & Granite/Architectural Granite & Marble car is entering season three of its SCCA racing. The car, a Spec Miata, has been featured in Sports Car magazine, as well as a Sports Car Club of America (SCCA) calendar.
The Spec Miata class is the largest class in the SCCA across the country. Fields include 50-60 identically prepared cars and the format is a road race series, rather than an oval. This year, Berry has had two second place finishes at the historic Sebring International Raceway, two third place finishes at Texas World Speedway, and two first place finishes at the Hallett, OK raceway. The next event, was at the Texas Motor Speedway, May 4-5. The season will end with the National Championship race at Road America in Elk Hart Lake, WI in September.
"I have been on motorcycles and 4-wheelers all my life," says Berry. "Moving to a race car was natural." He adds "Since 1998, I have raced open wheel cars and shifter karts and closed wheeled sports cars. I chose this series because it is one of the most competitive in the country, and that is my favorite part of driving. Of course I get excited about running my own business as well, but there is a finish line with racing."
Racing and the granite shop have some crossover. Robert Lloyd, Berry's U.S. Granite general manager, also is his crew chief and his father Jim Berry keeps lap time and supports him on the radio, and in his racing venture overall.
Berry Marble & Granite, is one of the largest and most high-tech stone fabrication shops in Texas. Berry also has recently opened the Granite Remnant Store in Dallas.
The new stone showroom includes a digital theater where homeowners can view life-sized stone slabs in the stone yard, while sitting inside in air-conditioned comfort.
Another inventive element to Berry Marble is the online inventory on all three revamped websites: www.us-granite.com, www.berrymarbleandgranite.com and www.graniteremnantstore.com.