Maryville Top Shop is a Family Affair Since 1986
Peter J. Marcucci
Photos  by Larry Hood and Courtesy Maryville Top Shop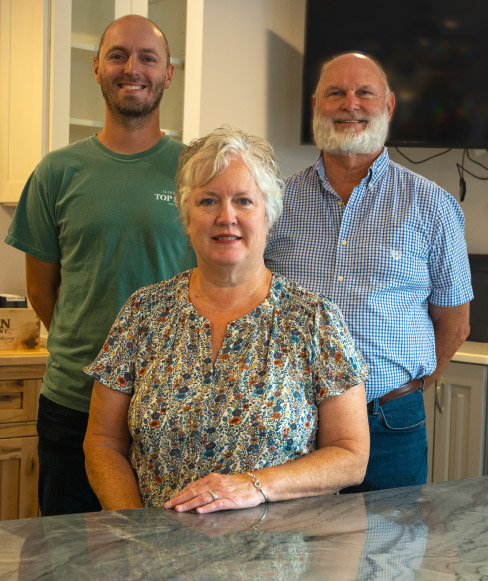 Carolyn, Fred and Trey Walker have redefined what it means to be a family business in the stone industry. Their business serves the Knoxville-Maryville-Alcoa, Tennessee area, since 1986.
For Fred Walker, being born into his uncle's plumbing and electrical supply business during the 1950s was a blessing. Little did he know at the time, that his early introduction into the business world would give him a head-start on building his business savvy and give him the confidence to become a super risk-taker. Years later, in the 1980s, this savvy would lead him into a partnership with his dad, Carlis Walker, in a business called Maryville Wholesale Supply Company, located in Maryville, Tennessee.
Fred also became a builder, working throughout the Maryville (Blount County) area, and he used his Maryville Wholesale Supply connection to supply his homes with cabinets, electrical and plumbing supplies. To get countertops, however, he had a half-hour trip to Knoxville, which eventually led to the beginning of Maryville Top Shop, recalled Fred. "We started Maryville Top Shop in 1986, so we did not have to drive to Knoxville to pick up our countertops. We could get them right here in Blount County."

The Art of What's Possible
The original shop location was in a 3,000 square foot building where cabinets and laminate countertops were built using older equipment, explained Fred. "When my wife, Carolyn, came on, we started growing this company, because two local solid surface shops and one laminate shop had gone out of business over a six year period, and I was able to acquire their machinery."
The company, now in its second iteration and very close to the original location, thrives in a much larger space. However, it would be a few years before stone was on the menu, continued Fred. "At first, we did not fabricate natural stone, and I had no experience with it. We didn't even have the water necessary. We were a woodworking shop, and, yes, I had been building houses and installing countertops most of my life, but that had nothing to do with stone."
As fate would have it, Maryville Top Shop had taken on a commercial job in 2008, doing the millwork for a bank in Knoxville, explained Fred. "In the teller section, the countertops had been spec'd for quartz, and since we had been using LG Solid Surface material, I thought that surely LG would sell me some quartz!" Fred then saw an ad for a school in Mesa, Arizona that taught stone fabrication, he continued. "They taught me how to do stone in 110 degree heat in an outdoor shop, and took me to Daltile and other wholesalers to teach me how to buy slabs. So I came back, spent about $30,000 on hand tools and racks and equipment, and we did that bank job. That was our first job in stone. Then, when our laminate customers came in and saw that we were just starting to fabricate stone countertops, they started buying them from us."
In those early days, fabrication was performed using a Blue Ripper Junior rail saw and right-angle tools for shaping and polishing, sold to them by Braxton-Bragg (BBI), said Fred. "We used that Blue Ripper for five years, and I was proud and happy when I stepped up and got a Blue Ripper Senior and a RYE-Corp Fab King."
By 2015, sales had increased to the point where a higher level of production was needed. First on the list would be a Denver Unika5, a 5-axis, dual table CNC/saw that immediately put more giddy-up into Top Shop's production. After that, they added a Husky bridge saw, and in the last two years, business has increased to the point where they added three Northwood Machine routers. Each Northwood router is serviced by its own jib crane, while a 3-axis overhead crane transports slabs into the shop, and to the Denver and Husky saws.
Current job output averages 1,200 to 2,000 square feet per week. The company keeps an average of 600 slabs in stock at all times, and sales are 10 percent quartz, 10 percent quartzite, 15 percent marble, 1 percent soapstone, with the largest percentage being granite.
Maryville Top Shop's radius of service reaches two hours drive time in all directions, serving mostly an upscale residential clientele. To accomplish this, the team members, not including family, total 25 very dedicated folks, and breaks out to four to six installers, six stone fabricators, two cabinet designers, three sales personnel who focus on stone, laminate countertops and cabinets.
According to Fred, 50 percent of their clientele are builders, with the other 50 percent being walk-ins. Most are repeat customers or from word-of-mouth referrals, said Fred, adding, "We are on a main highway to the Smoky Mountains, and people drive by and see the slabs and come in. Additionally, going to Brazil with the Stone Fabricators Alliance in 2015, helped us tremendously in selecting the best exotic materials, and when our customers came in, they wanted it. That also helped our profit margin, because we imported materials directly."

Above, Left: Top Shop production includes everything from hand finishing, like this soft-leathered, full-height backsplash, to full automation — processing tops, edges and cutouts with their three Northwood CNC machines and their Denver Unika5 machine. Their Northwood and Denver CNC machines can run pre-programmed jobs transferred by barcode from Moraware. The shop also uses ALPHACAM and Actionflow software for production workflow management.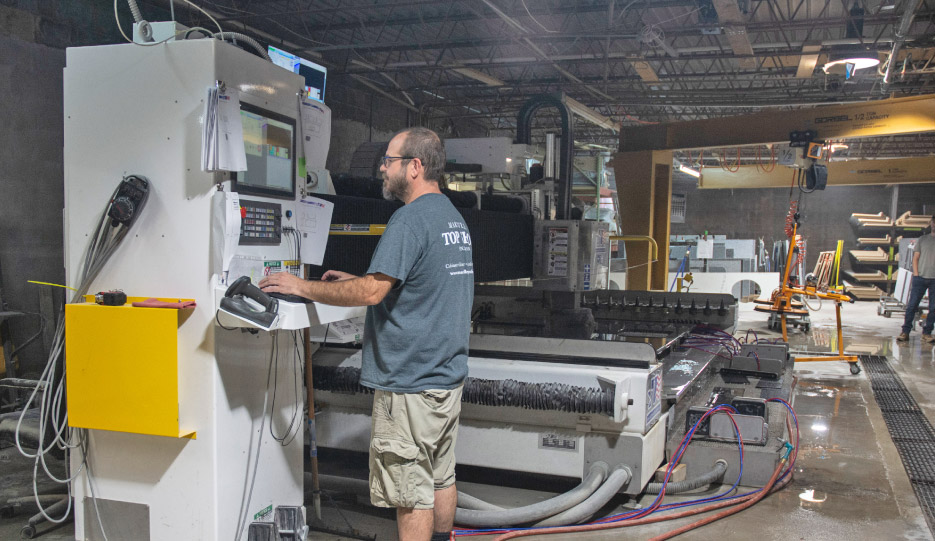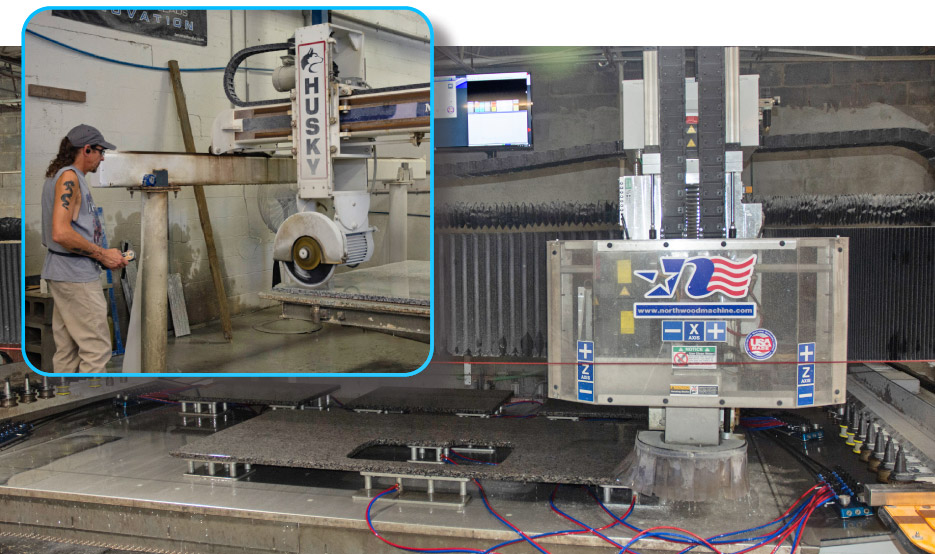 Above: Slab dimensioning and basic cuts are performed with a RYE-Corp Husky saw. One of Maryville Top Shop's Northwood Routers completes a full size island with inset sink cutout.


Below: Northwood CNC Router polishes the inside edges of a double sink cutout in this granite island.

Family and Teamwork Makes the Dream Work
"My Dad has always told me that I should work at the shop," recalled Son and Co-Owner, Trey Walker. "I worked in the shop the Summer of 2012 and then went back to finish my last semester at MTSU (Middle Tennessee State University). I graduated in the Spring of 2013. I remember it was a Saturday, and I was working full-time at the shop two days later!
"The beginning was challenging, trying to figure it all out. I installed tops, ran machines, cut on the bridge saw, answered phones, and even took out the trash. And after working in the shop for nine years, I still do all those things when I'm needed. I always tell interviewees that I will never ask them to do any job that I'm not willing to do, or haven't already done myself.
"I think that the secret of making our shop work was to surround ourselves with the people who care about it. If we had people here that didn't care about it, it would make it exponentially harder for all of us. So it's about building a team that you can trust. If I had to step out and measure a job or attend a meeting, you know that they are not going to drop the ball, they'll just keep on and finish the job. We are fortunate to have people who care, and success takes those kinds of people."
MTS President, Wife and Mom Carolyn Walker: "Most of our team members have been here a long time, and we are very blessed to have them. I take pride in the way we treat them. We observe holiday time, paid vacations and PTO time, and they do appreciate that! We're like a little family here. We used to feel like we couldn't even take a vacation, because of what can happen when you leave a business unattended.
"This being a family business, we do like to go on family vacations, but it's hard leaving something that you've worked so hard for. So we rely on our people to get the job done while we are gone, and that's trust."
Fred: "What helps to keep us ahead, is that we buy the best equipment for the shop and the installers, which makes for happier, safer people, and that has helped us tremendously.
"Additionally, due to the professional level of equipment that we have, our vendors help to give us a good reputation. We probably could sell double what we are now producing, but we want to go down a different road. We want to put out quality work and not be overly stressed to get it out the door.
"We may miss some business opportunities, because we won't hire just anyone to satisfy the demand for high output."
Maryville Top Shop uses a fleet of 6 delivery and installation trucks to keep jobs moving out the door and into customers' homes. Slabs and branded trucks positioned next to busy highway 321 leading to the Great Smoky Mountains National Park creates excellent visibility for the company.


Below: 8-foot conference table showcases Allure Quartzite from Brazil, one of many MTS exotic natural stones.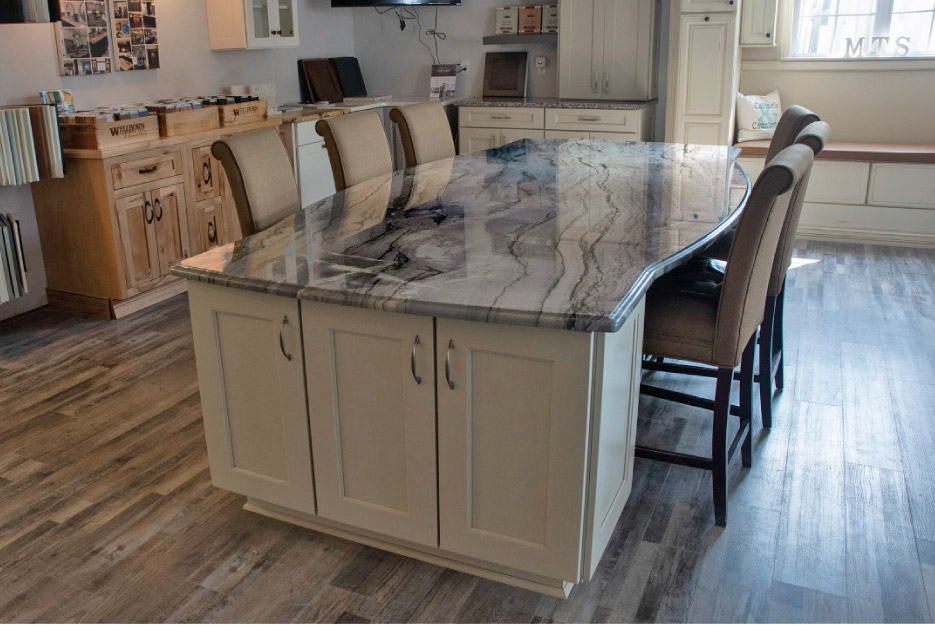 Above, Left: Installing a full-height quartz backsplash. MTS uses a variety of Omni Cubed products to transport and install tops.

Above, Right: Cambria Brittanicca quartz waterfall Island combines custom Wellborn cabinetry in a bright, contemporary kitchen.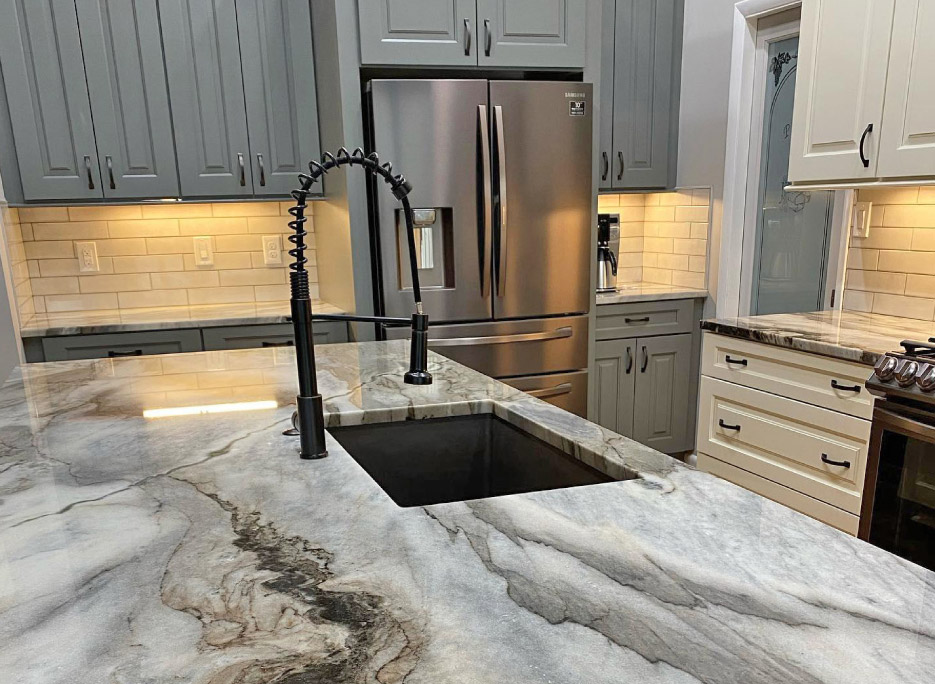 Above: The flowing veins in these Brazilian Aurelius marble countertops make a bold statement against neutral-toned Wellborn cabinets.
Below: These two open plan kitchens feature pristine white quartz countertops and custom Wellborn cabinets.

Above: MTS showroom tastefully displays hundreds of samples without feeling overcrowded.

The Top Shop Philosophy
"My dad is a risk-taker, my mom is the opposite of a risk-taker, and I'm somewhere in the middle," continued Trey. "It was my dad pushing the company to grow, and it was my mom cautioning my dad to not grow the company too quickly. The way I figure it, if you grow too quickly, bad things can happen, and if you don't grow at all, you are going to stagnate. Luckily, when COVID hit, we got busier, and as they say here in East Tennessee, we didn't miss a lick! We did have a few scares with three of our people getting COVID, but we just kept going. We try to have fun with what we're doing. We try to keep it lively and keep the morale up by joking around with each other, and we have a good time while we are at work, because we are around each other more that we are with our family members through the week. But when it comes right down to it, we are pushing jobs out the door on a tight schedule.
"We want everyone to thrive, and have a good quality of life. We are always thinking about how to make procedures safer, and the business as a whole better. We have a world-class team of people, and we wouldn't be sitting here if we didn't have them. We consider them family."
Fred: "Right now, we are actively seeking other locations for satellite showrooms. We are in it for the long haul."
Carolyn: "It's been an exciting ride! My husband is definitely a risk-taker, so like a roller-coaster, sometimes it can be scary!"
By all indications, the Walker family will continue to grow and thrive for many years. Sure, there will be times of happiness and times of disagreement, but at the end of the day, when all is said and done, they will smile, knowing that each of them is there for each other, unconditionally. That's love and family.
As the saying goes: A family that plays together, stays together! Every work day, the Walkers play to win, and I'm certain that for generations to come, Fred, Carolyn and Trey and their extended family will keep Maryville Top Shop at its peak.
The Walkers have been members of the Stone Fabricators Alliance since 2014 as well as members of the Natural Stone Institute, and regularly attend local home shows with the Maryville-Alcoa Homebuilders Association. When asked if BB Industries has been good to them, all three responded with a resounding, "Oh, Yeah! We've had a long and great relationship with our sales consultant, Ken Brock! He's our man!"

For more information, visit  www.maryvilletopshop.com.