Help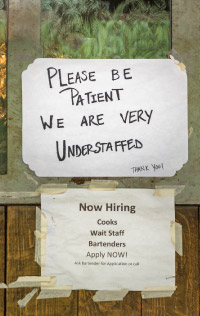 I know that in my own state there is a labor shortage. My company is struggling to hire people, and as I drive down the street, I see signs and even billboards saying, "Help Wanted" or "Hiring Now, Apply Within." They are everywhere. What I didn't fully realize was that this is not just a local issue. I knew restaurants were having a hard time, but I didn't realize that EVERYONE was having this problem, at least not until recently.
I took a trip not too long ago that took me into five states other than my own. Mile after mile, city after city, state after state, I saw the same help wanted signs everywhere. To be honest, it was a little on the depressing side, but it also got me thinking. If you drive by five businesses and three of them have Help Wanted signs out, why don't the other two? What are they doing differently? So, I did the only thing I knew to do, I asked the questions…" Why are you fully staffed when others aren't? How are you finding employees? What are you doing that others aren't?"
The majority of businesses fully staffed admitted that they had to get creative and think outside the box. Most did say that they started with Internet ads. Facebook, Google Jobs, Monster, Craigslist, LinkedIn, Indeed, etcetera. Unfortunately for most, this approach didn't give many of them the candidates they considered acceptable — or any candidates, for that matter. So, a lot of these places looked in other directions.
One manager told me that he registered with his local unemployment office. He put his openings on their job board and had multiple applicants in just a few days. They weren't all right for his open position(s), but it was more applicants than he had seen in weeks, and it was free. Another manger told me that she searched online for a job board specific to her industry. She was looking for retail and she went to Allretailjobs.com and iHireRetail.com to post her openings. These boards weren't free, but they were more specific to her industry. If you are in a trade industry you might try Bluecollarcrossing.com. Again, not free, but they are geared toward labor positions. Employers generally pay a fee to post, but workers can search at no charge. The fees do vary depending on ad content.
Another guy said that he asked his workers not only for word-of-mouth references but offered up bonuses if they brought in someone who he ended up hiring. He also asked them where they hung out and put up bulletin board notices in those places. Plus, he put magnetic help wanted signs on his work trucks AND paid his employees to put them on their personal vehicles.
Someone else had the idea to contact a couple of the local colleges/trade schools and set up an internship program. He said he got young folks with little to no experience, but they were young and wanted to learn a trade. Plus, intern programs come with pay options. Some interns get paid, some don't.
Job fairs were something else that came up. Look for job fairs in your area and sign up to be a participant. If you can't find one, create one. You aren't the only place looking to hire people. It probably wouldn't be hard to put one together and advertise it.
Now, I do admit that I got a kick out of the ingenuity these next two ladies had. One lady told me she put an ad in her church bulletin. Another lady said she put a notice in her kid's school newspaper. Both said their ideas worked.
The thing is, almost everybody agreed that when it comes to hiring these days, advertising your open positions isn't the only area where out-of-the-box thinking is needed. Apparently, our hiring criteria needs to shift to some "outside the box" thinking as well. I had to have my Jeep towed to a shop while I was away. The owner told me he had just recently hired a female mechanic AND an older (70 years+) part-time mechanic. He also said that two years ago he would have never considered either one, but he was glad he did, because they were both working out.
Another story related to me was a retail specialty store that hired a handicapped individual to stock shelves and get items ready for shipping. I personally know a granite shop where the manager hired a woman in fab. Granted, not a traditional job for a woman, but "outside the box" thinking again is keeping that shop where it needs to be.
What about individuals who have no experience (like interns), or people who have parallel experience? A construction site or landscape helper could be a granite install helper. Yes, you may have to teach them some things about working safely around heavy slabs, but there is always a learning curve with new hires, anyway.
The point is, apparently, we can no longer rely on our old school ways of recruiting people, and we can't shut the door on people who don't fit that old school mold of experience and great references. Times have changed and we need to change right along with them. Or else…

Please send your thoughts on this article to Sharon Koehler at sharonk.srg@gmail.com.