Stone Restoration and Maintenance Corner: Are You Prepared for Another Round of COVID?
Bob Murrell
M3 Technologies
Photos by Bob Murrell
I know that we have all heard about the resurgence of COVID under the "D" and other variants. It is evidently more contagious and has been spreading like wildfire. I personally know several people who have contracted this new strain, including me. Why, I even think that my dogs got it (from me?), but I didn't have them tested to confirm it.
I felt sick for a couple of days, just like when I originally contracted COVID back in early January 2021. This time, it was more like 36 hours or so before I started feeling better, unlike last January (that bout lasted for several unpleasant weeks). Also, this time around, I had my two doses of Pfizer under my belt as well. So, theoretically, my experience was pretty much what was to be expected. Just because you're a natural survivor and/or vaccinated, does not mean you won't necessarily contract the virus. I thought that as a "survivor" and having my current vaccinations that I would be "COVID Proof," so to speak. Wrong!
So, my wife got it from me, but I'm not sure where I got it. I'm old so I have to go to the gym 5-6 days a week, just to stay in shape. Sometimes I go out in the field (restoration related) to consult. I go out fairly often to eat at restaurants. And my secret thrill, in my old age, is visiting the grocery store at least twice a week. I also go to a few other stores (I like Tractor Supply and Rural King). A friend at the gym got it a few days after me, but who knows? The point is, this stuff is flying around like pollen in an East Tennessee springtime. I'm assuming like many others that this will become, like the flu, a regular or seasonal issue that we will all just have to deal with.
I am convinced that because I try to stay in relatively good shape, that this has helped me fend off this dreaded virus on at least two occasions that I know of, now. So I say with some experience, try to keep yourself in good physical condition, or at least as best possible. In our line of work, we need to be in good shape anyway, if you know what I mean? This should help your body's immune system lessen the effects of the virus, if you contract it. Check with your doctor before starting a workout regimen.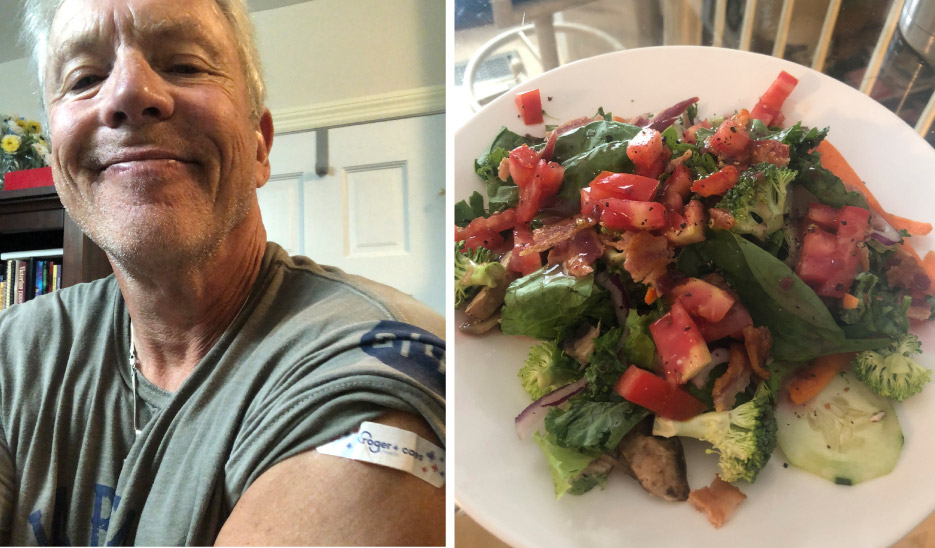 I received my second dose of the Pfizer vaccine back in August, and have just recently recovered from catching the Delta variant. Be careful when out in the field…

A healthy diet is key to staying in shape and helping your body's immune system. Part of my current diet plan includes lots of leafy greens, but there are compensations (notice the bacon)!
I also take a daily multivitamin and have tried to implement a better diet in the last two years. All my years before that I was on a seefood diet, you know– I see food and I eat it! Now, I eat more fruits and green vegetables, less red meat (although I love steak, hamburger, and most anything with red meat in it), and try to drink more water and fewer sodas. Once again, check with your doctor for an applicable diet plan for you. By the way, I have maintained a weight loss of about 30 pounds, over the last few years.
So according to the statistics on the news, there are about 1 in 400 people who have died from COVID thus far. This translates to about 685,000 people! So we all know someone who has been affected by this disease. It is a serious issue that we must acknowledge and then do our best to combat. Each of us has our political views on the matter, but we all need to push past that. Check with your doctor, and if you are immune system compromised, please do what you can to help protect yourself. After all, you can't polish marble from a hospital bed.
Let's face it: our profession is hard work. It requires a degree of dedication and perfectionism. So, just like the military, we must train to keep our bodies fit if we are to be successful. Now, I know that we all probably won't end up at the CrossFit Games anytime soon, but nevertheless, we need to be mindful of our physical condition. I mean, I still lift heavy duty machines out of a van and sometimes upstairs. Of course , this is along with everything else that goes along with our business, like wet vacs, machine weights, etcetera. This ain't easy stuff! "Hard work-work. Hard work, is what they say. Hard work- work. Hard work, I earn my pay." Some of you will recognize this snippet from a cadence song…
Also, we have to be mindful of our customers as well as our professional appearance, too.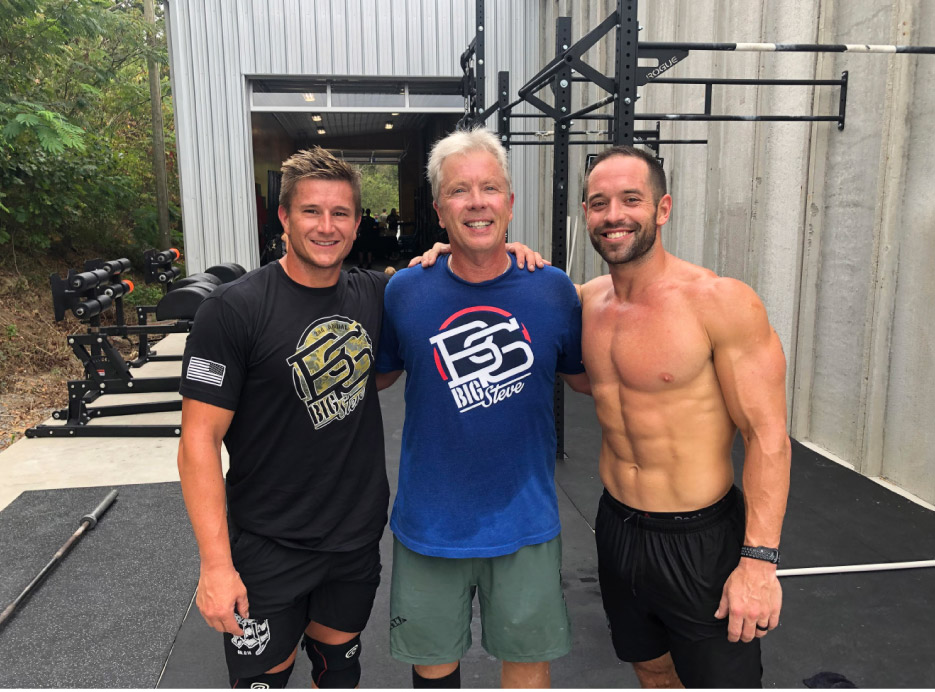 Me (center) and two of the world's fittest Crossfitters at a charity event: Rich Froning and Chase Hill.
I recommend following the CDC guidelines and to wear a mask (as well as any required PPE, based on the task at hand) at all times in a customer's home or place of business. Also, be mindful of social distancing, where applicable. Political talk around customers is almost always a no-no. You never know how someone actually feels or believes about a specific topic, so be careful.
On a much brighter note, looks like I'm finally going to be a grandpa this next May! I'm super stoked about this! I want to be able to spend as much quality time as possible with my grandchild (and hopefully, more to come), so rest assured, I will do whatever it takes to stay as healthy as possible. I hope and pray that you stay safe and healthy, too.
As always, I recommend submitting a test area to confirm both the results and the procedure prior to starting a stone or hard surface restoration or maintenance project. Also the best way to help ensure success is by partnering with a good distributor, like BBI, that knows the business. They can help with technical support, product purchase decisions, logistics, and other pertinent project information.
Enjoy being with your family and live life to the fullest!

Bob Murrell has worked in the natural stone industry for over 40 years and is well known for his expertise in natural stone, tile and decorative concrete restoration and maintenance. He helped develop some of the main products and processes which revolutionized the industry, and is currently the Director of Operations for M3 Technologies.