Demise of the Two-Stroke Engine Has Been Greatly Exaggerated
REPORTS of the demise of the two-stroke engine for stone industry tools have been greatly exaggerated.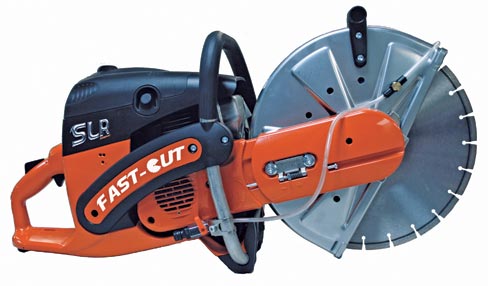 Although there has been concern that emission standards promulgated by the U.S. Environmental Protection Agency during the past 10 years would spell their doom, two-stroke engines continue to be viable for use in handheld tools.
The regulations brought an end to the manufacture of the old-fashioned type of engines used in lawnmowers and similar applications, but the emission standards for handheld engines are still attainable for manufacturers, said Roger Gault, technical director for the Truck and Engine Manufacturers Association.
"The demise of two-stroke engines has been mischaracterized a little bit," he said. "It's been narrowed, and it's not been easy, but there are still a lot produced."
For instance, Diamond Products Ltd. has introduced Fast-Cut SLR high speed saws with Scavenged Loss Reduction technology (SLR) that allows reduced fuel consumption and a cleaner running engine.
Greg Lipscomb, southeast regional manager for Diamond Products, said the Fast-Cut SLR saw offers definite benefits to customers. "The power-to-weight ratio is one of the best in the industry," he said. "We feel very good about the saw since it's been introduced. We've had a big success, and it's been well received in the market for performance and dependability. They are holding up well. We're getting a lot of good feedback."
The Fast-Cut SLR saws are especially dependable for the price, Lipscomb said. "We are really happy with the repair rate. It's been a great launch for us. We've had better than expected sales out of the gate."
The saw's features include:
Choice of 12˝ or 14˝ blade capacity
Runs cleaner and greener than other high speed saws
SLR muffler complies with government emission limits – emission reduction with aging factor
Powerful 73cc gas/oil mix engine
5-stage filtration system
Water kit included with garden hose connection
Modified decompression valve, carburetor and improved ignition coil for fast starting
Includes tools for blade changing, guard adjustments and operation
Improved fuel consumption and increased cutting efficiency
Optimized cooling from air flow and fuel compensator reduces cylinder temperature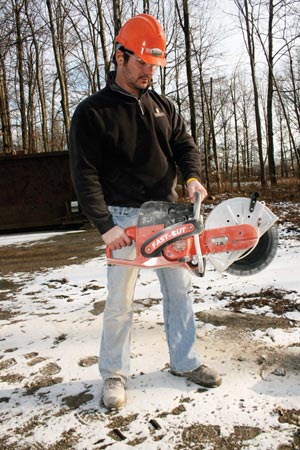 The EPA has adopted new standards for emissions of hydrocarbons (HC), nitrogen oxides (NOx), and carbon monoxide (CO) from a variety of non-road engines, equipment, and vessels that cause or contribute to air pollution. The standards are meant to reduce the harmful health effects of ozone and carbon monoxide from these engines.
This has produced technical challenges for manufacturers, which have definitely been met in the design for the Fast-Cut SLR saws, said Braxton-Bragg Product Manager Steve Bussell.
"It runs cleaner and greener, and what that really means is they have an exhaust system —a muffler type system— that complies with emission requirements such as those of the EPA and the European Union. That is key for this because there have been new things that have been put on the books that require more stringent standards."
The question of emissions aside, the Fast-Cut SLR excels at what it is meant to do, Bussell said. "It's a really high-quality saw. It's actually made in Germany. It really feels and looks like a really nice piece of equipment."
A large filter system keeps the saw running optimally and prevents the carburetor and other components from being contaminated by dirt being drawn into the machine, he said. "They've made that larger so it could work more efficiently."
Users will enjoy some of the other features of the design. "It's pretty lightweight, too," Bussell said. "It's only about 28 pounds. It's easy to use."
The saws incorporate a proven mass-dampening system that greatly reduces vibration for operator comfort. They are also balanced for less operator fatigue.
A computerized ignition, digital timing control, and an ignition coil with start support function provide for faster and easier starting of the saws, Bussell said. "... They have a new ignition for fast starting that has been added. (On some other equipment), you can be exhausted just trying to get something to run before you even start the job, and the Fast-Cut has great features that allow it to be fast starting."
The inner workings of the engine have been tweaked to optimize cooling from air flow and the fuel compensator, which reduces cylinder temperature. A smooth start decompression valve also reduces start-up force by 70 percent.
One of the largest manufacturers of diamond tools in the U.S., Diamond Products is based in Elyria, Ohio. Since its founding in the mid-1940s, it has grown to employ more than 300 people and markets its products throughout the U.S., Canada, Mexico, Europe, and Asia.
Diamond Products is second to none in customer support. In addition to stock items, the company will build customized tools for individual customers.
More information about the Fast-Cut SLR Saws and other Core Cut® products are available by calling Diamond Products at 800-321-5336 or visit www.diamondproducts.com.
Braxton-Bragg is dedicated to getting Diamond Products tools into its customer's hands. It offers their products with a complete 30-day money back satisfaction guarantee.
For additional information on these products, contact the sales reps at Braxton-Bragg. Call toll free, 1-800-575-4401.