Stone & Image: Custom Design and Inlay Surfaces from Aalto Design
Peter J. Marcucci
Special Correspondent
Photos Courtesy Aalto Design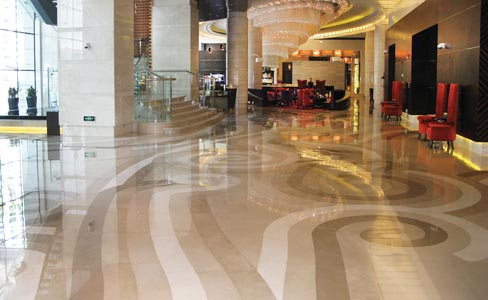 A 22 year pioneer and leader in the design and creation of custom inlay surfaces, Aalto Design has consistently pushed the limits of architectural stone fabrication toward that all elusive benchmark of quality using waterjet technology.
Known for their unique brand of designer inlay stone surfaces, Aalto Design's emphasis on the creation of intricate, one-of-a-kind products, is a crystalline example of a traditional and contemporary art form taken to the cutting-edge using waterjet technology. With over 10,000 completed projects globally, their distinct brand can be found in the finest hotels, casinos and homes of the elite demographic.
Founded by Harri Aalto in 1990, Aalto Design's humble beginnings originated in a Fairfield, Iowa warehouse once occupied by a manufacturing company that used waterjet technology for the production of industrial parts. And so he began. Possessing a strong internal rudder, a fine arts degree in hand, and a keen sense of what can be, Harri Aalto's vision turned a parts factory, into a contemporary workshop, placing Aalto Design on the fast track to success as the preeminent producer of contemporary waterjet designs in natural stone.
It wasn't hi-end work in the beginning, though. With growing pains and a few stumbles along the way, Harri inched his way to present day success by staying flexible and resourceful in the fine art of obtaining clients and work. "Harri saw the possibilities of waterjet technology from the very beginning and never looked back," explained Gary Wacknov, Partner and Account representative. "In the early years, the company went through a lot of changes while establishing its current position in the waterjet fabrication field. There were economy fluctuations, changing design trends and growth challenges, to name a few, but with unwavering resolve and perseverance, Harri's small company produced a quality product in lock-step while improving its image and eventually building a well-capitalized, world class company staffed with world class people."
Gary then continued by saying, "The majority of our work is inlaid flooring, and our brand is unique in that we do [whole] floor patterns and designs. Instead of creating a focal point medallion in a residence or casino entry, we create accents like borders around the perimeter to complement all other elements, thereby creating a 'whole floor' look.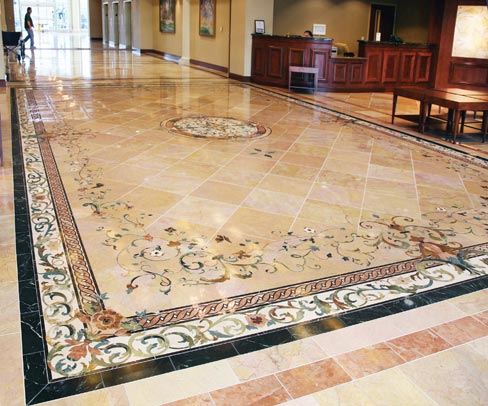 "Our art department will receive floor plans from a client and then interpret those ideas using Photoshop and other computer programs. These floor plans can range from 6,000 to 25,000 square feet. We then integrate those designs into the plans and send them back to the client, showing them the possibilities. Then, after design and material approval, we create a custom 'turn-key' kit that's dry-fitted on a workbench, checked for fit, sequentially numbered, packed, and then crated. This allows any qualified installer to unpack and easily place each piece in the proper area during installation. The project is then transported to its destination using the finest handpicked national and international shippers in the world."
With a strong family presence to this day, Harri, now Partner and Creative director; his wife Annie and daughter Catherine, both Senior Artists, contribute to the artistic side of the company; while Jim Belilove, President; Hawei Perrett, General Manager; and Gary Wacknov, control the production and business end. Aalto Design's other esteemed employees consist of four design artists, five CAD artists, fifteen fabrication artists, and six office personnel.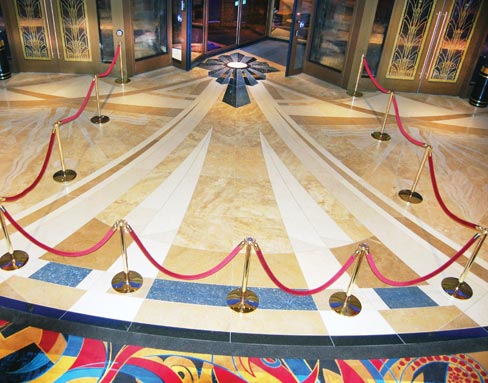 Also, soon to make her debut within the company is daughter Maria Aalto. Maria, who is currently attending The New School of Design in New York City, is the future connection to the all important upcoming "now generation" of hi-end clients, and her talents will help to secure the company's position for the next several decades. Clearly, what has pushed Aalto Design upward has been the Aalto family's growing cache of talent throughout the company and its ability to morph classical designs into contemporary masterpieces and present them to a world market. Gary then made clear what sets Aalto Design apart from the others. "We have so many different options and opportunities to custom make these designs that we've made ourselves unique in the industry. What strikes the imagination of a potential client viewing our samples is the well-defined shapes, vivid colors of the composition, and the accuracy of tolerances within that arrangement.
"Clients are also impressed by the full spectrum of colors we offer in granite, marble and onyx tiles. We also offer as an option, those same colors in slabs for projects requiring fewer seams. For a company that creates images for the image conscious, these things are paramount. Seventy percent of our business is in the residential market, and make no mistake about it, the people who build homes of this magnitude are looking to make a statement and impress their friends.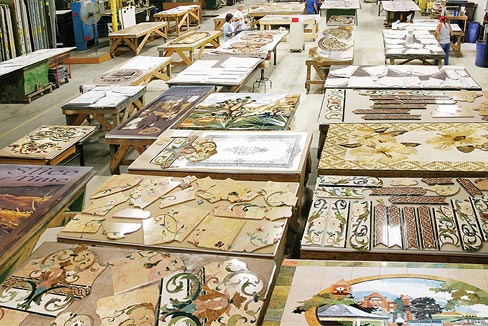 "Many are CEOs, high-profile government officials, movie stars and billionaires, and their homes are for entertainment and business, and are dressed to impress. It's capture and power and the statement that most are after, and image is everything. Colors, close tolerances and unique designs are a must.
"Our market area is mainly North America, including Canada. We also have a strong presence in much of Europe and Asia, including China, and lately, Viet Nam. These markets equate to between 50 and 100 projects per month."
He then went on to say that the remaining 30% of clients are the commercial and hospitality demographic with large-scale projects like Tokyo Disneyland, Disney Wild Animal Park in Orlando, Florida and projects like Caesars Palace, St. Regis Hotel, Red Rock Casino, and the Hotel Equatorial in Shanghai, China. "Large-scale projects like these are easily within the realm of our company."
When asked how the last few years of sluggish economy has affected Aalto Designs business, Gary said, "Like most other companies, we were affected, but overall we've done pretty well. We're like everyone else, though. We want to do business and we've never hesitated to take whatever size project comes our way. It's not all hi-end. We do smaller scale projects as well as large ones. We also offer a diverse selection of custom architectural elements such as murals, fireplaces, furniture and lathe-turned dimensional elements such as columns."
Gary then closed by explaining what is on the horizon for Aalto Design. "We see the very lucrative Asian and Mideast markets steadily gaining momentum, and we plan to expand our presence in those areas by using marketing strategies specific to those areas.
"China has an ever growing amount of large scale hospitality projects, and middle eastern countries like Saudi Arabia, Dubai and India have palaces and temples. Harri is drawn to these types of designs, and they love our work. We've begun doing shows there, and that's what you have to do to get in. It's very expensive, but worth it."
With offices in Fairfield, Iowa; Santa Monica, California; and Shanghai, China; Aalto Design's relationships with the finest architects, interior designers and landscape artists has kept it, and will continue to keep it, a world leader in the design and fabrication of waterjet products.
For more information, please visit: www.info@aaltodesign.com or contact Gary Wacknov at www.gary@cec-waterjet.com.
Peter J. Marcucci has over 25 years of fabrication experience in the stone industry. Send any comments to pjmgsxr@aol.com.