Cosentino Honored by Spain-U.S. Chamber of Commerce
The celebration may have been delayed a year, but Cosentino Group finally received a high honor awarded in 2020.
The Spanish surfaces company formally received the Poncé de León 2020 "Company of the Year" award from the Spain-US Chamber of Commerce at its annual gala at the Biltmore Hotel Miami Coral Gables on November 5.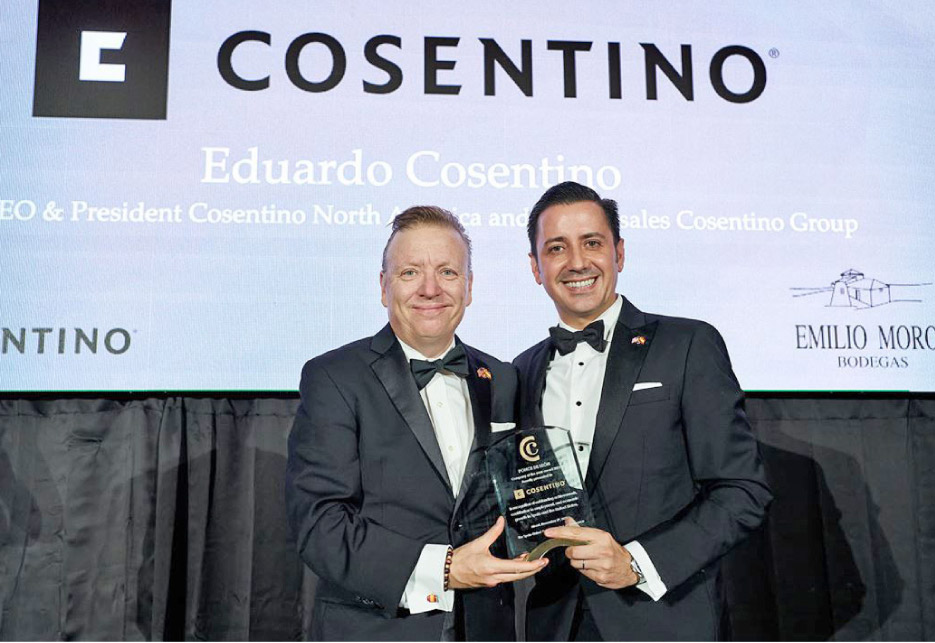 Javier Estades, Spain-US Chamber of Commerce and Eduardo Cosentino, CEO Cosentino North America/EVP of Global Sales
Eduardo Cosentino, CEO of Cosentino North America and EVP of Global Sales, accepted the award that recognizes compan-
ies prioritizing innovation, passion, and growth to be successful in the United States.
The event, which was rescheduled from its original date in 2020 due to COVID-19 restrictions, was complete with a cocktail reception, live music, and remarks from the award recipients.
"We couldn't be more proud of this recognition from the Spain-US Chamber of Commerce in Florida," Cosentino said. "As a Spanish company operating in the United States for the last 25 years, we're focused on showcasing the contributions from Spain, while remaining grateful for the home we have established here in the U.S. through our ongoing expansion and innovation.
"This honor represents the blend of our Spanish heritage and growing U.S. roots, and will help us to continue striving for the best, and betting on the Cosentino business model."
The gala brought together notables, including, Santiago Cabanas Spain's ambassador to the United States; Spanish General Consul, Jaime Lacadena; Spanish Trade Commissioner Francisco Garzón; and Jose Moró, President of Bodegas Emilio Moro and Bodegas Cepa21, and fellow honoree of the Ponce de León "Executive of the Year" award.
The Ponce de León Awards are awarded annually.

The Spain-US Chamber of Commerce in Florida is a private nonprofit organization, officially organized by the government of Spain and the United States, that promotes business and international relations. The organization currently has more than 500 members, serving as a link between Spain and the United States and Latin America through its various activities and services.