Alpha Professional Tools Announces New ESC-150 Wet/Dry Stone Cutter
Alpha® has announced a new electric stone cutter, the ESC-150, which is equipped with a powerful motor capable cutting 1-1/4-inch (3cm) stone slabs in one pass.
Alpha® states the tool was developed to meet the need for a quality electric portable stone cutter capable of miter cutting 1-1/4-inch (3cm) materials with ease, so that any stone fabricator can use it when miter cuts are required, without the time-consuming setup. Also, Alpha® states the new tool is great for sink-hole cutting and groove-cutting for rodding applications. The ESC-150 includes a kink-free water hose for improved maneuverability of the stone cutter. The flexibility of the hose helps reduce operator fatigue and improves the operation.
The Alpha® ESC-150 was developed with a built-in dust gate making it dustless when connected to a HEPA vacuum. It can utilize a variety of consumables, including the Alpha® Katana 6-inch blade for porcelain panels and slabs, Hot-Rod 4-inch blade for 1/4-inch steel rods and 1/8-inch fiber glass rods. For marble applications, a Libero 5-inch blade is recommended since most marble slabs are 3/4-inches (2cm) thick or less.
Alpha® offers a carriage assembly that fits on the Alpha® Guide Rail System to support the application of making precise miter cuts for the perfect lamination.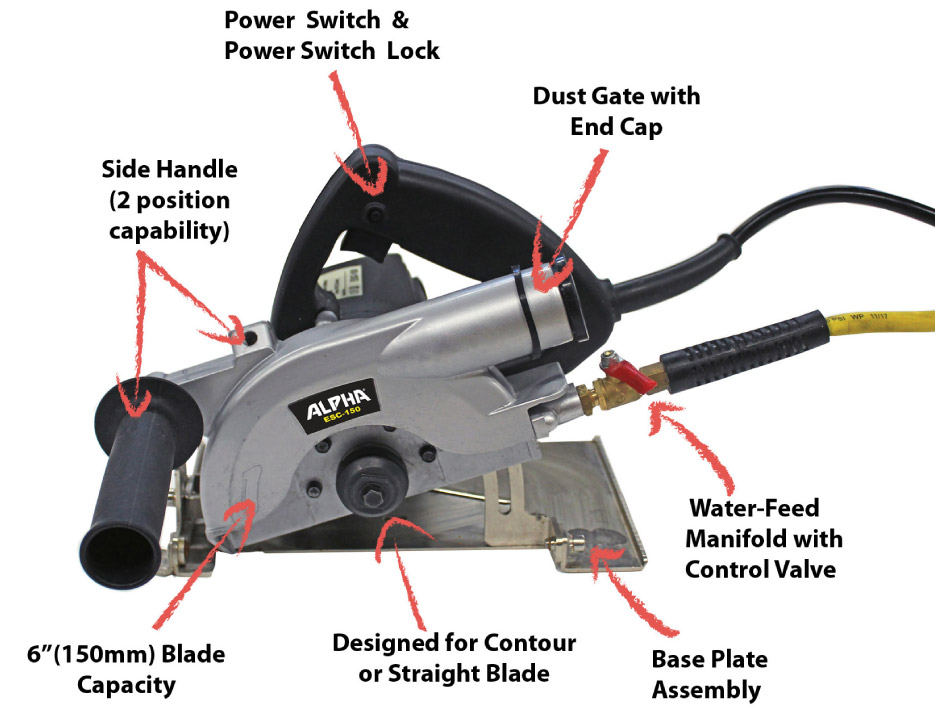 Two New Kits for ESC-150
Alpha® has also created two new kits to showcase the versatility of the ESC-150. The first is a Miter Cutting Kit which allows you to easily make mitered cuts for a beautiful waterfall edge. This kit comes with dual carriages, blades, and a set of guide rails to fit any size job.
The second is a simple cutting system to trim countertops quickly and smoothly. It comes with a carriage assembly, blade and guide rail to provide accuracy, and a stable performance, even on full size slab cutting.

For more information, visit www.alpha-tools.com or call Alpha® at 800-648-7229.

Alpha Professional Tools® is a leading manufacturer of quality tools for professionals in the natural and engineered stone, tile, glass, concrete and construction industries. Alpha® provides unique and innovative products for cutting, drilling, shaping and polishing all types of materials. In addition to providing the best products in the industry, Alpha Professional Tools® offers a variety of services to support their products.