Road Trip 2012: Vermont: Celebrating Two Centuries of Marble Production (Part 1 of 2)
Peter J. Marcucci
Special Correspondent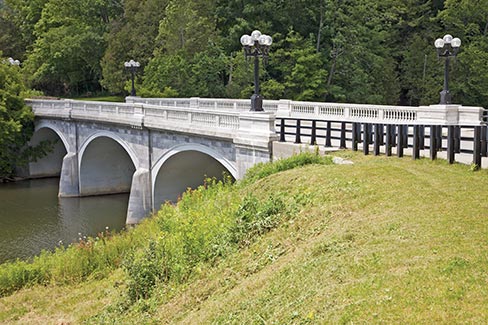 Whenever I think of New England, picturesque vistas of homes, farms, and covered bridges in majestic mountain settings and autumn colors immediately come to mind.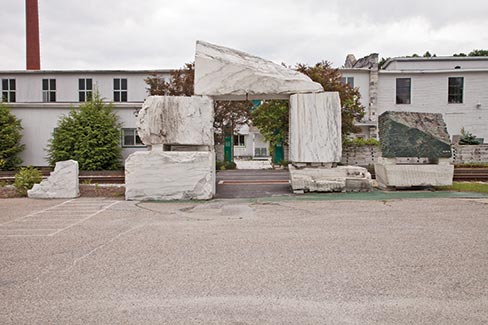 These images, when combined with any type of natural stone, truly have a rustic charm beyond compare. Vermont, The Green Mountain State, well-known for its two centuries of marble production, continues to this day to offer a wealth of stone products and stone education to the world. So when the idea of a New England road trip was brought up by the editors of the Slippery Rock Gazette, I immediately threw my essentials in the car, and with the winds of adventure blowing, set sail for Proctor, Vermont–an area rich in stone industry history.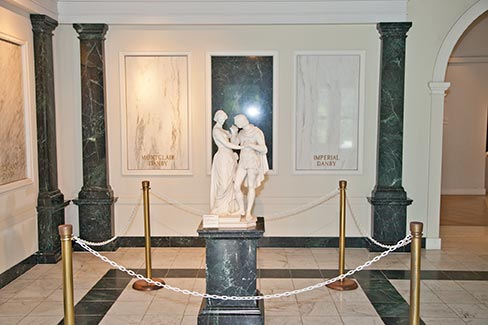 The Vermont Marble Museum Within minutes of entering the town limits of Proctor, the story of the area began to unfold as I turned onto Main Street, coming face to face with a white marble bridge spanning a crystal clear river.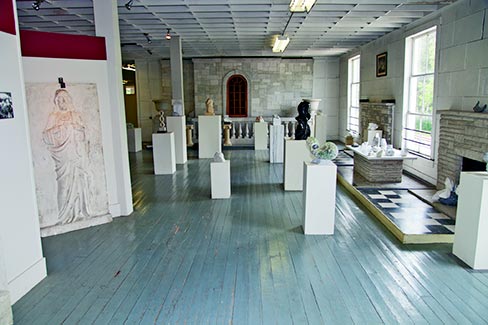 Stopping, my eyes were held in a spell of fascination as I gazed in admiration at this functional work of art.
I later learned that the Proctor Marble Bridge was built in 1915 to replace an existing covered bridge that had spanned Otter Creek for many years. Constructed using white marble from one of the area's local quarries, this three-arch bridge is just one of the many historical stone treasures Vermont has to offer.
After snapping a few photos, I continued over the bridge toward the Vermont Marble Museum, and as my trusty GPS talked the talk, I knew I was getting close.
Within moments I spotted an archway of stacked marble blocks, unmistakably marking the gateway to the museum.
Once in the building and up the stairs, I stood speechless as I was met head-on by a well lit, spacious foyer of columns, sculptures, and samples created from some of Vermont's finest marbles.
Still spellbound, I continued deeper into the displays, my eyes searching in all directions for more points of interest.
It was then that I bumped into Robert Pye, the museum curator and local historian.
It was easy to see that Robert was very busy that morning, and even easier for him to see that I was in need of information, so he unselfishly made the time to explain the history of the area.
Robert began framing the narrative of the museum by explaining that the Vermont Marble Company had been established from a group of smaller quarry companies that had consolidated in the 1870s.
He then went on to explain that Proctor, originally named Sutherland Falls, had been renamed by politician and company founder, Redfield Proctor.
"Proctor had become a company town and the Vermont Marble Company was a great leader and innovator in the American stone industry. Approximately 80 percent of the employees were immigrants from Poland, Italy, Ireland and Switzerland, and the company would interview people right off the boat to determine if they had the qualifications to work in the quarries or as machinists or craftsmen."
"Now remember," he explained, "this was a time period when there was a lot of exploitation of workers, and in some ways many of the Europeans that came to work in America were almost indentured servants. They had very little when they arrived, so the company supplied them with housing, medical care, food and supplies. "
The company also paid the land taxes, supported the schools, hospital and churches. All of these things were of great benefit, but indirectly came out of the workers paychecks, so frankly, they really didn't bring home a lot of cash. But the workers flourished, right up through the 1960s."
As we continued walking through the displays, he spoke of the pivotal times in the history of the area while pointing to the many photographs on the walls.
"Back in those days," he explained, "the twenty quarries in the area were producing enormous amounts of cubic block material per year. Those blocks were then hauled out of the quarry along a railroad spur that went right into the manufacturing building where they were then unloaded and cut up into specified sizes for the company's many customers. "Most of these cut-to-size materials were used for building construction such as the Yale University Beinecke Rare Book and Manuscript Library, and for government contracts such as the Washington Monument, United States Supreme Court building and Arlington National Cemetery."
He then went on to explain that the museum was originally a sample showroom built to accommodate the many "specifiers" and architects who walked in with blueprints and designs in hand. "Later on it was discovered that the showroom was not only a place for doing business, but that it had all the right stuff to make a great tourist attraction.
So in 1933 it was opened to the general public as an exhibit, and as tourism grew, the museum grew, becoming one of the biggest attractions in the state of Vermont.
Later on in the 1980s when the Vermont Marble Company was dissolved, Omya, a supplier of industrial minerals, had taken over all the assets, briefly holding onto the museum before selling it to a private owner."
Robert then ended our conversation and tour by saying that the museum is now privately owned by Martin and Marsha Hemm for the purpose of preserving the history, archives, and gift shop.
After shaking hands and thanking Robert for his help, I realized that I had found something very special. I had come here looking for a rock, and instead–found a diamond.
The Proctor Marble Company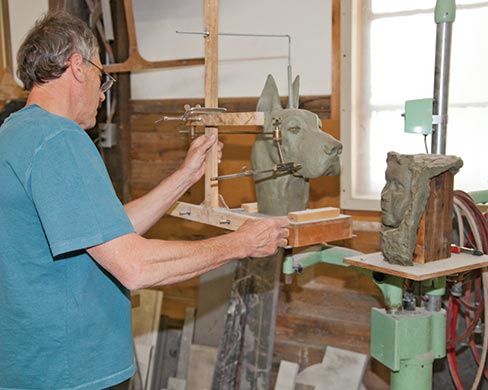 Next stop: just below the museum, I visited the Proctor Marble Company, owned by Brent and June Wilson. After a brief introduction, the Wilsons welcomed me into their lives and into their workshop for coffee and a tour.
As Brent and I walked, he began to explain in detail about the machines and tooling he was currently using, and as I looked at the resourceful way the machinery had been placed, it was clear that this shop was engineered to function solo if needed.
He explained that this is his way to safety proof his company for the slow times as well as staying in control of quality.
As Brent with a hands-on explanation of his super-slick sandblasting room, I began forming an opinion about what he specialized in, and to be honest, his specialty seems to encompass just about everything.
If you can think it, he can build it. Countertops, sculpture, furniture, carved fireplace surrounds, and signage using marble or granite are all within his realm.
Brent has also perfected a unique blend of carved and sandblasted lettering, a lost art these days.
The bottom line: if the Wilsons don't make it–you don't need it.
Brent talked about his personal history, saying that his college education began at Johnson State College of Vermont, and then later in the 1970s after graduating from Castleton State College, began his career in stone sculpting. During the late 70s to late 80s he moved on to carving gold leaf-lettered cedar and redwood signs, a hot item during that decade. By that time, he said, the economy was faltering and he was tired of the wood sign industry.
"I was ready for a change," he said. "When I showed up in Proctor in '89, I knew quite a few people and made it known that work was lean in the sign business, and I began carving stone again–my true passion.
"Within a few years, June and I were making steady money and the future was looking pretty good, so in 1993 we registered the name Proctor Marble Company and officially opened the doors.
Since then, we've never looked back."
The Proctor Marble Company is renowned for its superlative quality, and Brent himself is known for going the extra mile for his clients.
As I learned later, he is also known for going the extra mile down into the actual depths of the Danby Quarry in search of that correct size and quality chunk of marble for his next work of art.
When my visit with the Wilsons was over, I walked away thinking that the two of them love what they do and it shows. I've met a lot of fine people over the years, but Brent and June have got to be two of the nicest, hard-working, and accommodating folks I have ever spent time with.
Johnson Marble and Granite, Inc.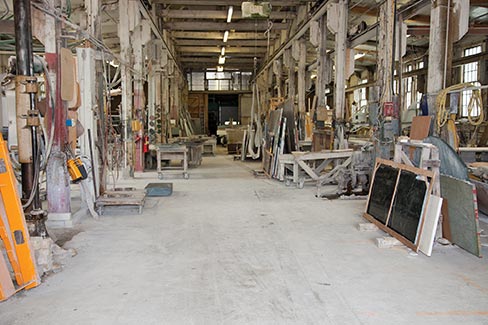 Within walking distance of the museum and next on my list was Johnson Marble and Granite, Inc., a full service residential and commercial fabrication shop.
As I walked in, I noticed that a client was being helped, so I quietly excused myself and spent the first few minutes peering into every section of this well-outfitted and well-used shop.
At every corner in every direction were quality machines from years gone by, standing ready to be called to duty.
As I stood there, as if looking back in time, my first impression was: if only these machines could talk.
After snapping a few pictures, I realized that the customer had gone and I was now free to meet the person in charge. I then introduced myself while shaking hands with Mr. Herb Johnson, the owner.
It turns out that Johnson Marble and Granite was originally started by Herb's father and partner in 1981 to replace the lost income they had suffered after the demise of the Vermont Marble Company.
Since then he has seen many changes in the company and the local market.
Herb then went on to say, "This company is an offshoot of the Vermont Marble Company. We had all worked there for many years. The company at that time [the 1970s] was starting to go under, and when it finally did, my dad lost his job.
"At that time the Vermont Marble Company also wanted to sell off their novelty department, a division that made the products for the museum gift shop. Unemployed, my dad and his partner bought the division and set up shop in Rutland, Vermont. Things began to grow from there.
"That was before countertops had gotten popular—at least around here. Then, as countertops did get popular and volume increased, we outgrew that location and moved here in 1986. After that move, the company turned into a very lucrative business."
Before leaving I asked Herb what his sense for the future is. He explained that the company's business model was one of simplicity, that many of the machines are old but in excellent working condition, and that he had no plans to buy anything new.
He also stressed the fact that many of the old ways of crafting stone are still employed at his company and he doesn't see that changing anytime soon.
"Templates made of wood and screws seem to get the job done. I'm not a big fan of that high technology stuff, right now. I'm sure that it works just fine, but unless you're doing three or four jobs a day, it just doesn't seem to be worth it.
"Some of those companies that made big financial investments in digital machines are no longer in business. I feel safe just keeping things simple, right now. At least this way we can weather the storm."
He then concluded by saying that some, but not all of the materials fabricated in his shop come from the Danby Quarry and added that, in the future, whatever the customer wants, the customer will get, be it natural or man-made materials.
As I walked away, I did so thinking that Herb was one very practical and savvy stone craftsman and businessman.
Peter continues his road trip next month with stops at the Danby Quarry and other points of interest.
Peter J. Marcucci has over 25 years of fabrication experience in the stone industry. Send any comments to pjmgsxr@aol.com.