Surfaces Launches the Murano Glass Collection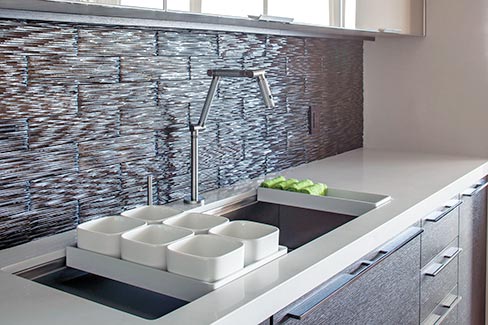 Miami-based Surfaces, Inc., one of America's premier producers and suppliers of glass tile, has announced its new glass wall tile, the Murano Glass Collection.
Inspired by the time-honored art of Venetian glass blowing, the product is distributed by Elida, (Surfaces Southeast, Inc). This unique range is designed by master glass artisans; every component is hand-cut and individually fused, creating an exclusive look.
According to Albert Claramonte, Surfaces' president, "The Murano wall tile collection, is a genuine a work of art made affordable for everyone to experience. The techniques used to create this product have been honed over centuries; however, we are the first company in the glass tile industry to mass-produce products via this process. Each individual strand of glass is hand-cut and fused together by Elida Glass artisans, creating limitless visual combinations and individuality."
Despite the one-of-a-kind production process of a hand-made product, controlling the sizing of each individual piece is not an issue. This is attributable to rigid quality control techniques that also assure ease of use and installation on the jobsite
The line consists of 72 SKUs offered in nine colors and blends, four sizes (2˝x2˝, 4˝x4˝, 2˝x6˝ and 3˝x12˝) and two finishes, shine and frosted. The Murano Glass Collection is available in the U.S. through Elida's master distributor (Surfaces Southeast, Inc.) or Elida's retail partners. All 72 SKUs are stocked domestically, with efficient delivery to any part of the U.S. The possibility to combine multiple sizes, colors and finishes on the same project make each installation even more unique. "Design possibilities with Murano are limited only by one's imagination," concluded Claramonte.
The collection also offers affordable marketing tools such as display vehicles and attractive sample boxes.
About Surfaces
Miami-based Surfaces is constantly creating new products. The firm created the first iPhone App for the tile industry. Additionally, Surfaces created a brand new nationwide program at Lowe's to sell 100% recycled glass produced with discarded automobile windshields.
Surfaces, in the past has also successfully created the exclusive Britto Glass Collection in partnership with world-renowned pop artist Romero Britto, as well as backsplash kits under the DIY Network brand. And, Surfaces recently forged an agreement to market a line of glass mosaics in conjunction with Crayola, LLC, the Easton, Pennsylvania based brand known for its iconic art tools that inspire kids' creative expression, which has 99% name recognition in U.S. consumer households. For more information, please contact Nauro Rezende at Surfaces, Inc. nrezende@surfaces.net, call 305-372-9787 or visit the Surfaces website at www.surfaces.net.