WerkMaster Propane Stealth Series at Braxton-Bragg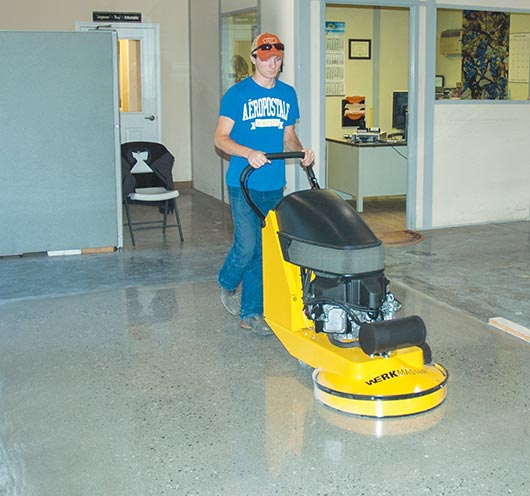 Braxton-Bragg is offering the WerkMaster™ Stealth series of propane-powered burnishers, which are designed foremost to protect the health of the operator.
Brian Wilson, President and CEO of WerkMaster, said the burnishers offer exemplary safety features. "WerkMaster puts operator health and safety ahead of performance, function and features. Nearly all competitors' propane burnishers have the ability to add closed loop technology to their systems, but most don't. They are concerned more about price. We made sure that all WerkMaster propane powered equipment has built-in safety features as a standard, not an option."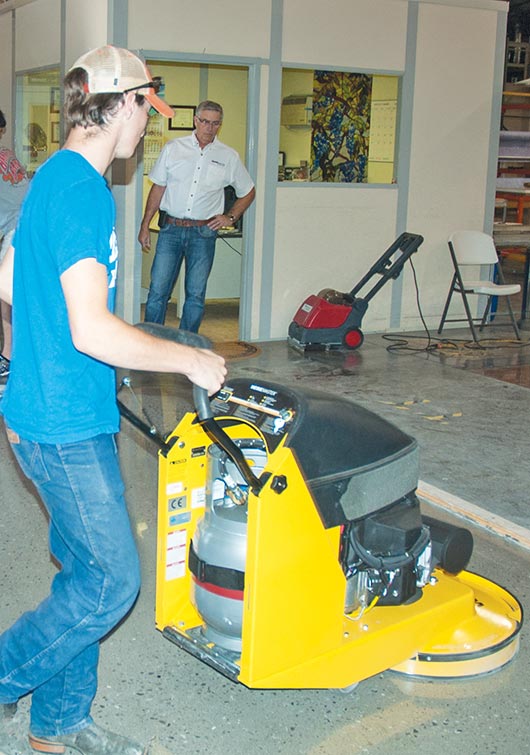 The burnisher's Accu-Sense technology continuously measures air quality and emissions, automatically shutting down the machine if dangerous carbon monoxide levels are detected. They are manufactured to exceed EPA and OSHA safety standards for carbon monoxide emissions. The technology delivers a 98 percent reduction in emissions over conventional propane systems.
Braxton-Bragg Corporate Trainer, Kurt Alexander, for one, is impressed. "It's pretty slick," he said. "I was really impressed with the technology that monitors the output emissions from the machine. It's very clean."
The Stealth propane burnishers feature an ergonomic design that provides users with a quiet machine, reducing fatigue and limiting exposure to mechanical features of the motor. The Stealth series also feature a built-in DustMizer Dust Control System delivering superior results in maintaining dust control in customer's sensitive environments.
It took 12 months to take the Stealth series from concept to production. There were several technical challenges that needed to be overcome, Wilson said. "As with any LP powered machine, the key system is the fuel system—the components from the LP cylinder to the muffler. "Many of these machines are now used by contractors who are constantly on the road and far away from home. Simple things like heavy-duty wheel brackets, reinforced handles and the heaviest decks in the industry were designed to keep the machines operating."
WerkMaster designers also paid attention to the ergonomics of the machines. "Much thought went into the pad holder, wheel placement, machine balance, and handle to make sure the machines are comfortable through the entire work shift," Wilson said.
The Stealth Series features Auto-Sense Technology that constantly monitors emissions and provides the operator with immediate feedback as to how the burnisher is performing. Auto-Sense Technology allows the operator to immediately shut down the buffer should emissions exceed acceptable limits.
The Stealth burnishers not only shut down if potentially dangerous environmental conditions are present, but they give operators helpful feedback on why they shut down through a lit dashboard readout. This monitoring system, along with the dash counter allows accurate maintenance scheduling. A dash counter provides accurate track of time in use.
The Kawasaki 18HP 603CC engine used by the burnishers boasts 34 percent more fuel efficiency and 40 percent fewer oil changes reducing maintenance costs than other motors. When matched with the Stealth design, that number bumps up to 60 percent fewer oil changes.
WerkMaster™ Ultra Floor Systems offers a broad range of floor care products and solutions for facility maintenance, janitorial, concrete, terrazzo, stone and VCT maintenance professionals. When used in conjunction with WerkMaster's UltraGuard line of sealants, the Stealth burnishers provide amazing clarity and depth of shine as well increased durability, Wilson said.
The UltraGuard Acrylic Concrete Sealers are formulated to penetrate through the pores of concrete, stone or terrazzo and adhere to substrate. Other sealers on the market only provide about a 15-minute window to clean up a spill before it's too late. UltraGuard, however, can withstand staining agents for up to 24 hours.
The popularity of polished concrete floors has grown significantly in the past 10 years, and WerkMaster has pioneered the use of a propane burnisher in the concrete polishing process, Wilson said. New concrete sealers such as UltraGuard, UltraGuard Plus and UltraGuard Supreme benefit from being burnished after application of each coat. The heat from high speed burnishing sets up the sealer quicker and also enhances the gloss shine of the floor.
The high RPM burnishing speeds of the Stealth models deliver a superior wet look shine in significantly less time than a conventional electric buffer. Th e burnishers are used by floor care professionals throughout the world who are contracted to work on floors in retail stores, airports, malls, convention centers, grocery stores, educational facilities, hospitals, office buildings, warehouses and large distribution centers.
The DustMizer Dust Control System is featured on both the 21 inch and 28 inch models. The system delivers superior results in maintaining dust control in customer's sensitive environments. "Again, this a unique feature that most competitors don't or can't offer," Wilson said.
The DustMizer is a dust collection system not a vacuum. It utilizes a UHS burnishing action, which, along with the body shape, durable steel skirting, and specific design of the machine, directs the dust particles into the bag.
For additional information on these products, contact the sales reps at Braxton-Bragg. Call toll-free, 1-800-575-4401.
Braxton-Bragg offers a full range of fabrication tooling and installation accessories including sinks, installation hardware, and every tool and piece of equipment needed to run a professional stone, tile, and polished concrete shop.
For more information about Braxton-Bragg and its publications and products, contact them toll-free at 800-575-4401 or visit the website www.braxton-bragg.com for current sales and new products.