Mediterranea Unveils Marmol Porcelain Tile Collection
For centuries, the marble quarries of Italy have delivered the most elegant stones known to grace the castles, cathedrals, grand hotels and estates of Europe.
Today, these quintessential products of nature are available for the first time as a manufactured product – as Mediterranea unveils its most ambitious series: the Marmol Collection.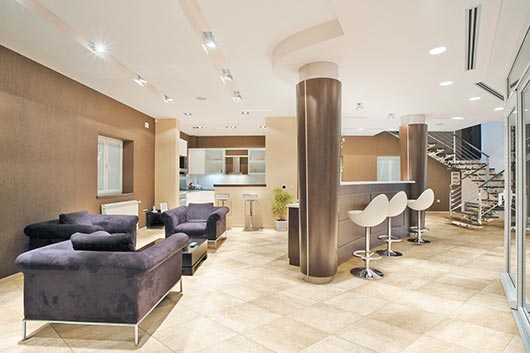 This new series merges traditional, elegant looks with cutting-edge design and manufacturing processes. Crafted and designed with special care to replicate nature's beauty, Mediterranea's tile design artisans employed Dynamic HD Imaging technology to yield porcelain tiles that perfectly emulate the world's finest marbles. This makes the Marmol Collection Mediterranea's most distinctive and diverse assemblage of porcelain tile to date.
The Marmol Collection is available in three colors, with three distinct finishes. The available colors are Select (a traditional Crema Marfil color palette), Café (with warm earth tones), and Venatino (white with classic gray veining). All three colors feature a choice of surface finish; Polished, Honed and Brushed. Plus, polished finishes include the added feature of rectification – making possible tight joints and precision installations as seen with real marble. Standard sizes include 12˝ x 24˝, 18˝ x 18˝, 12˝ x 12˝ and 6˝ x 6˝, along with mesh-mounted 2˝ x 2˝ mosaic and 3˝ x 12˝ bullnose pieces. Colors and finishes may be combined to create unique and distinctive design opportunities in any elegant setting.
With three colors and three finishes, the Marmol Collection is a porcelain tile series almost as unique and varied as the celebrated marbles of Italy.
For over a decade, Mediterranea, Italian-based developers and craftsmen have been designing and producing tile in collaboration with the world's top factories in Italy, Spain, Brazil, Turkey, Argentina and the United States. Mediterranea has the unrivaled ability to match its unique products with the right manufacturer, surpassing its competition with state-of-the-art technology, competitive pricing and outstanding U.S.-based customer service.
Contact Mediterranea/Architectural Imports: 3501 NW 115th Avenue, Doral, FL 33178. Call 305-718-5091, fax 305-718-5099, email info@mediterreanea-usa.com or visit the web for more details. www.mediterranea-usa.com.