Surfaces Launches the Metallika Collection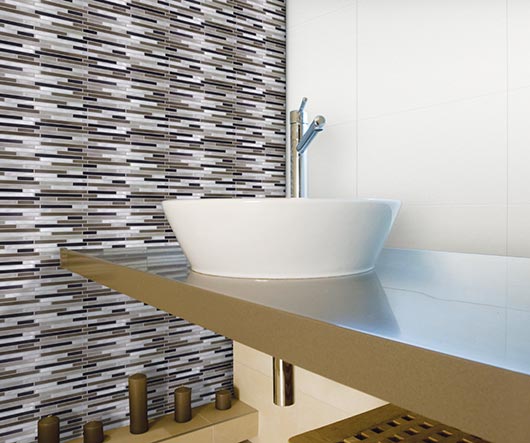 Miami-based Surfaces, Inc., one of America's premier producers and suppliers of glass tile, has announced its new glass wall tile collection Metallika.
Metallika brings to you the beauty of pure aluminum, transformed in sophisticated patterns and color combinations with stone and glass.
Aluminum has many unique, advantageous properties such as light weight, with high strength and resistance to corrosion, which contribute to low environmental loading and superior malleability allowing it to be easy to mill, drill, punch and weld. A perfect "green" material, aluminum can be reused and recycled over and over again. And, unlike many other materials, it does not lose its unique properties. A modern and chic look to enlighten any room, Metallika is offered in a 12˝x13˝ sheet on a pure aluminum linear pattern and 12˝x12˝ sheets mixed with glass and stone in 1˝x1˝ chips; it is available and stocked in the US. With Surfaces' Metallika Collection, eco-friendly never looked so good.
For more information, please contact Nauro Rezende at Surfaces, Inc., call 305-372-9787, or send an email to nrezende@surfaces.net.