Presenting the River Rock Line from Mediterranea
Throughout the mighty rivers, flowing streams and quiet creeks in the heart of America, water has cascaded for generations over an infinite variety of natural stones.
These boulders, slabs and rocks offer a stunning palette of colors, and have inspired the latest porcelain tile series from Mediterranea – River Rock.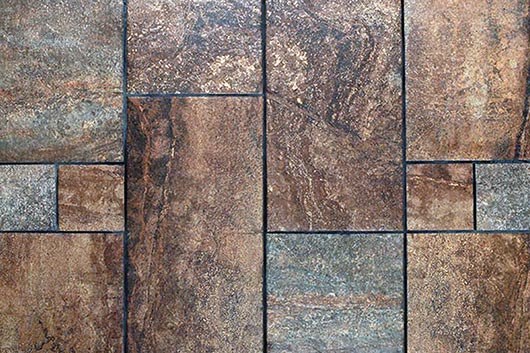 From the Pacific Northwest to the Grand Canyon – from Appalachian creeks to Mark Twain's Missouri - the tile design artisans at Mediterranea have looked far and wide to find the perfect blend of colors to bring these All-American natural hues to life for the first time in a manufactured product. Thanks to Dynamic HD Imaging™ design technology, River Rock bursts with the rich natural hues of America's heartland.
River Rock comes in four distinct colors – Sand, Pebble, Oyster and Forest. These stunning tiles are available in a full complement of sizes to suit any design – 12˝ x 24˝, 18˝ x 18˝, 12˝ x 12˝, and 6˝ x 6˝. Also available are 2˝ x 2˝ mosaic pieces and 3˝ x 12˝ bullnose.
These colors, inspired by a unique assortment of stones observed for ages in the natural environment, have become a part of America's heritage. Make them a part of your new design tradition, with tile from the River Rock series – exclusively from Mediterranea.
For over a decade, Mediterranea, Italian-based developers and craftsmen have been designing and producing tile in collaboration with the world's top factories in Italy, Spain, Brazil, Turkey, Argentina and the United States.
For more information, contact Mediterranea/Architectural Imports, 3501 NW 115th Avenue, Doral, FL 33178, call 305-718-5091, fax 305-718-5099, email info@mediterreanea-usa.com or visit the web www.mediterranea-usa.com for more details.