Radionic Hi-Tech LED Under Cabinet Lighting Offers the Best Quality and Price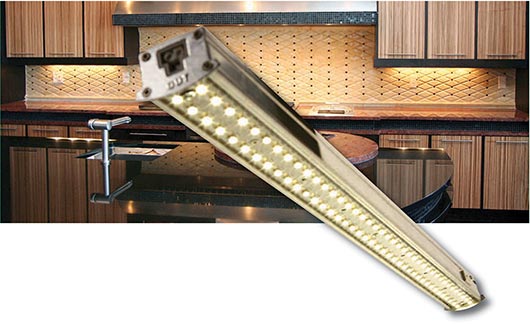 Braxton-Bragg is proud to offer a full line of Radionic Hi-Tech LED Under Cabinet Lighting designed to offer customers the best quality fixtures for the best price.
All Radionic LED under cabinet fixtures are high-quality and affordably priced, said Rod Meyer, sales manager for Radionic Hi-Tech Inc. "Under cabinet LEDs are still pretty expensive, but we've come out with a very high-quality model at an everyday price that is becoming very popular."
"They are very impressive," said Braxton-Bragg Product Manager Steve Bussell.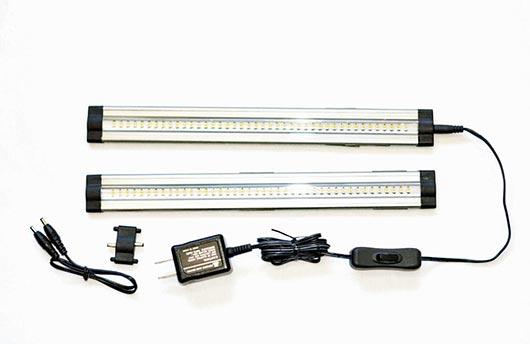 The Radionic ZX series were the first under cabinet fixtures in the world to adopt the LED Lighting Facts label, which is part of a program of the U.S. Department of Energy. Lighting Facts showcases LED products for general illumination from manufacturers who commit to testing products and reporting performance results according to industry standards. More information can be found at http://www.lightingfacts.com/content/consumers.
"We have the Lighting Facts label on the product, so you get information about the true performance of the LEDs," Meyer said. "Our fixtures come with all the parts included. Most times you buy a fixture, they will either come with a plug-in power supply or you have to hardwire it in the wall. The connectors to do multiple fixtures are usually only available at an additional expense. We offer a rigid connector and a flexible connector if you are turning a corner or going over a wood separator between cabinets. There's nothing extra you need to buy."
Radionic LED under cabinet fixtures offer advantages over other lightning options. While fluorescent fixtures can create a harsh glare and puck lights that produce dangerous heat and uneven lighting, LED lighting fixtures stay cool, save energy, can last for up to 10 years and provide more pleasant light in the kitchen.
First produced in 2008, the Radionic ZX series continues to undergo development to incorporate the latest LED technology. After years of refinement, these lights are bright, beautiful, and affordable.
"We've looked at the LED technology," Meyer said. "They are always improving the fixture that we first delivered in 2008. The fixture we're delivering now is more efficient and offers more lumens."
The light output of the ZX series is well distributed by the carefully spaced LEDs to a 120° angle, allowing perfect light distribution. The ZX series contain between 56 and 80 LEDs, which allows an even distribution of light across the entire area. This eliminates the bright spots endemic in fixtures with larger but fewer LEDs.
The Radionic Hi-Tech engineering team did not forget about convenience. Included with each fixture is a quick connect power cord, easy to install mounting clips, an inter-connect cord that allows multiple fixtures to be connected together, and a "butt" connector that allows two fixtures to be mounted side by side with no space between them.
"They are all easy to install," Meyer said. "Two clips and it snaps right in there. They are completely linkable."
Since 2008, Radionic Hi-Tech continuously improved its LED under cabinet lighting options. According to Meyer, the improvements have been dramatic. In a test conducted by a nationally accredited lab in fall 2011, the ZX series fixtures showed significant improvements in performance over the earliest models. The efficiency improved to over 60 lumens per watt. The total light output increased, and the Color Rendering Index (CRI) improved to over 71 CRI.
Lumens measure light output. The higher the number, the more light is emitted. Lumens per watt (lm/W) measures efficiency. The higher the number, the more efficient the product. Watts measure the energy required to light the product. The lower the wattage, the less energy is used.
Radionic Hi-Tech LED Under Cabinet Lighting fixtures offer low operating temperature. The fixtures average only 11 degrees Celsius above ambient temperature measured on the surface of the fixture, and about 12.2°C above ambient temperature measured at the LEDs.
Since 2008, the internal driver or LED field failure rate for the ZX series has been under 0.1 percent, which is the equivalent of 1 of every 1,000 fixtures, while the industry averages about 3.5 percent or 35 out of 1000.
Braxton-Bragg also carries the low-profile Radionic Eco-Lite under cabinet lighting fixture and a 30 LED fixture. "We offer the same multiple options with all of our series," Meyer said. "They are all going to have the same advantage in that they are priced right, are affordable, and they have all mounting and connecting parts included. Wherever we've put these, they just sell."
The Eco-Lite can also be used as in-cabinet lighting and could be used in situations where the customer wants the fixture to not be visible, Bussell said. "The customers will see there are many more uses of the low-profile light."
Radionic Hi-Tech, Inc. was founded in 1982. Well-respected in both the electronic and electrical industries, the success of the firm is due to customer support, strong national representation and a staff of professional marketing, sales and engineering personnel.
For additional information on these products, contact the sales reps at Braxton-Bragg. Call toll-free, 1-800-575-4401.
Braxton-Bragg offers a full range of fabrication tooling and installation accessories including sinks, installation hardware, and every tool and piece of equipment needed to run a professional stone, tile, and polished concrete shop.
For more information about Braxton-Bragg and its publications and products, contact them toll-free at 800-575-4401 or visit the website www.braxton-bragg.com for current sales and new products.