Ten Best of the Best Fabrication Products of 2012 – We Pick Our Faves!
The holidays are again upon us with New Year's Day just around the corner. Being a fabricator and especially a contributing writer to the Slippery Rock Gazette has allowed me the privilege to connect with owners, manufacturers and vendors from many areas of the country, and according to these sources, the consensus is that we have had two years of small, but significant growth.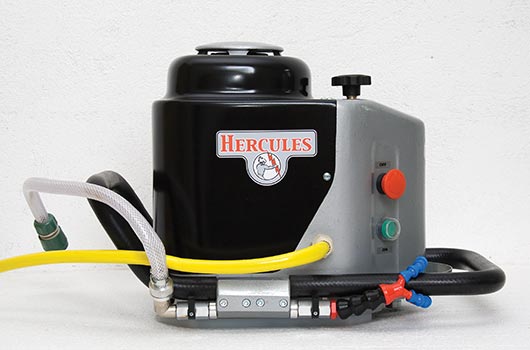 Hercules® Variable Speed Edge Router
Whether you have a large or a small shop, having certain tools and equipment available for any situations that arise is vital to daily production flow, and the Hercules ® Variable Speed Edge Router is one of these indispensable tools.
Designed for quick setup and ease of use, this scratch-free "hydroplaning" router will profile all day long with virtually any brand of router bit, dust free.
Guaranteed for a full 12 months, the Hercules® Variable Speed Edge Router is great as a daily or backup production tool and is a must have for any size shop — period.
Hercules® Modular Work Station
An indespensible component in any shop, the Hercules® Modular Work Station offers a quality mix-and-match array of stable work benches, allowing fabricators to easily gauge thicknesses and match seams and edges from one countertop to the other.
Making sink cutouts is also a breeze due to the well thought out 36˝ wide center opening.
With a total of 13 linear feet of work surface and a 1,500 lbs. safety rating, the Hercules® Work Station offers a durable, versatile, safe work surface that conforms easily to any shape kitchen top configuration.
Renegade Bridge Saw
Born to cut, the Renegade Bridge Saw by Rye Corporation, is a best, most affordable bridge saw solution on the market, and fits almost any size shop.
Equipped with a tilting, rotating, variable degree locking bench, this 220 volt, 3-phase, American-made saw offers 136 inches of travel – big enough to cut the biggest slabs.
Backed by a 6-month warranty on electrical parts and a 12-month warranty on mechanical parts, the Renegade Bridge Saw is truly a worthy investment for the long-term. A Single phase power option, powered gantry and digital readout are also available.
Omni Cubed Sink Hole Saver™ VCM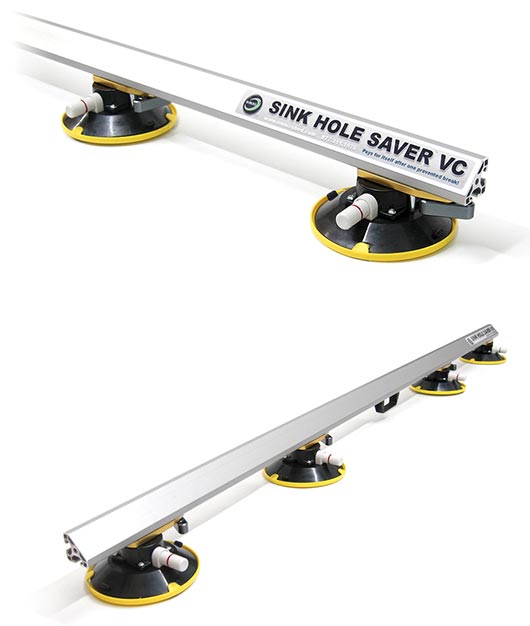 An innovator drives development, and a leader sets the pace.
Omni Cubed is both with the Sink Hole Saver™ VCM, a lightweight, double rail stiffening device designed to deliver any vulnerable countertop safely onto the client's cabinet without breaking.
Available in 4˝, 6˝ and 8˝ lengths, all sizes feature moveable 6˝ vacuum cups with included protective covers for safe storage between use.
Priced right, the Omni Cubed Sink Hole Saver™ VCM will pay for itself after preventing just one needless break.
Too big for a stocking stuffer, definitely add it to this year's holiday wish list or make a New Year's resolution to invest in one soon.
Fab King Work Center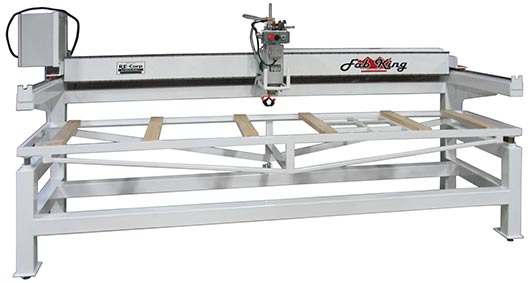 Guys: are you having performance issues in the shop and can't get the finished product out the door quick enough? Not an issue if you own a Fab King Work Center.
At Coverings 2012 Orlando, Florida, I eyeballed this well-crafted machine millimeter by millimeter as Rye Corporation owner, Rod York, explained how the Fab King's engineering allows any operator to quickly polish countertop surfaces, core drill and cut sink areas, profile edges, and polish backsplashes.
As a plus, the Fab-King also works great for antiquing slab surfaces — an ever growing alternative for the client wanting something different.
Constructed using 4˝ high-strength steel, all metal in the frame and rail is powder-coated for durability and years of service. Just add water and single phase 220 and you're on your way to higher production!
Cyclone Flat Resin Cup Wheel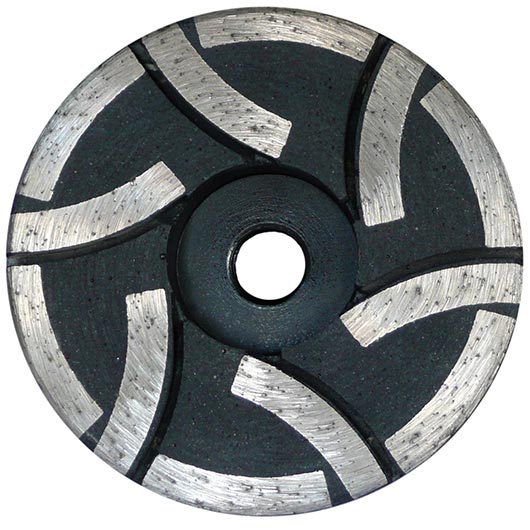 If you're shaping an edge by hand, the Cyclone Flat Resin Cup Wheel goes the distance by allowing the user to go all the way into a corner with no drop-off and no chipped corners.
Balanced and durable, these cup wheels also work great for heavy stock removal, radiuses, prepping lamination, and quick fiberglass removal, and are available in fine, medium and coarse grits.
Tenax Airflex Diamond Brushes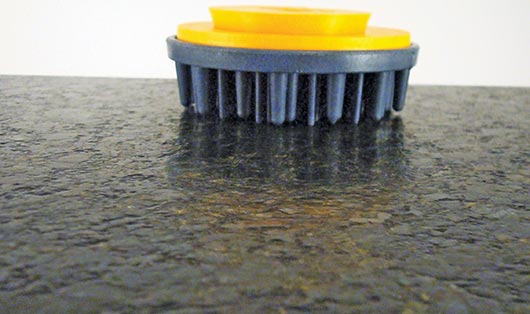 And while we are talking about the growing trend of stone antiquing, Tenax, one of the most respected names in our industry, offers a comprehensive line of diamond antiquing brushes.
Mounted on a radial arm polisher, floor machine, hand tool or Fab King Work Center, Airflex Brushes create a rich, much sought after textured finish, second to none.
Available in 4˝-5˝ diameters with grits ranging from 36, 46, 60, 120, 220 and 300, Tenax Airflex Diamond Brushes are the hot setup for any shop looking to cash in on antiquing countertops or backsplashes.
Abaco Carry Clamps
Indispensable in the field or in the shop, Abaco Carry Clamps are the preferred solution for getting countertops in and set, when other options are just not practical.
Worth their lifting capacity weight in gold, these clamps are rated at 400 lbs. per set, allowing 2-4 men to carry in the BIG ones safely and efficiently.
Built for years of rough service, Abaco Carry Clamps, when paired with, for example, the Omni Cubed Sinkhole Saver, is the double safe way to a successful install. How cool is that?
Edgemate Chopper TS6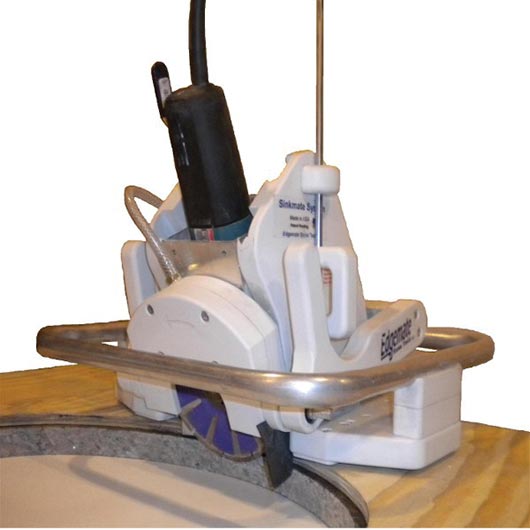 If you were at Coverings 2012 in Orlando, Florida this year, you may have been one of the many thousands of spectators who gathered at the Braxton-Bragg booth to watch the Edgemate Chopper TS6 being demonstrated.
Able to cut a 3cm lavatory bowl hole in 4 minutes, the Edgemate Chopper TS6's patent-pending design uses guides that not only follow a hard template, but are adjustable for different overhangs when used for cutting undermounts.
Powerful and easy to handle, the Edgemate Chopper TS6 is at home in the hands of the beginner as well as the longtime professional.
Talon™ Platinum Dry Core Bits
Engineerd for the savvy installer, Talon™ Platinum Dry Core Bits are hands-down the smart choice for core drilling in the field or in the shop.
Available in 6 popular sizes from 1˝ to 2˝, Talon™ Platinum Core Bits are designed to be used dry at 10,000 RPM or wet at 3,000 RPM—cutting quickly and efficiently with little or no chipping and effort.
For the shop looking for faster installs and higher profits, Talon™ Platinum Dry Core Bits are the ticket to saving time and money!
A full set would make a great stocking stuffer – I'm just sayin'!
For information on these and other great products, call your Braxton-Bragg representative toll-free at 800-575-4401 or visit online at www.braxtonbragg.com.
Peter J. Marcucci has over 25 years of fabrication experience in the stone industry. Send any comments to pjmgsxr@aol.com.