Omni Cubed Celebrates 10th Anniversary
by Peter J. Marcucci
Photos Courtesy Omni Cubed, Inc.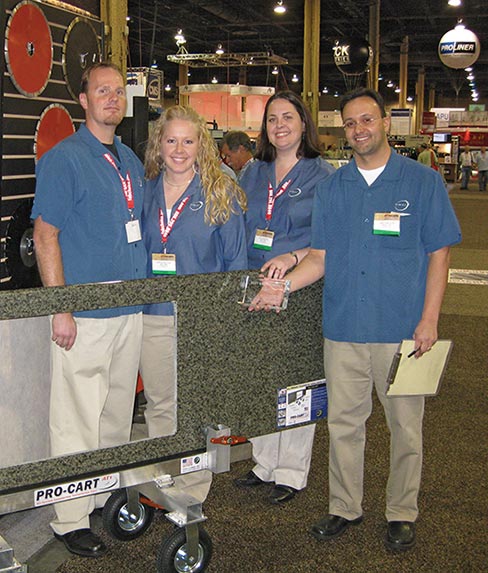 Follow any lineage of great products to its origin and you will find a collective of great minds. The folks at Omni Cubed are no exception–They are the rule.
Combining leading-edge technology with practical design since 2003, northern California based Omni Cubed, Inc. is an engineering and manufacturing company built by people who live and operate their business according to Godly principles and adherence to their slogan: "Engineering To a Higher Power."
It is this higher benchmark that has allowed Omni Cubed to push the boundaries of innovation with tooling that addresses daily production and installation issues fabricators face every day.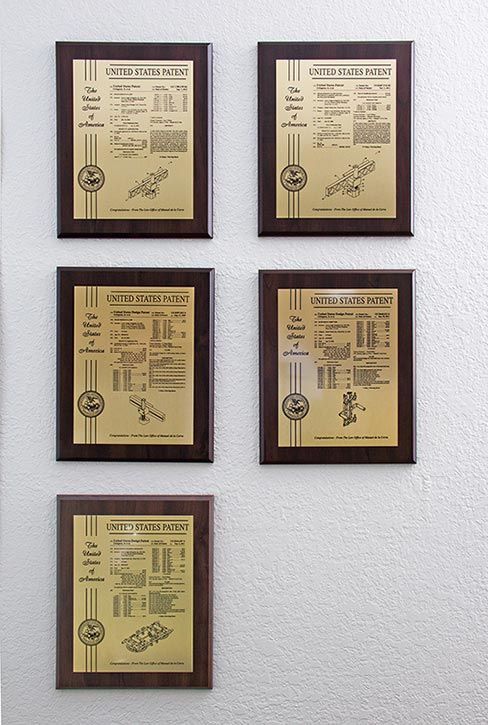 The success story began a decade ago when four goal-driven friends, the Westlunds and Livingstons, recognized the industry niche that could be filled through the application of their mechanical engineering, manufacturing and machining experience, combined with their stone fabrication knowledge.
Although Derek Westlund (President and Director of Production) and Larry Livingston (Vice President and Director of Engineering) possessed the knowledge, skills and experience necessary for inventing and developing tools for the stone industry, both Kirsten Westlund (Director of Finance) and Amy Livingston (Director of Sales and Marketing) had to quickly get up to speed on the skills needed to support their husbands' visions.
It is under this unified management team that Omni Cubed has successfully launched seven major product lines consisting of over 40 product models of lamination clamps, countertop strengtheners, seam setters, installation carts, carry clamps, T-31 machines, and stone refinishing tools, and to this day continues to offer fabricator-friendly products built for the rigors and challenges of both shop and field.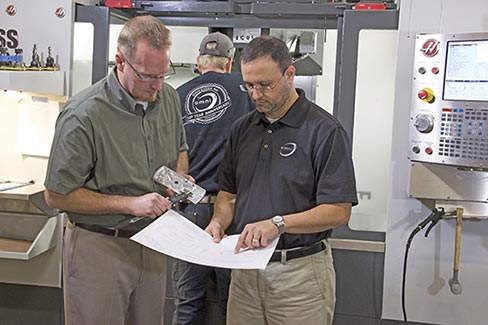 "From Derek's experience in the stone industry and personal frustration with the countertop edge lamination process, the decision was made and supported by Larry to develop the industry's first clamp specifically designed to address the challenges associated with lamination," said Amy Livingston, explaining that these clamps embodied the basic product development principles that are required of all Omni Cubed products: provide reductions in time, labor, and money spent on fabrication and related processes.
"Our products are a collaboration of Derek's and Larry's knowledge and skills, and usually begin as an idea that will solve a current problem for fabricators or installers.
The product idea then enters the extensive research and development phase, and if it continues to meet Derek's and Larry's expectations, it will move on for eventual prototyping and extensive testing.
Once necessary modifications and re-testing are completed and the product still meets the company's expectations, it is then, and only then, made ready for release to the market, and initial production begins.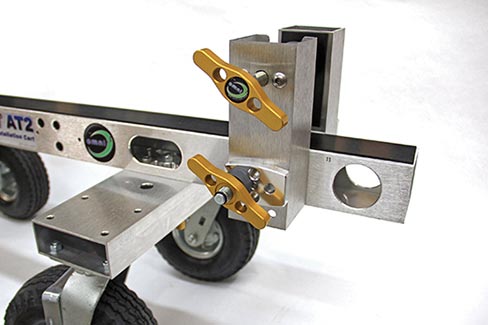 The development of the product does not end at this point; there will be ongoing assessments of the product to ensure it is indeed fitting the long-term needs of fabricators and installers the best it can."
High Production Standards
Livingston continued by explaining that after a product has been launched, quality control is of utmost importance within a manufacturing facility.
"One facet related to the quality of our products is the high standards we adhere to and the materials we use. For example, the majority of our parts are machined from solid aluminum bar stock–not cast aluminum.
We believe that too many manufacturers today use inferior materials or manufacturing processes to reduce their costs, even though they are sacrificing the quality and durability of the final product with these choices.
When you hold or see an Omni Cubed product, you will see this difference immediately. We feel another way to ensure the highest quality of products is to monitor product development and manufacturing processes with our own eyes. Our products are engineered, manufactured, assembled and packaged at Omni Cubed Headquarters in Placerville, California, USA. In addition, the heart of a successful process lies with the people implementing those processes, so the Omni Cubed management team acknowledges and appreciates the outstanding team members that are at work each day in our company. We would not be celebrating our 10th Anniversary milestone this year without successful teamwork with these individuals."
Regarding service, Livingston said that their customer service program is designed with the fabricator in mind, by keeping information via their website and their staff easily accessible. She added that their warranty program shows the confidence they have in their products and gives customers the peace of mind and that Omni Cubed backs up those products well after purchase.
"Our company retains as top priority excellent customer service and being honest and fair in all business transactions. One of our main goals from the beginning was to create a focused and organized company with a positive and uplifting environment for all."
A Brilliant Future
When asked what the future holds for Omni Cubed, Amy Livingston replied with conviction: "Our goal at Omni Cubed is to serve and glorify God in all that we do. Our company slogan, 'Engineering to a Higher Power' is a representation of this ideal.
We believe that every product and service we offer should be of the highest standard that we can possibly achieve, and that we are accountable to Him for all that we do at our company. God willing—new innovations, improving current product lines, offering the best customer service possible, and improving all aspects of our company will continue. We are always working on new products and keeping an eye on improvements needed for our existing products. One product we are working on and hope to launch soon if all goes well is a new installation cart designed for lifting and lowering stone."
Omni Cubed continues to set the bar with intelligent designs that push the envelope and are regarded as state-of-the-art by many in our craft. Call Braxton-Bragg and try one of the Omni Cubed products and you too will say as I: They Just Work!