Maintenance and Preservation After the Sale
Can You Say: Follow-Up Service?
Peter J. Marcucci
Special Contributor
Installers have just put the final touch on that dream kitchen in Mr. and Mrs. Upscale's home and both clients are euphoric!
You are their salesperson and Mr. Upscale shakes your hand while the Mrs. hands you a check for the balance. You hand them a final receipt and close the deal by saying, "Thank you so much!" and then, "Goodbye."— Right?
Au contraire! Rewind for just a moment back to the "thank you" part –  and instead of saying goodbye, you say, "Your countertops look outstanding. May I show you our optional follow-up service plans to insure they stay that way for many years to come?"
If you think about it, follow-up maintenance of a clients' stone work is as good or better than word of mouth advertising. Yes, word of mouth is by far the best advertising and may be the way your company acquires much of its work. But how about the benefits (and compliment) of a past client asking you back into their home for follow-up work to keep that great looking job maintained?
Remember that famous quote by Yogi Berra, "It ain't over till it's over." The company/client relationship is only over when either, or both, parties have no further need for the other. But as business owners, don't we always appreciate revenue from diverse sources? So, why is it that only a handful of fabricators aggressively offer maintenance service to their prior established clients after the sale? Let's dive right into the details and see, shall we?
For one reason or another, stone fabrication companies, mostly smaller, are just not structured to pursue this lucrative market, letting the restoration privateer driving the step van get the work. He may do a great job; then again he may not — leaving your once happy customer unhappy.
While there, he may also acquire other work, such as cleaning and removing stains or grouting; maybe even a very lucrative floor refinish, just because he's there and it needs to be done. It's convenient at the time for the client and the privateer wins.
So, it's quite possible that Joe Shop-owner may not pursue maintenance service because he just doesn't know how to do the work. Granted, we all know how to cut a job and grind and polish an edge and then show up and install it. But how many of us really know how to change from style to substance and finesse our way through a re-finishing job in a home filled with creature comforts with the creatures living there?
Then there's the training of that hopefully "long-term employee" who can schmooze with the client as well as get the job done, day after day. And don't forget the cost of a possible dedicated vehicle and supplies and tools: sanders big and small and all the goodies that go with them.
Seemingly daunting and insurmountable while managing fabrication duties, many owners just avoid this follow-up income like the plague due to lack of capitol, not knowing what's needed or how to structure this portion of the company.
There's one more factor and it's a big one: trust, or the lack of it. Some clients will let the condition of their expensive floors or countertops decline in lieu of inviting a maintenance tech into their homes due to lack of trust in the person or company assigned to the task.
But being the original fabricator, and if you've done your job correctly from when the client/salesman relationship began till the end, you've already earned that trust; and if servicing this investment is presented to them during the sale, or better yet, as they stand there awestruck handing you final payment, your company and the need for maintenance is built into their mindset and accepted.
So, if you agree that it ain't over till it's over and want to cash in on this lucrative growth sector, the following products available at Braxton-Bragg will help get you into action.
---

Akemi® Nano Effect Sealers And Stain Repellent
Engineered with outstanding impregnation characteristics, Akemi® Nano Effects Sealer and Stain Repellent delivers on the promise of a food safe stain barrier that is usable within 2-3 hours after application.
Touted by some as the best sealer ever, Akemi® Nano Effects Sealer will not, in most cases, alter the color of the material, and is sold with a 30-day, risk-free, money-back guarantee.
Pony up for a one liter bottle and see for yourself. All you have to lose is stains.
---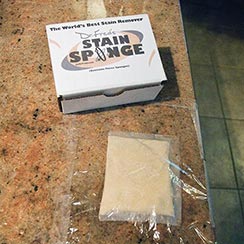 Dr. Fred's Stone Care Kits
Dr. Fred Hueston of Stone Forensics has created an easy-to-use poultice stain remover for use on natural stone that is similar to a teabag.
Just soak the bag in water, place on the stain and seal with a light plastic. Within 24 hours the stain should be gone with no fuss and no muss.
Sold in a 3-pack and 10-pack, Dr. Fred's Stone Care Kits are an excellent choice for the busy stone technician, and can even be left with the homeowner to use when you leave.
---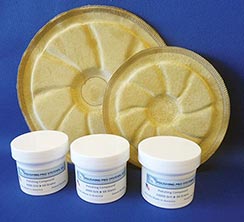 Steve's Polishing Pro Systems Restoration Kit
While combining a proprietary mixture of powders with the patented high-speed polishing pad that draws this mixture into the center of the pad where it belongs,
Steve's Polishing Pro Systems Restoration Kit then gently creates a re-polished surface on natural stone with less mess and less waste.
Steve's Polishing Pro Systems even offers optional pads in 2, 3, 4, and 6˝ diameters as well as an extra gentle 6½˝ velvet pad.
Also available is a Steve's Pro Systems Restoration Kit for engineered stone.
---
Tenex Ager
If you're installing or maintaining a granite kitchen, and seams don't seem to match as well as they should due to UV damage, or the quick cooling effect of rain on a sun-heated slab (mostly in the sunbelt), you'll appreciate what Tenax Ager can do for you.
Also great for matching machined edges to the surface of resined slabs, Tenax Ager also works well at enhancing the intensity of brushed, flamed or sandblasted surfaces and edges.
---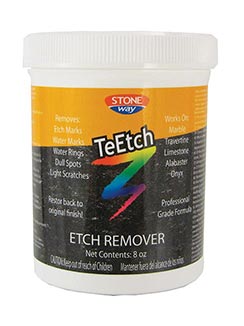 Tenax TeEtch and Watermark Remover
Specifically engineered to remove etching and watermarks, as well as water rings and dull spots on natural stone, Tenax TeEtch even removes light scratches on soft stone such as travertine and onyx.
Simply apply a small amount over the dull area or watermark, and within a few minutes of rubbing, the blemish is gone.
So, before making the choice to sand or dia-pad a blemish on any natural stone, choose to use Tenax TeEtch first.
---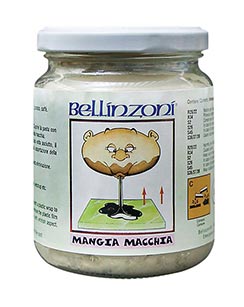 Bellinzoni Mangia Macchia Stain Remover
Bellizoni, a name synonymous with brilliance since 1927, has created a premixed, easy-to-use poultice, that's "the bomb" when it comes to getting out those really tough set-in stains in marble, granite, terracotta, terrazzo and ceramic.
Bellizoni's Mangia Macchia (stain eater in Italian) will eliminate stains from coffee, oils and wine, etc.
Available in a 250 ml bottle, Bellizoni Mangia Macchia Stain Remover is a proven, effective stain remover.
---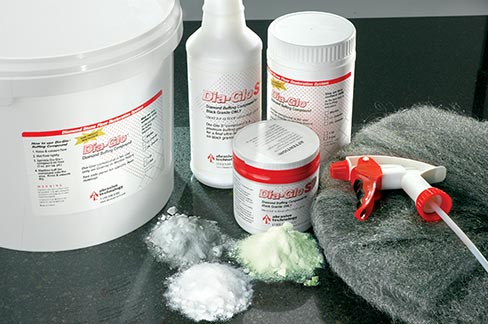 Abrasive Technology Dia-Glo™ Buffing Compound
If you're storing your marble slabs outside or just need to kick up the glow a notch or two on a clients' marble vanity, Dia-Glo™ M Buffing Compound by Abrasive Technology is the stuff great marble surface finishes are made of.
For light-color granite, try Dia-Glo™ L, and D and S compounds for dark and black granites.
So, be it a radial arm polisher or Fab King in the shop, or surface work on the job, Dia-Glo™ Buffing Compounds are a brilliant choice.
Also a sparkling combination when used with a WerkMaster™ floor machine.
---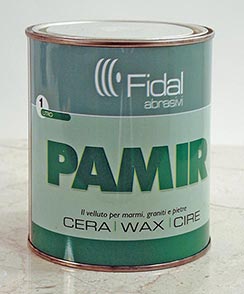 Pamir Liquid or Solid Wax
When in the client's home and that "to polish or not to polish – that is the question," moment arrives, a coat of Pamir paraffin base wax and a fistful of (0000) steel wool may just do the trick.
A flagship product of Fidal Abrasivi for years, Pamir solid has been polishing natural stone longer than I have, and has gotten me out of difficult circumstances more times than I'd like to admit.
Available in white or black solid or transparent liquid, the next time you're doing maintenance in a client's home and the situation is both risky and iffy, try to "Pamir it" first.
---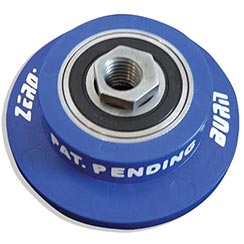 Zero Degree Burn Rigid Backer Pads
The Zero Burn Back-Up Pad, created by Steve Anneker of Steve's Polishing Pro Systems LLC, saves you time because of the multi-directional action that cross-cuts the stone with each revolution of the machine.
This speeds up the scratch removal and polishing process. It also results in a tighter polishing pattern, which results in a higher sheen than is available from standard processes, even on engineered stone! If your client's Silestone countertop has a scratch, this baby and Steve's Polishing Pro System for ES  is exactly what you need to remove it.
Training classes in Steve's certified-effective method are available through the Braxton-Bragg website.
---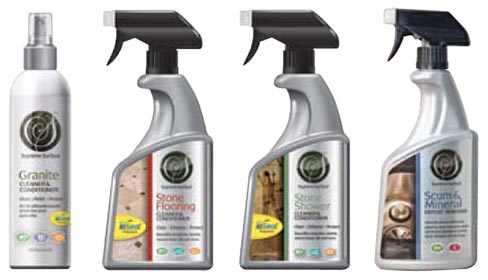 Supreme Surface Stone Care Products
To protect all the hard work you've just put into your very important client's home, for protection and preservation, recommend a daily, spray-on, wipe-off coat of Supreme Surface Granite Cleaner and Conditioner.
Not just a sealer or stain repellent, it is considered to be the most advanced cleaning and conditioning technology in the current market of products and will clean and protect in just one easy step.
It makes a great resale product to stock for walk-in homeowners and cleaning services, and a fantastic installation completion gift for your newest, satisfied customer.
---
You can always count on Braxton-Bragg for the most up-to-date products, most comprehensive training and unsurpassed service. Call a representative today! Remember: "You snooze—you lose!"
Peter J. Marcucci has over 25 years of fabrication experience in the stone industry. Send your comments to our Contacts page on the SRG website