Florim Introduces "Urban Wood" a Stunning Wood-Look Porcelain Tile Range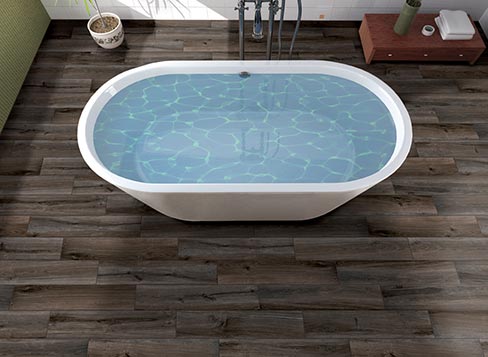 Urban Wood is a beautiful new porcelain tile range which is ideal for any application, especially for creative projects where the "look of wood" is typically not specified. In particular, for hospitality suites' kitchens and bathrooms.
Additionally, it offers exquisite natural visuals when installed on patios and other outdoor areas. The product line is extremely durable; end-users will enjoy the look of real wood while benefiting from the ease of maintenance inherent only to porcelain tile material.
Urban Wood is characterized by its through-color porcelain body combined with an incredibly realistic wood-look surface, created by cutting-edge High Definition Graphic (HDG) Technology. A soft to the touch, contemporary, rectified tile, Urban Wood enables the installer to use smaller grout joints which not only give the new tiled area a more monolithic appearance… the smaller the grout joint, the lesser the time and expense for future cleaning.
Available in six wood-look colors (Ash, Honey, Oak, Walnut, Wenge and White Birch), three rectified tile are available: 4˝x24˝, 6˝x24˝ (in either the Natural or Grip finish) and 6˝x36˝, which is a new size format offered by Florim USA. For safety purposes in outdoor applications, it is recommended that Urban Wood tiles with the non-slip, high coefficient of friction "Grip Finish," are specified.
Stefano Rabaioli, Vice President of Sales & Marketing, Florim USA stated, "We believe Urban Wood is the ideal choice for commercial applications where the look of natural wood has been selected, but the durability and ease of maintenance offered by porcelain tile material is a necessity. Our Tennessee manufacturing facility, which is one of the most comprehensive in all of America, has the capacity to produce large amounts of this product range. We also have the warehousing capability to store material we manufacture, which makes products such as Urban Wood ideal for architectural specifications that include future roll-outs and other commercial expansions dependent upon using the same material installed in project number one."
Made in the USA, Urban Wood has a Dynamic Coefficient of Friction (DCOF) rating of > 0.42 and a >0.50 DCOF for its Grip Finish materials, making it an ideal choice for nearly any application (residential/commercial and indoor/outdoor). Additionally, all Urban Wood materials contain 10% recycled content. Projects which designed with Urban Wood being specified are eligible for LEED points.
To find out more about Florim USA, visit the website: www.florimusa.com or call 1-877-FLORIM-1.