Stone Restoration and Maintenance Corner: Historic Candoro Marble Company Office Building Restoration
Bob Murrell
M3 Technologies
Photos by Bob Murrell
As I am writing this month's column, it is the first week of August. Novel Coronavirus cases are rising, especially here in the South. Some schools are already open, at least here in Tennessee. Mask use has been mandated (unless specific health reasons prohibit the use) for indoor public buildings and/or where social distancing cannot be adhered to. It will be interesting, to say the least, to see how this will all play out after the November election.
I have discussed some of the history of the Candoro Marble Company in previous articles. Now, I've have had the opportunity to witness some actual restoration of the incredible marble on the property. The Aslan Foundation, a philanthropic organization, acquired the old historic Candoro Marble Company showroom and office building in 2014. Starting this year, they have scheduled work to completely restore the building and make it an available space for local artists to practice their craft.
Of course, all of this will be done within historical restoration guidelines. Hickory Construction is the General Contractor while Knoxville Marble Polish will be doing all of the marble restoration, with the exception of a few replacement pieces.
The Candoro Marble Company Building was built in 1923. The building was designed by Charles Barber in the Beaux Arts style. The stonework was by Alberto Milani of Carrara, Italy. The ironwork was by Samuel Yellin of Philadelphia.
The Candoro Marble Company was founded in 1878 and was once the nation's largest producer of Tennessee pink marble. Pink Tennessee marble was used in the Museum of Natural History and Technology, the National Gallery of Art, and many other renowned buildings across the country. The Candoro Marble Company Building was added to the National Register of Historic Places in 1996.

Designed by noted American architect James Barber, the historic Candoro Marble Company building is filled with precious domestic and imported marble.
There were many issues that needed attention on this project. All of the floors needed a light honing of 220 grit and 400 grit and then polishing. There was also a room with travertine walls and decorative pieces that needed cleaning.
The worst issue, though, would require some heavy restoration. That is what this article will relate.
At some point years ago, the front right corner of the office building collapsed due to a foundation issue, probably caused by water. This resulted in some major settling of the front room, which in turn, caused some of the marble pieces to crack and upheave. We're not talking about 12 x 12 inch 1cm tiles, either. These pieces of marble are all 1- ¼ inches thick. The floors, walls, and window frames are all cut from these thick slabs. Several different types of the Tennessee marble are present, with beautiful patterns and even bookmatching.
So many of the frame pieces cracked and separated. The gaps and lippage (height or level difference) on each side of the crack was fairly significant. I saw differences of up to 1/8-inch or more. With a historical restoration project, the fewer pieces that are replaced, the better. So in other words, if you can repair the broken piece, that is what must happen.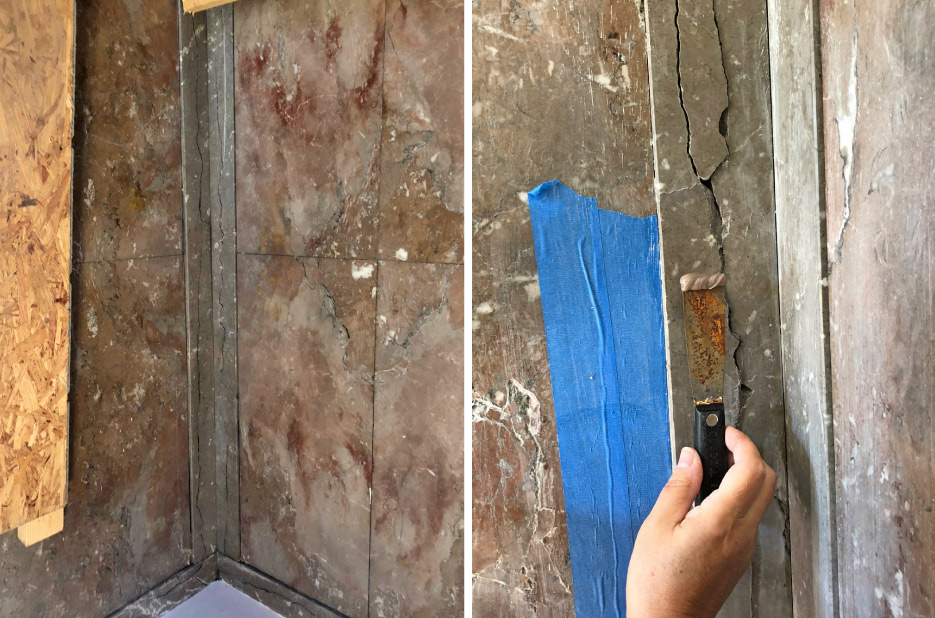 Above, left: The marble framework and trim in this corner is cracked from upheaval and foundation settling.

Above, right: Applying color-matched K-Bond polyester adhesive to cracks prior to polishing and blending.
Even though The Tennessee Marble Company can supply replacement pieces, they may not match perfectly due to differences in the material from newer areas of the quarry. So the only pieces that are being replaced are the two window headers. All other affected frame pieces will be repaired and restored.
All of the broken frame pieces are on vertical surfaces, of course. These cracks, or crevices if you will, must be filled with color matched adhesive, ground flat, honed, and finally polished to match the surrounding pieces, as closely as possible.
Needless to say, vertical work is somewhat labor intensive and will definitely help get you those "Popeye" arms you've been wanting. Try holding a Makita or Flex tool on the vertical while you do heavy grinding for a while, and you'll know what I mean. You can devise a counterbalance system to help, but this is cumbersome to say the least.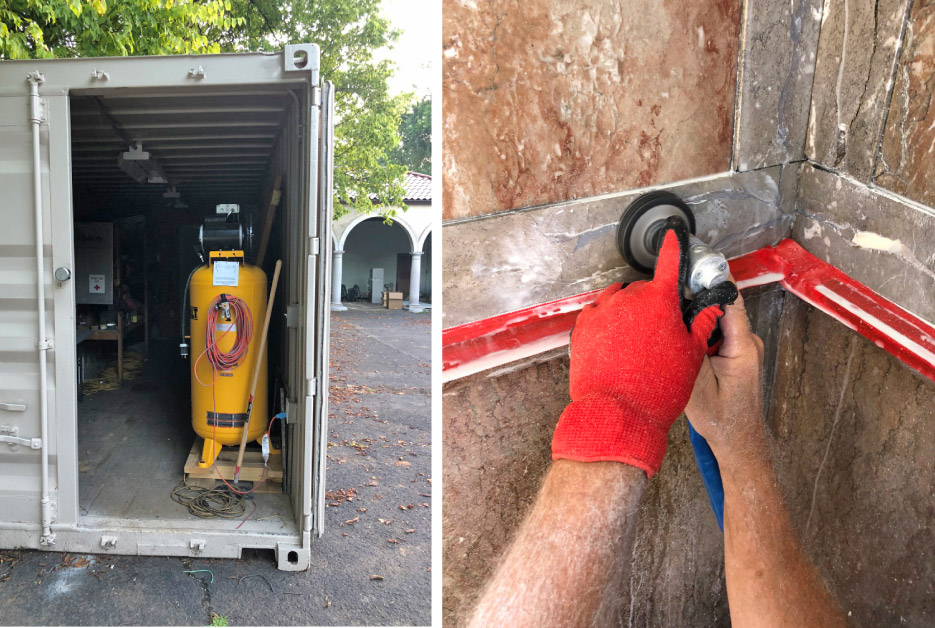 The next step in restoring the marble framework involved wet grinding the filled crack level using an Alpha air tool and Flexible Electroplate (ELF3 40) metal bond diamond pads. The air tool was powered by a vertical 15 cfm compressor brought onsite.
After years without proper care, all of the checkerboard white and black marble floors needed honing and polishing.
Knowing what I do about fabrication shops and the tools they use, my thinking was that if they could use a smaller and lighter air tool, that it would definitely ease the burden for the technician on the vertical grinding. Also, the broken frame pieces were only 4 inches wide, so a 3 inch diamond pad would be sufficient.
For comparison, a Makita 9237 polisher weighs about 7 pounds, while an Alpha Air-300 Mini weighs 1.6 pounds. Which one would you want to use to grind, hone, and polish vertical surfaces?
Also, the Alpha tool is water fed, which makes for easier addition of water to the operation.
Of course, then you also have the problem of supplying adequate amounts of air to operate the tool.
Air tools, at least in the stone industry, require massive amounts of supply air. This is measured in cfm or cubic feet per minute. Most of the air tools require 15 cfm and up to operate efficiently. Many fab shops have screw type compressors which cost upwards of $20k or more. Of course they have multiple tools running at the same time.
The Alpha Mini requires 10 cfm. Even so, this is a fairly large amount of air, and most small portable compressors are typically not able to supply this amount. To get this kind of cfm, you must have a compressor with at least a 5 hp motor and 60-80 gallon reservoir tank. These are not cheap and certainly not very portable. You can rent one (gas powered model that fits on a trailer) for about $450/week or you can buy a stationary vertical model (supplies 11 cfm @ 90 psi) for about $800. Oh, and because they are at least 5 hp, that means they are 220 volt, which is another hurdle.
This project only required one tool so a vertical compressor was implemented. It worked like a charm.
Many thanks to Hickory Construction for wiring it up!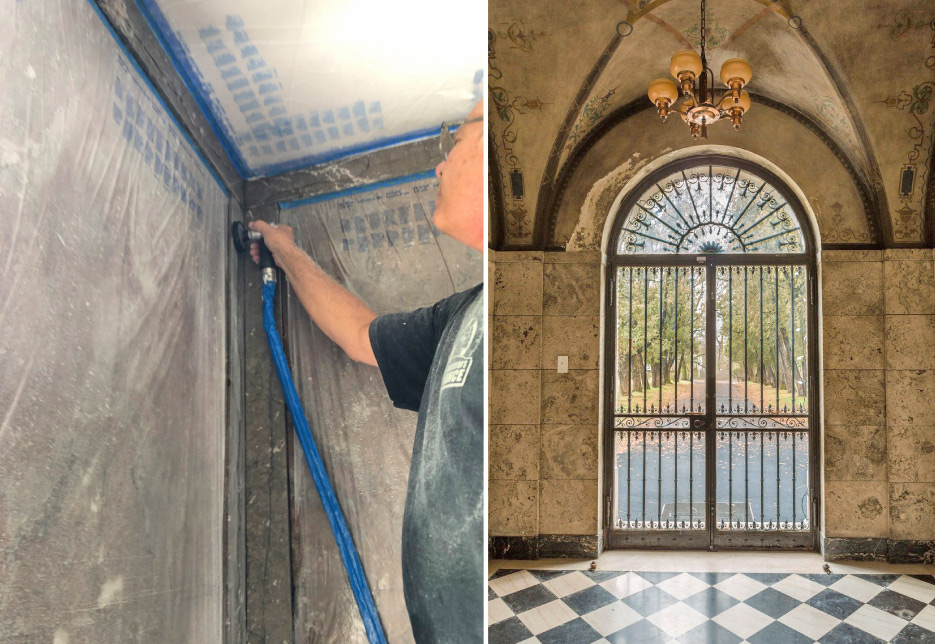 Above, left: A lightweight and powerful air tool was chosen for the vertical grinding and polishing tasks. Note the careful masking of adjacent surfaces.
The cracks were filled using K Bond Polyester adhesives colored to match as best possible. Then grinding the filled cracks level was completed using Flexible Electroplated Metal Bond Diamonds (ELF3) in 40 grit through 120 grit before switching to DICP resins, from 100 grit through 400 grit, and finally polishing using Majestic 5X and a 3-inch natural pad center.
The vast majority of the work was spent on the 40 grit ELF metal to level the repaired cracks. Once these were smooth, they moved on to the 70 grit ELF3 and 120 grit ELF3 before switching to resins and then polishing.
This part of the restoration project was not typical by any means and neither was the prescription for the repair. It all worked out great though and with maximum efficiency, even if I do say so myself.
As always, I recommend submitting a test area to confirm both the results and the procedure prior to starting a stone or hard surface restoration or maintenance project. Also the best way to help ensure success is by partnering with a good distributor, like BB Industries, that knows the business. They can help with technical support, product purchase decisions, logistics, and other pertinent project information.

I pray you all stay safe and healthy.

Bob Murrell has worked in the natural stone industry for over 40 years and is well known for his expertise in natural stone, tile and decorative concrete restoration and maintenance. He helped develop some of the main products and processes which revolutionized the industry, and is currently the Director of Operations for M3 Technologies.