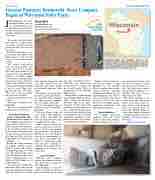 24|July 2021
Greener Pastures: Krukowski Stone Company Began as Wisconsin Dairy Farm
Slippery rock Gazette
   Jeff Krukowski and Joanie Krukowski-Whitt grew up on a small dairy farm, owned and operated by their parents. As the farm developed new pastures, one thing stubbornly stood in the way: rocks.
"Everywhere in the fields, there were boulders," recalls Joanie. "In order to expand the farm and get the land ready, there were all these stones."
With the pragmatism that's be- come famous in the Midwest, the family began to view the field stones as an asset rather than an obstacle.
"Our parents hand-chiseled stones for local masons" says Joanie, and in 1978 her brother Jeff "took it upon himself to get a truck and to start picking those boulders." He found custom- ers in Chicago, and Joanie offers fond memories of the early days. "When I was a little kid, I'd ride with him into Chicago, I thought it was the neatest thing cross- ing that state line," she muses. "We're in a rural area, so getting out of state was a big deal."
"Jeff is my older brother..." she explains.
"Wiser, also!" Jeff adds, as they both laugh.
"And I'm very impressed with what he's done," Joanie says.
From Hand-Gathered Stone to Nationwide Sales
Krukowski Stone Company has grown mightily since the days of a single delivery truck, but it re- mains a family-centered business. In all, six family members work in the company: Jeff works along- side his wife Joyce and their two sons, Brad and Chris, and sister, Joanie Whitt, and brother-in-law Ted Kijak.
Beyond the family members, the company employs an addi- tional 25 people, and works in six quarries spanning over 1,000 acres. The company built a state- of-the-art fabrication shop and a separate splitting facility — to- taling over 50,000 square feet of production space.
Jeff's sons oversee much of the fabrication; Chris runs the saw shop and polishing department, while Brad manages the splitting
Karin Kirk
usenaturalstone.com Diagrams © Karin Kirk.
Photos Courtesy Krukowski Stone
      shop, shipping department, and retail sales. Together they do wintertime trade shows, "which are nonexistent right now," adds Joanie.
Stretching far beyond its hum- ble roots of gathering field stone, the Krukowski Stone Company now ships products throughout the U.S., Canada, and beyond.
"We've even shipped stone to Dubai," says Jeff. "And Hawaii," Brad adds.
"Oh yeah, Hawaii. Yeah, all over!" replies Jeff enthusiasti- cally. "There's only about two states out of the 50 that we hav- en't shipped to," he adds.
Joanie credits the family's in- genuity and persistence for their success. "If there was something that could be done with this stone, Jeff tried it," she says. "Back 25 years ago, he went to Europe, be- cause they've been doing stone forever; he found great equip- ment and great companies to work with. Now we have the best equipment in the industry," she says proudly.
Aqua Grantique
Krukowski Stone Company quarries two distinctly different stone types, but the quarries are only a mile apart.
Aqua Grantique is their best seller; it's a dark grey metamor- phic rock, infused with a greenish
blue color and ribbons of white. "That blue color, nobody else seems to have it," says Brad. "To me it's really unique. When we do trade shows, it's the first thing people look at."
When polished, Aqua Grantique is nearly black, which sets off the lighter colored veins and lively movement. But in its unpol- ished state, the stone reads as soft greenish grey with a subtle spar- kle – an entirely different charac- ter than the high-contrast patterns in the polished stone. It's dense and durable, allowing it to with- stand freeze-thaw cycles, saltwa- ter, and other forms of abuse.
Thanks to the hard work of re- cent glaciers, boulders of Aqua Grantique dot the property. These are popular to use as land- scaping elements, especially Asian themed gardens. The un- usual blue-green color lends it- self to water themes, "We do lots of ponds," says Jeff. The stone has been used in public gardens, commercial installations, and high-end private projects.
Quartz Sandstone
The company's quartz-rich sandstone comes out of the quarry as either slabs or blocks. Sandstone blocks can be used in
the naturally-layered shapes that come out of the quarry, or can be split or sawn into various prod- ucts. "We grade it in the quarry for potential use: flagstones, ran- dom dry wall, veneer stone, or stair treads," says Joanie.
The quartz sandstone is an overall cream color, with darker shades of chocolate brown, or- ange, and tan on the weathered faces. The natural colors are sorted into different blends, to create either uniform coloration or mixtures of different hues, de- pending on the aesthetic style of the project.
Please turn to page 25
Fossilized jellyfish dot sandstone layers in the Krukowski quarry. These layers formed over the top of older, denser quartz-rich metamorphic sandstone. This unique geologic stash of fossils helped to make the quarry famous–in more ways than one.