In keeping with the building momentum at Coverings 2010, the winners of Coverings Select were announced via a published flyer distributed to expo exhibitors and attendees.
The inaugural Coverings Select competition aims to honor new and innovative products introduced to the industry since the close of Coverings 2009, recognized products in multiple categories, including Artisan Tile/Stone, Mosaic Tile, Glass Tile, Porcelain/Ceramic Tile Floor, Porcelain/Ceramic Tile Wall, and Other - Marketing Tool.
Yoga Tile Collection by B.A. Schmidt Arts and Egg & Dart Grande by Syzygy Tileworks won honors in the Artisan Tile/Stone category, while Avani by Oceanside Glasstile and La Concha Tiles by Sonite Collection topped Mosaic Tile. Oceanside Glasstile also captured the only recognition for Glass Tile with its Muse line. Among the Porcelain/Ceramic categories, Mauk by Lea North America stood out for Walls, and Crossville's Ultimetal Collection and the Caesar Collection by Stonepeak Ceramics took laurels for Flooring. Pierre Habitat Next-Generation Spec Tool by Polycor Inc. won the Other - Marketing Tool category.
All products were judged by a panel of industry professionals on attributes of quality, versatility, design, and sustainability. Judges include: Chris Abbate, Ceramic Tiles of Italy; Eric Astrachan, Tile Council of North America; Kelly Betts, interior designer for HOK Architects; Cathy Carver, principal interior designer for Walt Disney Imagineering; Amanda Eden, Tile of Spain; Angela Hinton, L2 Studios; Stacy Straczynski, associate editor of Contract magazine; and Julie Volosin, vice president of HKS Architects, Inc.
Coverings, an annual expo that hosts tile and stone exhibitors from over 50 countries, is sponsored by ASCER (Ceramic Tile Manufacturers Association of Spain), Confindustria Ceramica (Italian Association of Ceramics), Tile Council of North America (TCNA), Ceramic Tile Distributors Association (CTDA), and National Tile Contractors Association (NTCA). The next event will be held in March 2011 in Las Vegas.
To view the complete PDF of the story, click here...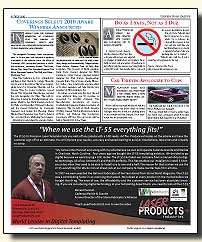 ")
Contents Slippery Rock Gazette © 2010, JDS Publishing, all right reserved.