Malaysian police have recovered a car stolen from a top officer with a note from the thieves inside saying, "Sorry police, wrong target."
Police officer Arjunaidi Mohamed said the car belonging to the police chief of central Selangor state was found in a parking space on the outskirts of Kuala Lumpur. On its dashboard was the handwritten note.
Arjunaidi said that only the door lock on the Proton Perdana was damaged.
The car, which did not have a police logo, was stolen near a restaurant where the police chief's driver had stopped to have breakfast.
To view the complete PDF of the story, click here...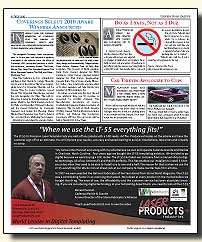 ")
Contents Slippery Rock Gazette © 2010, JDS Publishing, all right reserved.