Braxton-Bragg is pleased to now offer the latest in a line of versatile and easy-to-use home improvement tools, the Dremel Multi-Max™ Oscillating Tool. It presents both do-it-yourselfers and professionals with an adaptable and effective multi-tasking device.
With fast side-to-side motion, the MultiMax™ can take on a variety of projects that involve repair, remodeling, or restoration. Its ergonomic grip and compact design provides access to tight spaces, allowing the Flush Cut Blade, included in the kit, to perform precision work. Switch to the Hook and Loop Pad using the Quick Fit™ feature, and the Multi-Max becomes a detail sander, able to get into tight areas and corners.
For fabricators and tile installers, the Wood and Drywall Saw Blade is useful for removing grout and extracting damaged tiles, as well as making small cuts in the tiles themselves. With the wide range of speed the Multi-Max™ offers (10,000 to 21,000 OPMs), the operator has optimal control and the electronic feedback circuitry keeps the speed consistent during use. This tool will replace several items in the average fabricator's or handyman's truck; this creates a lighter load to carry to the jobsite and less tools to switch out while working.
The kit Braxton-Bragg offers includes: Dremel Multi-Max tool, ¾" Wood Flush Cut Blade (MM440), 3" Wood and Drywall Saw Blade (MM450), Hook and Loop Pad, MM11, 60, 120, and 240 Grit Paper, Wood, MM70W, Storage Case and a Getting Started Booklet.
Braxton-Bragg offers a full range of fabrication tooling and installation accessories including sinks, installation hardware, and every tool and piece of equipment needed to run a professional stone and tile shop. For more information about Braxton-Bragg and its publications and products, contact them toll-free at 800-5754401 or visit the websites www.braxton-bragg.com and www.slipperyrockgazette.net for current and back issues.
Braxton-Bragg announces a new development in multi-use power tools from Bosch
To view the complete PDF of the story, click here...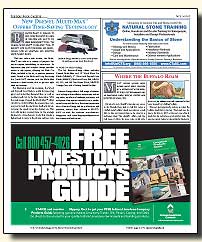 ")
Contents Slippery Rock Gazette © 2010, JDS Publishing, all right reserved.