An Ohio woman with a $3,000 legal debt from nearly 30 years ago has avoided prison, thanks to strangers who helped to pay it off.
A recent story about the plight of 61-year-old Dorothy Rembert, who has seven grandchildren, moved Gene Ellington of Cincinnati so much that he handed over more than $2,000. Last week, another man, Scott Seeman, gave her $1,000 to help.
Rembert was applying recently for Social Security benefits when government employees found she had an outstanding probation violation from a 1981 welfare theft conviction.
She had been placed on five years' probation and ordered to repay $3,700. She paid $695 and says she erroneously believed her husband, who is deceased, had paid the rest.
So she was faced with a possible 1-1/2-year prison sentence when Ellington, 57, decided to intervene.
"The system failed," said Ellington, a consulting business owner and former social worker, of the unpaid debt that had previously been ignored. "There are times that you have to meet people at their need. It was just the right thing to do."
Rembert was in tears at the Hamilton County courthouse.
"I'm glad it's over," said Rembert. She uses a walker, but she rose from a bench to hug Ellington.
"Bless your heart," Ellington told her. "God has blessed me and my family and we want to pass on the blessing to you."
Source: The Cincinnati Enquirer, http:// www.enquirer.com
To view the complete PDF of the story, click here...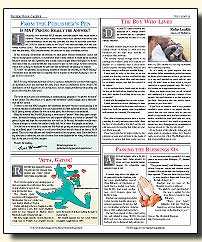 ")
Contents Slippery Rock Gazette © 2010, JDS Publishing, all right reserved.