Majestic Marble & Glass is proud to be selected as a member of the Artisan Group, a national organization of 33 independent countertop fabricators who have joined together to offer their own brands of premium countertops including: Artisan Stone Collection™ Granite and Marble and Saratoga Soapstone.
The group also offers sinks through an exclusive Kohler® specialty dealer program. The Artisan Stone Collection is the first and only granite countertop with a residential limited lifetime warranty, available from the triangle area to the coast through Majestic's Constrata division.
Artisan Group members are dedicated to the art and craft of working with natural stone to create countertops of lasting beauty. Members like Majestic offer the highest quality granite surfaces from all over the globe and use proven and accredited manufacturing techniques to fabricate and install stunning countertops that will last a lifetime. All Artisan Group members must achieve accreditation from the Marble Institute of America further ensuring excellent craftsmanship.
"We are excited to join this elite group of Artisan members," says Danny Cox, Majestic founder and president. "As an Artisan Group member and fabricator, our customers will have the assurance they are receiving the highest quality of granite available, as well as the fabrication and installation. Constrata is pleased to offer a Residential Limited Lifetime Warranty on Artisan Group granite for our customers."
About Majestic Marble & Glass
Founded in 1990, Majestic Marble & Glass specializes in the manufacturing and installation of cultured marble products, shower enclosures and mirrors. Majestic's Constrata Surface Innovations Division fabricates and installs a variety of stone, quartz and solid surface products. Majestic services developers, contractors, designers, fabricators and homeowners. For more information, visit www.gomajestic.com .
About Artisan Group
Artisan Group™ is the premier network of stone fabricators in North America. Its extensive network allows the organization to offer the world's best granite from the best sources around the globe. Utilizing the most technically advanced, automated shops in the industry, highly skilled craftsmen ensure that each and every installation meets exacting standards. In fact, all Artisan Group members have either achieved Marble Institute of America Accreditation, or have begun the process, making it the first group of granite fabricators in the world to be working towards this distinction. From classic to exotic, Artisan Group offers the most extensive array of stone and wood choices in the industry, and is dedicated to the highest level of customer service.
For more information or to request a quote, visit www.artisan-counters.com
To view the complete PDF of the story, click here...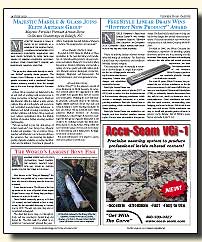 ")
Contents Slippery Rock Gazette © 2010, JDS Publishing, all right reserved.