Four years ago, a Tampa area high school freshman told his Spanish teacher he'a wear the same pair of sneakers every day until graduation.
His toes stick out of the front and plastic bags encase the shoes on rainy days, but Ben Hedblom has made good on his promise. His teacher will have to shave his head and eyebrows since Hedblom held on until graduation last month. The 17-year-old football captain said the bet has turned into more than a joke.
Hedblom said it helped him worry less about other people's perceptions and ended up inspiring his senior class project on the psychology behind perceptions.
Teacher Adrian Antonini left the school after the bet was made. In fact, he doesn't remember making it, but said he may shave his head via webcam.
Source: St. Petersburg Times, http:// www.tampabay.com
There are a lot of lessons that can be learned from just observing high school students. It's a miniature society in a compact, controlled environment. You have all your different social groups and cliques like the jocks, the nerds, the goths, the hard rockers, the preppies, and the prom queens. Each group has their own values and adversities.
Having the conviction to do something against the grain like wearing the same pair of shoes every day- to the point where your toes stick out-might get various reactions today from "sweet" to "whatev!" But Ben Hedblom stood his ground (eroded shoes and all) and ended up with four years of research on the psychology behind people's perceptions.
For the most part, he came out on top having learned that you don't have to gear your actions around what other people think. And living in a world where everything has a label or where people become obsessed with owning the latest gadget, it could be quite redeeming to worry less about how you're perceived and to focus more on just achieving your goals.
To view the complete PDF of the story, click here...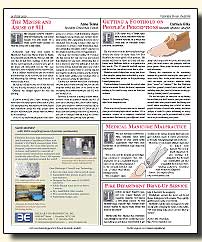 ")
Contents Slippery Rock Gazette © 2010, JDS Publishing, all right reserved.