It's no secret that when it comes to grinding and polishing stone in a floor restoration and maintenance setting that planetary technology is superior to its older single head sibling.
Most single head machines run at 155 to 250 rpm but when that same machine is fitted with a planetary gear box, the rpm at the diamond can also be increased 10 times.
"If that technology can make floor work better," said Josh Huseby, President and CEO of Samich USA, "then why can't it make working on countertops better, too?"
Over the last several years there have been several companies trying to do just that. However, according to Huseby, what makes most of these machines unreliable compared to the new Legend CT planetary machine is that they were built by starting with a traditional hand tool.
"Rather than trying to make a hand tool do something it was not meant to do," Huseby said, "we took the technology in our larger floor machines and scaled it down for our new Legend CT."
According to Huseby, what really sets the Legend CT apart is its balance.
"The motor for the three 5.5" heads is mounted centrally rather than off to the side of the gear box." This, said Huseby, allows the machine to maintain perfect balance.
Samich has been manufacturing high quality stone and concrete grinding, polishing and preparation equipment and accessories for nearly 30 years and Samich USA is a proud extension of that tradition.
For more information on the Legend CT, call Samich USA at 888-972-6424 or email Josh Huseby at josh@samich-usa.com
To view the complete PDF of the story, click here...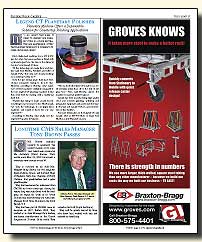 ")
Contents Slippery Rock Gazette © 2010, JDS Publishing, all right reserved.