Diamut, a producer of high-tech diamond tooling used for working of stone and glass as well as in the construction trades, is proud to announce the hiring of Michele Ragno as Diamut Sales Manager for USA and Canada.
Michele has a strong technical tooling background having worked for several years in the same Sales Manager position for another industry player. In addition, Michele also has extensive experience in programming CNC machines and is very familiar with design software programs like Autocad.
"We are confident in the fact that Michele will bring added technical value to this position, as the demand from our dealers in technical support is evolving to face our competition and the need for new industry applications," says Federico Broccoli President/CEO. "The Biesse Group have high expectations for Diamut. We see potential business growth at three times our actual sales and we will direct our efforts towards industries such as glass, ceramic, cements, as well as, all new opportunities that have not been pursued with sufficient focus in the past."
Michele's main duties will be to develop a strong dealer network, provide support, product training, setting budgets, manage inventory levels, support the Marketing Teams efforts to improve the Diamut brand communication, and making sure Customer satisfaction and loyalty reaches the highest level in NA.
For mor information, visit Diamut on their website at www.diamutamerica.com
About Diamut
Founded in 1983 and acquired by the Biesse Group in 2002, Diamut is a leading producer of high-tech diamond tooling used for the working of stone and glass and in the construction trades.In 2009, Diamut America and Diamut Canada were created and provide a full range of Diamut tooling to customers in North America both company direct and through a network of specialized agents and dealers. For more information, visit them at www.diamutamerica.com
To view the complete PDF of the story, click here...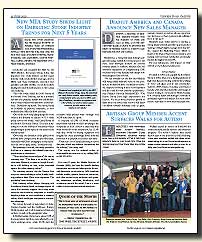 ")
Contents Slippery Rock Gazette © 2010, JDS Publishing, all right reserved.