Employees and volunteers from Accent Surfaces, including President Larry Hamilton, recently joined more than 4,000 walkers at This is the Place Heritage Park in Salt Lake City, Utah for the 3rd annual Utah Walk Now for Autism Speaks.
Walkers raised in excess of $160,000 for autism research, family services and awareness programs. The Accent Surfaces team raised $2,000 prior to the event and is still collecting. Some team members walked and others volunteered along the route. For more information on current autism research and what you can do to help, visit http://www.autismspeaks.org
Employees pictured are: Ashley Parker, Amy Baker, Polly Anderson, Steven Baker and Michelle Baker. Not Pictured: Geoff Penrod, Jeremy Kirkman, Fawniel Kirkman, Troy Riet and Stefanie Dutson.
To view the complete PDF of the story, click here...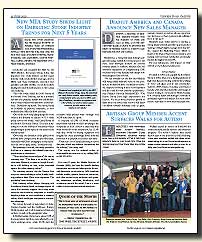 ")
Contents Slippery Rock Gazette © 2010, JDS Publishing, all right reserved.