Dr. Fred Will Get People Talking
Utilizing the latest technologies, Dr. Fred hueston has begun a live podcast program with a new format: Monday nights at 6:00 EST he will be accepting questions from his audience, both over the telephone and through a live chat room. This program, "The Stone and Tile Show," will also be available for future downloads, accessible as a podcast and formatted for use in MP3 players.
Regular readers of the Slippery Rock Gazette will be very familiar with Dr. Fred's series, "The Stone Detective," in which a gritty, no-nonsense investigator regales readers with cases on which he has worked. His direct prose, written in the style of a hard-nosed detective novel, creates an entertaining way to present helpful information about stone care, cleverly disguised as a Film Noir short story.
Dr. Hueston, a charming gentleman with an easy manner of talking, has a very impressive background, including Bachelor of Science degrees in Physics and Chemistry, a Master's in Architectural Conservation, and a PhD in Construction Forensics. His consultation business, Stone Forensics, is a result of his passion for all things related to stone. For more than 30 years he has been able to combine this zeal with research and development in his field to run a firm which performs a great service to the industry.
Dr. Hueston's program will touch on all facets of stone fabrication and installation. Future shows will include information on issues and problems in installations, topics relating to stone restoration, and questions about maintenance, as well as issues about "green" construction and restoration. Consumers and those involved in the trade can call in to get answers to specific problems; his program will be aimed at both. His off-the-cuff style and his easy ability to extemporize on any subject relating to stone should make him a popular mentor to those in need of his expertise.
Hueston has a varied and extensive background in working with audiences. Along with his lecture experience in the stone industry, traveling the world to advise and teach, he has a background in radio broadcasting and television, appearing on several home improvement programs, as well as other acting positions. This experience has given him confidence to work in front of an audience, but scripted speeches are not for Dr. Fred. "I definitely prefer improv," he says, and with a call-in radio show, improv is essentially what you have to be able to do.
Although his father was involved in the stone industry, it took his mother, who worked with a cleaning business in Florida, to really inspire him to his chosen avocation. A phone call from her one day about a stain occurring on stone led him to start research on stone care. Before the advent of the Internet, Dr. Hueston made a myriad of telephone calls and trips to the local library to try to find information on stone care and maintenance. Interestingly enough, there was no information to be had anywhere. Instead of despairing, Dr. Fred, calling on his background in chemistry, began investigating solutions to his mother's problem, utilizing the Scientific Method of observation and development. The rest, as they say, is history.
Each episode of "The Stone and Tile Show" will be recorded live, so there's no telling what will happen. But we do know that, since Dr. Fred Hueston will be running the show, it's bound to be informative, helpful, and entertaining. Visit www.blogtalkradio.com/drfred for the live show and archived programs.
To view the complete PDF of the story, click here...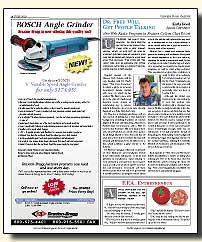 ")
Contents Slippery Rock Gazette © 2010, JDS Publishing, all right reserved.