Kevin M. Padden
I got a chance to see a new product for our industry demonstrated recently at Coverings 2010 and this month I got an opportunity to try out the product myself.
It's called Spray & Set Wall Tile Adhesive made by Homax, and I was skeptical when I first started working with this stuff. I was not sure of how well this adhesive would really hold. I also wanted to see for myself just how much of a difference this type of product (a sprayed-on adhesive) had over the more conventional products that are and have been available to set tile products on vertical surfaces.
Having gotten my start in the trades over 30 years ago, I certainly have my preferences of the way certain "things" should be done. I would say that in some regards, I have paradigms that, up until now, have not changed. When you have been doing the same action with the same result every time, you get a comfort level with that particular technique.
When you have a "paradigm shift," you look at doing the same action, but changing one aspect of that action (in this case, substituting one adhesive for another - Spray & Set instead of regular wall tile mastic or thin set) your entire opinion changes.
I had a "paradigm shift" when it came to this new Spray & Set adhesive. The first time I saw this product demonstrated at Coverings 2010, I was very skeptical about how it worked, and how it could benefit me as a tradesman. I had never thought that an adhesive that could be sprayed onto a substrate could work, let alone hold tile to a wall.
I am a big believer in "Patton's Maxims" - sayings that were used by General George S. Patton. One of his "maxims" comes to mind, and I employed it to evaluate Spray & Set. "See things for yourself," was what I did when I got my hands on a couple of cans of Spray & Set and tried it out. Here's what I found:
The advantages and benefits of using this product are that it will help to make your job much easier.
1. Spray & Set comes in a metal spray can that is easy and light for carrying. It won't take up as much room in your truck as conventional 3 ¾ gallon mastic buckets or 50 pound bags of thin set mortar mix.
2. Coverage for Spray & Set is around 40 square feet per container. This is, on average, close to the amount of coverage per gallon that I get from using regular mastic with a small "V" notch trowel.
3. Cost per square foot can vary, based on the type of tile mastic that you are comparing it to. In some cases, your cost per square foot (as a contractor) can be almost the same in comparison to conventional mastics.
4. When applying Spray & Set adhesive, you spray in a "sweeping, circular motion," spraying adhesive on the wall that is to receive tiles, to a thickness of about 1/8" (the thickness of a nickel). You do not have to use a trowel to spread the adhesive on the wall. You also do not have to spray the backs of the tiles you are going to set, but the tiles need to be flat - not irregular shaped. The tiles you are going to set should lay perfectly flat on the wall with 100% contact.
5. The adhesive will take on average of about 1 hour to "tack up" and be ready for tiles to be applied to the adhesive. It works pretty much like contact adhesive does - you spray it on a surface, and wait for the adhesive to get "tacky," then apply whatever it is that you are adhering to the glue.
6. Once the glue "tacks up" you have approximately 1 hour of "open time" in which to set your tiles onto the adhesive. You can apply more adhesive if the original coat's "tackiness" is lost do to sitting "open" for more than an hour.
7. If you spray the glue on an area that you don't want glue to go on, simply wipe the adhesive off with a damp cloth. It's water-soluble, so clean up is very easy. It's a good idea to tape off areas that are adjacent to the surfaces that will receive glue - like cabinets and other surfaces.
8. When Spray & Set is ready to be used, it dries clear, so you can see your level and plumb lines on the wall. This is a huge advantage that guys will love to see. You strike your lines, spray on your adhesive right over your lines, and wait for it to tack up. It's just that simple. You can see your lines through the adhesive!
9. Spray & Set has a tremendous "hang quality" which means that your tile will stay where you "stuck it the first time" - no sagging or sliding down the wall.
10. Instructions are right on each can in both English and Spanish. Spray & Set's website www.sprayandset.com , is loaded with helpful information and how-to videos -also available on www.braxton -bragg.com, as is the product.
I tested some of this stuff to see for myself how it performed, and I have to tell you - I was impressed. It was easy and simple to use. The tiles I tested held firmly on the wall that I used the Spray & Set adhesive to adhere them to.
If you are a Fabricator that also does tile applications, like full back splashes in tile versus slab, this is a product that you'll want to check out. Try it and see if it helps your operation. The time savings and simplification of applying an adhesive that holds like conventional products may help give you a paradigm shift - like it did for me.
Until next month...
Best Regards & Happy Fabricating!
Uses of adhesives are subjects that are taught every month by AZ School of Rock. Coming this Fall, the Concrete Countertop Institute will be offering their classes at the AZ School of Rock. For more information, contact Kevin M. Padden at www.azschoolofrock.com , by phone at 480-309-9422 or via e-mail at info@azschoolofrock.com
If you are like many fabricators, you install both tile and stone. One example would be installing full back splashes in tile versus slab. If so, Spray & Set is a product that you'll want to check out. Try it and see if it helps your operation. I found it to be a significant time-saver, and it made the job simpler with a lot less clean-up involved. - K.P.
To view the complete PDF of the story, click here...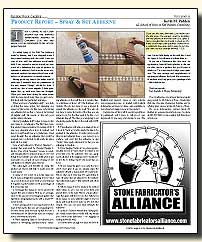 ")
Contents Slippery Rock Gazette © 2010, JDS Publishing, all right reserved.