An 84-year-old man has been arrested in Utah on a charge that he ran over his brother-in-law with a car and beat him with a cane.
A Garfield County sheriff's spokeswoman says Carl Lewis, of Redmond, is being held on suspicion of attempted murder.
Authorities say he drove to his brother-inlaw's home in Old Hatch Town to confront him about a dispute involving family finances. According to the allegations, after Lewis' brother-in-law came out of the house, Lewis hit him head-on and drove over him, then got out of his car and beat the man with a cane.
Lewis' brother-in-law, who is in his 70s, has a broken hip and abrasions on his arms and head. He was hospitalized in Cedar City in serious but stable condition.
Lewis is due in court soon.
Source: The Salt Lake Tribune, http:// www.sltrib.com
To view the complete PDF of the story, click here...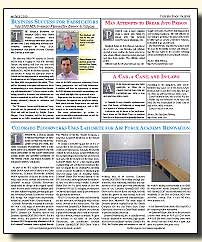 ")
Contents Slippery Rock Gazette © 2010, JDS Publishing, all right reserved.