The concrete countertop institute (CCI) has announced its new concrete countertop certification program. The program is available to any concrete countertop professional, regardless of training received and manufacturing techniques, mix ingredients and sealers used.
It tests quality of the end product from a client's point of view, using project evaluations, and it tests general knowledge and business practices, using a written exam. The only cost for the program is administrative fees upon submission of the projects and exam.
"For years, the concrete countertop industry has suffered from lack of consistency in quality," states Lane Mangum, VP Business Services of The Concrete Countertop Institute. "Now, for the first time, consumers and designers have a way to seek independent verification that a concrete countertop professional truly lives up to standards of quality and professionalism."
Jeff Girard, President and chief trainer adds, "CCI published standards over a year ago, as well as offering intensive training classes for over six years, but training is not the same as certification. Just because someone attended a training class doesn't mean that he or she is following the recommendations in the class to produce a quality end product. This certification program will ensure that a concrete countertop pro is doing a good job, whether he learned from me, from someone else or is self-taught."
To complete the program, concrete countertop professionals must submit extensive photos of three projects for paying clients. The photos cover certain steps of the manufacturing process, to ensure basic structural integrity, as well as the finished, installed project. Client contact information is also required, and CCI will interview clients to determine whether the professional used good business practices in estimating and contracting the project and dealing with any problems that occurred. There is also a written examination covering quality standards, basic concrete and countertop knowledge and sales and marketing practices.
Once professionals complete the program, they will receive a certificate and logo, and will be listed in a special area on the Concrete Countertop Institute website. Annual re-certification will be required.
Consumers and designers seeking a concrete countertop professional will be able to distinguish between certified and non-certified listings. Jeff Girard cautions, "Unfortunately, some contractors are not doing a good job at making concrete countertops. I even discovered that one of my students was putting out poor quality work, which another student had to fix. My hope is that a certification program eliminates this kind of problem and raises the standard for the whole industry."
Contractors who wish to become certified may visit http://www.concretecountertopinstitute.com/modules/info/certification.html for details. Information about certified contractors is available for consumers and designers in the "Helpful Info for Consumers" section of the website. Contact The Concrete Countertop Institute with general inquiries at 888-386-7711 or visit them online at www.concretecountertopinstitute.com.
About The Concrete Countertop Institute
The Concrete Countertop Institute's mission is to help concrete countertop professionals succeed. The Institute provides contractors with intensive training via its hands-on and selfstudy classes and information and networking opportunities via its membership programs. For more information, contact Lane Mangum at 888-386-7711 or visit them online at www.concretecountertopinstitute.com.
To view the complete PDF of the story, click here...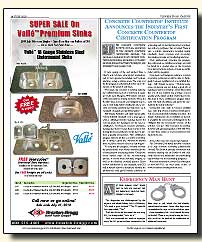 ")
Contents Slippery Rock Gazette © 2010, JDS Publishing, all right reserved.