by Michael D. Hill
On the surface, Crab Orchard, a small community located near Crossville, Tennessee on the Cumberland Plateau, resembles any number of rural towns across the country, but just beneath the surface, lies its claim to fame as the Stone Capital of Tennessee.
Its mountainous terrain is the only region of the country which has produced a unique variety of sandstone with both aesthetic and practical appeal. Crab Orchard Stone is also notable for its pivotal role in twentieth-century American history.
Crab Orchard Stone ranges in color from pink to brown to bluish gray, but all colors are marked by distinctive swirls and streaks. These patterns establish a visual interest for the builder or fabricator looking to avoid the monochromatic effect that is often produced when working with large cuts of stone with a uniform grain. Another very practical advantage is that this sandstone is remarkably durable because of its density, requiring minimal maintenance to last for years against the elements.
The stone's durability no doubt was responsible for its use as a building material by the Plateau's settlers for foundations and chimneys, and was probably a major factor in the decision to erect the Cumberland County Courthouse out of Crab Orchard Stone in 1905. The city also made extensive use of the stone in constructing sidewalks and curbing around this same time. In the mid 1920s, Nashville architect Henry Hibbs was placed in charge of designing a series of buildings for the Scarritt College for Christian Workers, and he chose Crab Orchard Stone as the primary medium. His designs won several national awards, and as a result, what had been purely a regional material was suddenly cast into the spotlight.
Henry Hibbs's stone structures are still standing strong, although Scarritt College closed in 1988. The Scarritt-Bennett Center, situated on the grounds of the original college, hosts conferences and meetings, so that Hibbs's architectural legacy continues.
Above: Early 20th Century cottage in the historic Cornstalk Heights district of Harriman, Tennessee. The distinctive, narrow bands of dimensional Crab Orchard Stone can been seen in modest to larger structures all over Middle and East Tennessee.
Left: Private residence in Asheville, North Carolina, Rocky Ridge Stone Co. The versatility and variety of Crab Orchard Stone makes it an enduring, popular material. Used on everything from dimensional building stone to patio flagstone and facades, it can be seen on courthouses to country estates and cottages.
These designs were followed less than a decade later by the project that remains most closely associated with Crab Orchard Stone, Franklin Roosevelt's ambitious Cumberland Homestead settlement project. Under the auspices of the Civil Works Administration and the Division of Subsistence Homesteads, the Cumberland project was completed in 1938 with over 200 homes built on the Plateau to house local residents who had been left jobless and destitute when mining and timber industries failed due to the Great Depression.
It was particularly fitting that the Homestead project made use of both indigenous labor and indigenous materials, and while the planned community was ultimately unsuccessful as farmers left the area for industrial work in the North, the homes remain as a lasting testament to the beauty of Crab Orchard Stone and to the idealism of the New Deal. Today, many of the homes are privately owned, but the Homesteads Museum welcomes visitors to tour both a restored house and the settlement's original eight story water tower. Those traveling to the area should also explore the beauties of Cumberland Mountain State Park, a Civilian Conservation Corps project, which features a remarkable sandstone dam across Byrd Creek.
Hibbs completed his buildings in Nashville in 1927, but already Crab Orchard Stone was making its way down from the mountain, this time east into Harriman, Tennessee, and the historic Cornstalk Heights district. The McCloud home is a two story cottage whose edifice is constructed entirely from Crab Orchard Stone, and this was a major selling point for the home's new owner Elizabeth Lewis.
"Who wouldn't love a maintenance free house?" she asks with a shrug of her shoulders. "The only thing I need to worry about to keep the exterior intact is the roof." Entering the house on a ninety-degree afternoon, the first thing a visitor notices is how comfortable it seems, especially without central air. "I literally have the coolest house in town," Lewis jokes. "The attic fan is original to the construction, and the stone has kept the house insulated so well this summer that I've only turned the fan on once or twice."
While East and Middle Tennessee can boast the greatest concentration of Crab Orchard Stone buildings, the sandstone can also be found both nationally and internationally in some very high-profile projects, albeit underfoot. For instance, the Vice-President's Residence features a patio made from Crab Orchard flagstones, and such prominent swimming pools as FDR's in Hyde Park, New York and Elvis's at Graceland have been faced with Crab Orchard flagstones.
Today, according to Patrick Garrison, coowner of Rocky Ridge Stone Company in Crossville, the use of Crab Orchard Stone continues to evolve. His company is committed to quarrying practices which have minimal impact on the environment and the landscape of the Cumberland Plateau, and this attitude is also reflected in Rocky Ridge's innovative use of by-products to create a crushed Crab Orchard aggregate. One of its uses is as environmentally friendly riprap for lakefronts. Besides its natural beauty, Garrison points out that "Crab Orchard Stone doesn't change the Ph of the water the way that limestone would."
As the housing market has slowed, Garrison remarks that builders and remodelers are looking for ways to set their properties apart from the crowd, and many have found Crab Orchard Stone to be an affordable and distinctive accent. He says, "With the introduction of our tumble products, we've been doing more and more outdoor kitchens and fountains." Because the stone is so versatile, Rocky Ridge is able tooffer clients the possibility of getting involved in the design of their projects, and as the company's website proudly proclaims, "If you can dream of a way to use Crab Orchard stone, then we've probably got just the right cut for you."
Elegantly patterned, yet tough enough to stand up to heavy traffic and harsh weather, Crab Orchard Stone is a perfect choice for builders, architects, and homeowners, and as its long history makes clear, it will never go out of style.
For more information about the Cumberland Homesteads Tower Association, please visit its website at http://www.cumberlandhomesteads.org. More information on the ScarrittBennett Center may be found at http://www.scarrittbennett.org and by phone at 866-420-5486. Details about Rocky Ridge Stone may be found at the company's website: http://rockyridgestoneco.com, or feel free to call the company at 931-484-7158.
To view the complete PDF of the story, click here...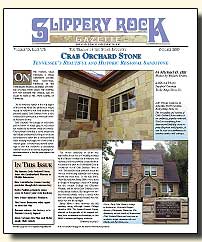 ")
s
Contents Slippery Rock Gazette © 2010, JDS Publishing, all right reserved.